A high chair is a must-have for most parents once a baby starts eating solids. With many high chairs on the market featuring all the bells and whistles, it may be hard to choose the one that you think will be best for your family. To help navigate your way through what is and isn't necessary, I always tell parents that my…
Top three high chair features are:
1) Easy to clean
2) An easy-to-remove tray (and a snap on tray liner is always a great bonus!)
3) If it will grow with your child without sacrificing quality, you have found gold.
Luckily, the new Chicco Stack 3-in-1 High Chair has all of these must-have features. This brand new, multi-stage highchair features 3 different modes to grow with your child, and is suitable for babies 6 months up to children 3+ (60 lbs).
CHICCO STACK VIDEO
It starts out as a full-featured high chair, then converts to a booster seat and finally can be used as a youth stool for your child 3 and up. So instead of having to store it away when your baby outgrows the typical full-size high chair stage around their second birthday, the Chicco Stack is just getting started. Let's dive into each mode.
Mode #1: High Chair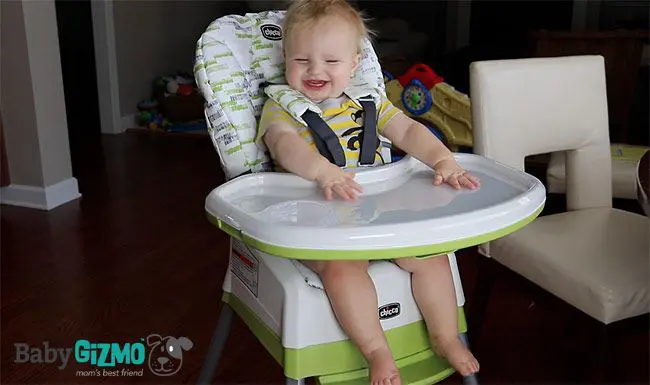 The Chicco Stack is a full-featured high chair with an easy-to-wipe-clean, removable seat pad. I love that it has a modern green design instead of zoo animals or a crazy, loud baby pattern because let's be honest, we are the ones looking at the high chair and not the baby. The seat sports a 5-point, padded harness and an adjustable foot rest with two positions. It also has a three position recline that is great for babies to drink their bottle or for those who literally fall asleep in the peas and carrots.
The chair has a large tray with a dishwasher-safe tray insert for easy clean up. The tray adjusts to three positions and I love that the closest position can get right up next to baby's belly so the food doesn't just drop into their lap.
Mode #2: Booster Chair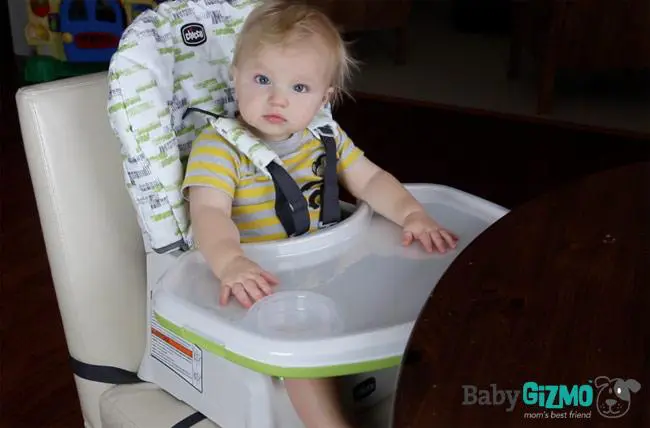 The Stack also becomes a booster chair by lifting the top seat off the base and securing it to a stable dining chair with the included straps that tuck away into the base. The booster mode is great for saving space in a small kitchen or for bringing baby up to the table with the family. The booster mode can be used with or without the tray. Under the seat (where the straps are stored) the strap compartment covers double as rubberized feet to not only keep the booster in place on a chair but to also protect the surface of your chair.
The booster mode is also great for using the Stack for 2 children at the same time. Yep, you can put a baby (6 months and up, of course) in the booster seat and have an older toddler (3 and up) sit in the base of the high chair which they call the Youth Chair.
Mode #3: Youth Chair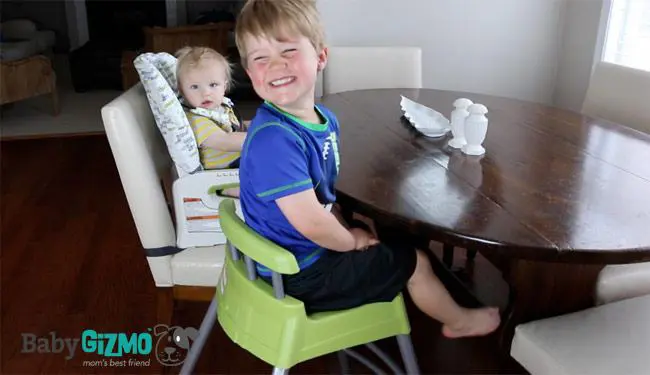 Once you lift the top seat of the high chair off the base, you are left with a fun youth chair for your child 3 years old up to 60 lbs. It has a contoured seat for their little bum and a rounded backrest that pops up into place. The youth chair is a great option for not only extending the life of your high chair and the ability to use the Stack with 2 kids at once but also for giving your toddler and preschooler a seat of their own at the table at a higher level so they aren't sitting on their knees to reach their meal.
I know it is called the 3-in-1 Multi-Chair but it actually has a 4th mode. If you remove the back of the booster seat, separate the top half of the 5-point harness, you have yourself a low-back (or no back, really) booster seat with a 3-point harness that is great for on-the-go or those children who still need a boost at the table but no longer want to sit in a "baby highchair."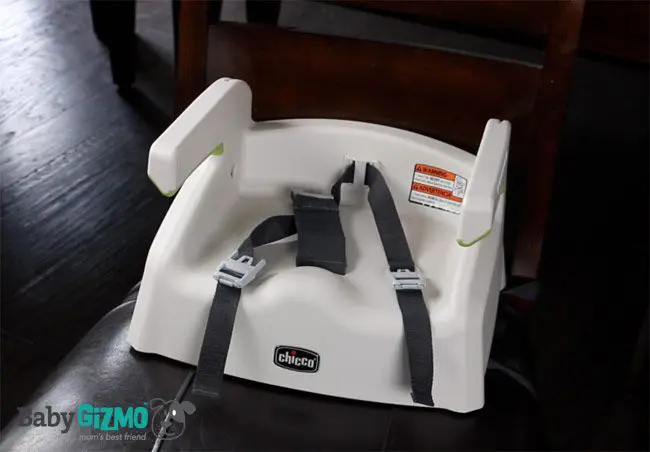 With four different modes, the Chicco Stack 3-in-1 Multi-Chair High Chair is a great value retailing at $129. It comes in three different colors: Kiwi, Aqua and Oyster, and is available at Babies R Us. It will accommodate all your high chair needs and has the added bonus of growing with your child until they are at least a preschooler.
If you are looking for a great, versatile high chair, you must check out the Chicco Stack 3-in-1 High Chair!
Disclosure: This post was sponsored by Chicco. As always, all thoughts and opinions are our own.