If you are looking for a quality double stroller for your twins or different aged children, you might want to take a look at the Contours Options Elite 2016 Double Stroller. This tandem stroller features stadium seating for two kids, a huge basket, fantastic canopies and the versatility of changing seat directions that you are going to love. It has 7 seating configurations to be exact!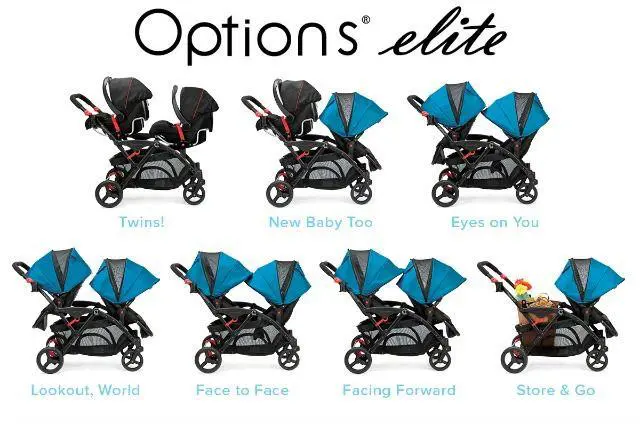 The 2016 Options Elite can accommodate up to 45 lbs each seat. These roomy seats can reverse to parent-face or face forward for your child to look out at the world. It doesn't have an adjustable handle but it's tall at 42″ from ground to handle so that it doesn't have our taller parents hunching over to push this double buggy.
The canopies are one of my favorite features on the stroller because they feature a fourth panel of sun protection that you just unzip to make the canopies even larger. The EVA wheels are quality wheels with the front 8″ wheels swiveling for great maneuverability (they do NOT lock straight) and the 10″ wheels featuring rubber coated EVA for better handling on all-terrain.
If big baskets are your thing, you are going to love that the basket is pretty much the entire length of the stroller. Yep, it's that big.
Want to fold your double stroller with both seats attached? The Options Elite can do that too! Plus, it has a standing fold!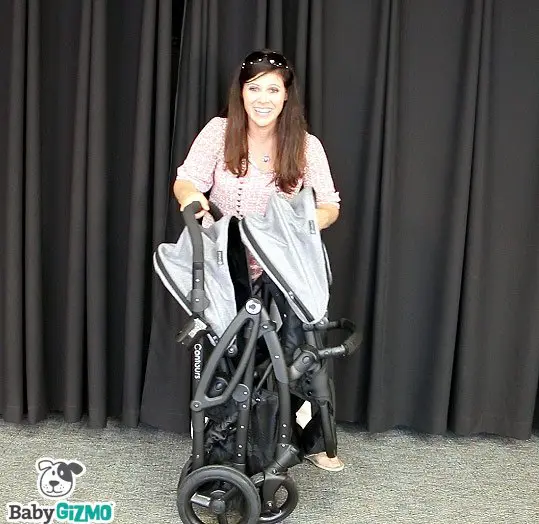 To get an up close and personal look at the Contours Options Elite, watch our Baby Gizmo video below.
All of this will retail for a reasonable price tag for a tandem of $399, and will be available mid-late June at Buy Buy Baby stores only.