I am so ready for spring and some warmer weather. (That's a bit of an understatement.) The winter weather in Illinois has been hard on my family and we have all ended up with terribly dry skin. This happens every year but this year it seems especially bad. My seven-year-old daughter has it the worse. Her hands are chapped and covered with eczema. Bless her heart! I feel so bad for her.
I have taken her to the dermatologist, tried every lotion under the sun, and used a steroid cream from the doctor. Nothing has worked as well as this amazing homemade lotion that was passed on to me from my mother-in-law. I was skeptical at first and thought, "Really? How can it be better than what I have already tried?" Well, hold on to your horses because it really is!! It heals! It smells good! It makes your skin soft! What more could you want from a lotion?
To be fair, I have to tell you that I do have one tiny problem with it though. It is a bit greasy. I usually wipe my palms off on a towel after I rub in the lotion. That's the only bad part though and I think it has to be a little greasy in order to kick that dry skin to the curb.
The recipe is super simple. You will need to buy:
One large jar of Vasoline. I buy the jar that is "baby-scented." I like the way it smells but that's just me. It doesn't really matter what the scent you buy.
One large bottle of baby lotion with Shea and Cocoa Butter.
Two jars of Vitamin E cream. The ones I used were 4 oz. each.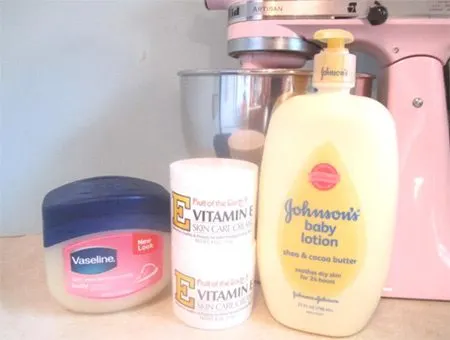 All of these things can be purchased at your local drugstore or Walmart. I paid less than $10.00 for all of the ingredients.
Next, I put all of my ingredients in my mixer bowl and mixed them all together. I ran the mixer on low for just a couple of minutes. You will end up with a beautiful white lotion that looks a little bit like fluffy white cake batter. Just remember to not lick the beater! (My three-year-old really really wanted to…)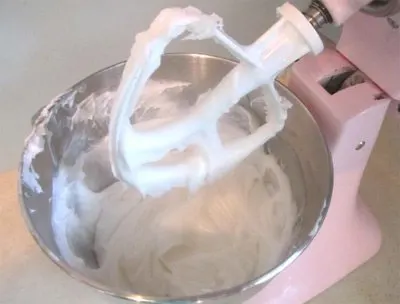 I then spooned the lotion into the now empty Vasoline jar and the two Vitamin E cream jars. (A good way to re-use!) I thought about putting some into the empty baby lotion bottle but since the homemade lotion is a bit thicker than regular baby lotion I figured it would just clog the pump. I had enough lotion left in the mixing bowl to fill up five other small containers.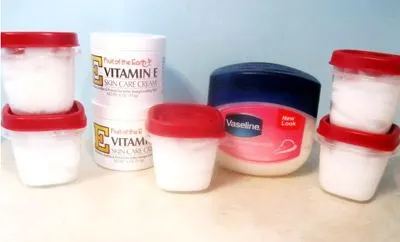 Now I have plenty of lotion for my family of five and a few to give as gifts. I know my friends will love it as much as I do. Do you think I should drop one off at the dermatologist's office? 🙂
About the Author:
Beth Cooper is a small-town girl from south-central Illinois. She has been happily married since 1999, has three little Mini Coopers, ages 7, 3, and 1, that keep her very busy and make her laugh. Her favorite cartoon is Little Bear and she has random people tell her that they love her thanks to the movie, "I Love You, Beth Cooper." When she's not chasing her Mini Coopers, she writes a column for her local newspaper and enjoys shopping, reading, and sewing.