Chocolate and sea salt. The perfect pairing in my world.
There's something about the sweet and salty combination that can easily fill any craving I have, so, although not a guilt-free treat, this recipe for Maldron Salt Chocolate Chip Cookies is my personal favorite.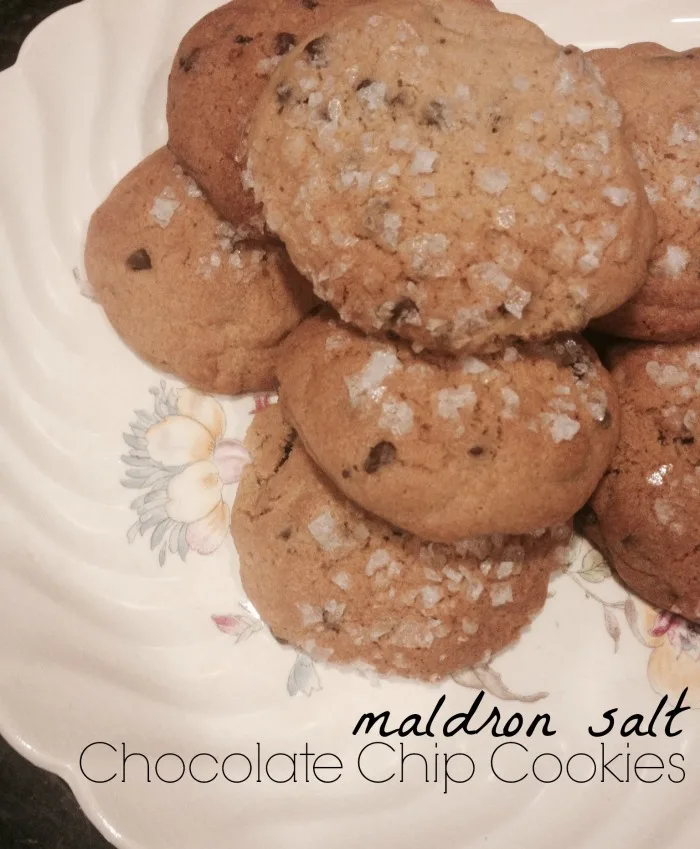 INGREDIENTS
2 1/3 cups flour
1 teaspoon baking soda
1 teaspoon fine sea salt (I've moved away from using table salt, here's some reasons why)
1 cup of butter, room temperature
1/2 cup white sugar
1 cup brown sugar
1 1/2 teaspoons vanilla
2 eggs
1 cup mini chocolate chips
1/2 cup Maldron salt
DIRECTIONS
In a large mixing bowl, whisk flour, baking soda and 1 teaspoon fine sea salt; set aside.
In a mixer, cream butter and sugars. Add vanilla and eggs. Blend well.
Half cup at a time, pour in your dry ingredients and mix until fully incorporated.
Add mini chocolate chips (this is my preference as I feel like the mini chips better distribute the chocolate flavor into each bite) and fold in with a spatula.
Preheat your oven to 375 degrees and pour Maldron salt onto a small plate.
Begin rolling your cookie dough into balls and press each ball into the Maldron salt on one side.
Place onto cookie sheet, salt side up and bake for 10-12 minutes.
Allow your cookies to cool, briefly on the sheet and then on a wire rack or serving plate. Then, enjoy!
I hope you love the sweet and salty mix as much as I do!