Keeping with my quinoa theme, I thought I would look a little outside the box. As I said in my last post, quinoa is like a blank canvas. So blank, in fact, that you can easily turn this tiny seed which is most often used in salads into… a burger. Yes indeed.
This recipe has everything I love in one place: it is easy; it can be made ahead; it is nutritious AND filling; it can be frozen; it is family friendly (the toothless to the toothful!); and, most importantly, it is loaded with flavor. These burgers had me at "Hello."
Super Delicious Quinoa Black Bean Burgers
1 cup uncooked quinoa
1 carrot, diced
1 red pepper, diced
4 scallions, sliced
4 cloves garlic, chopped
2 cans of black beans (15 ounce cans), drained and rinsed
1/2 cup panko breadcrumbs
2 large egg, lightly beaten
2 tablespoon ground cumin
1 teaspoon salt
1 teaspoon pepper
Olive or canola oil
First – cook the quinoa. Remember that quinoa cooks in a 1:2 ratio, so add 2 cups of water to your 1 cup of quinoa. Cook for 10-15 minutes or until all of the water has been absorbed. Fluff with a fork.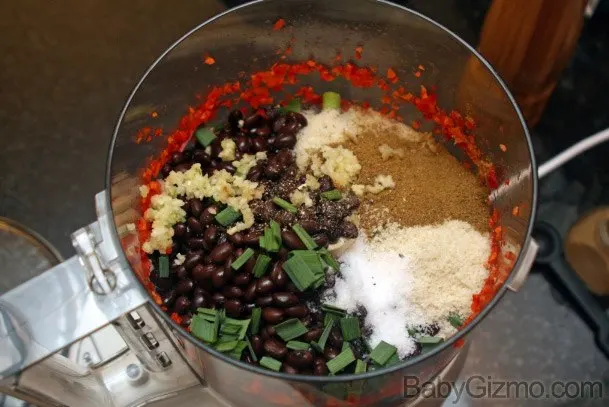 Next – break out your food processor. Add the diced carrot and diced red pepper. Pulse a few times until the veggies are finely chopped but not pureed. If you plant to give this to an infant, make sure the pieces are an appropriate size. Toss in the scallions, garlic, black beans, panko, eggs, cumin, salt, pepper, and cooked quinoa. Pulse until everything until it is all combined, but still has texture. Again, we're not going for a puree here.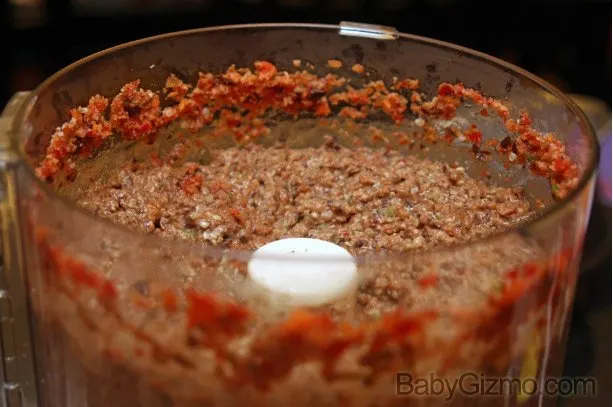 When I made these, I made the mixture the night before I cooked them to save some time. Just put your mixture in the fridge.
To cook – Heat a nonstick pan over medium heat. Add some oil to the pan – once or twice around should do the trick.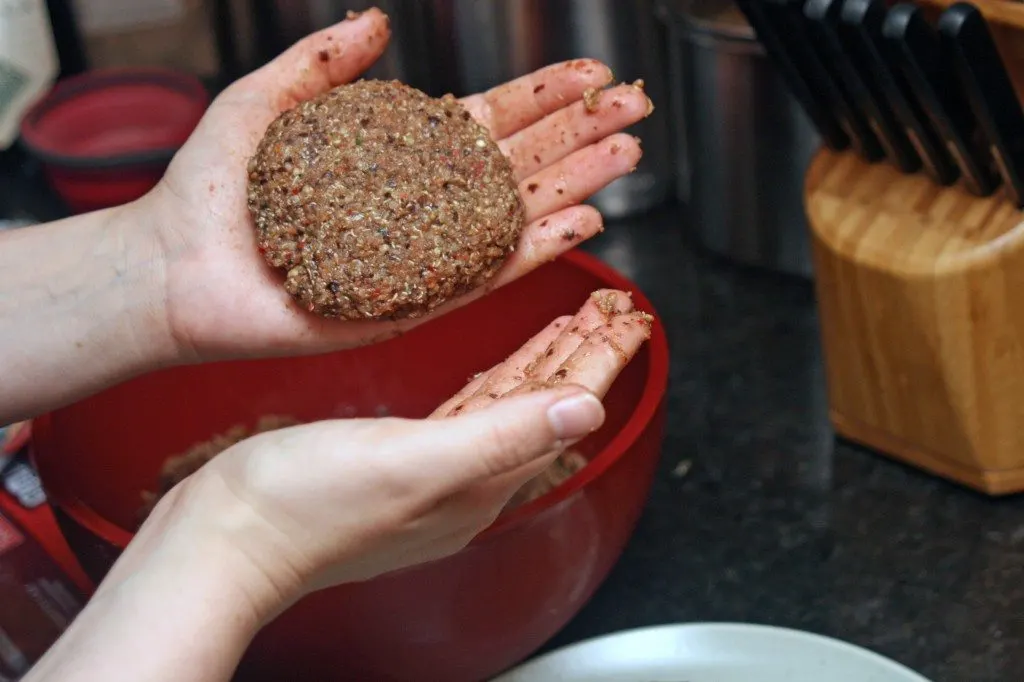 Shape your burgers into patties. Starting with a ball about the size of a tennis ball should make a good size burger. Too much bigger and they will be difficult to flip.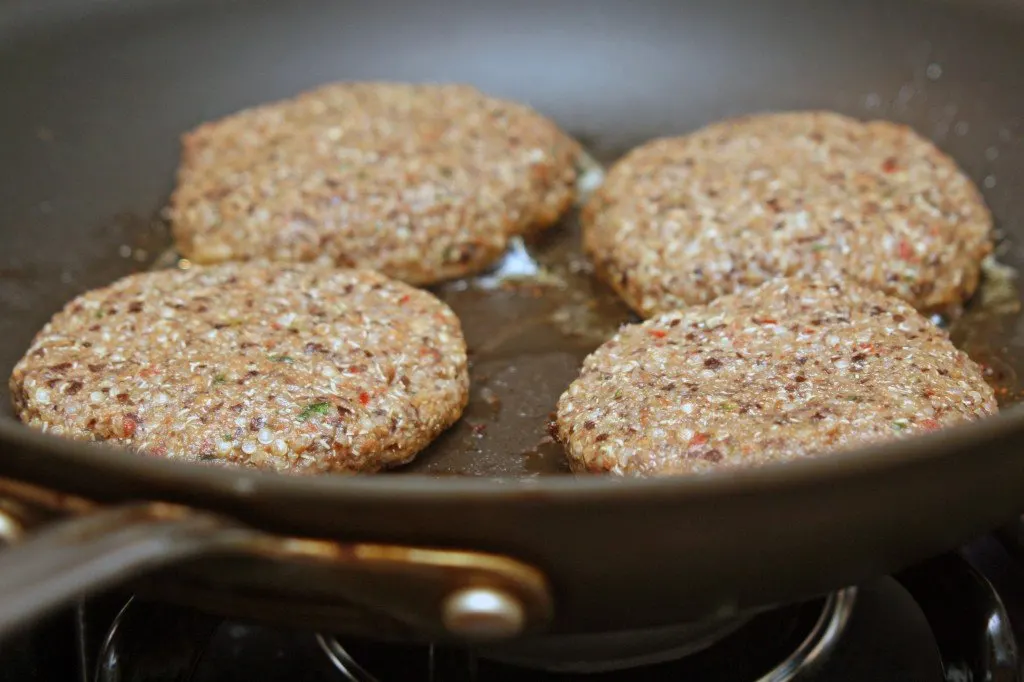 Add the patties to the pan and cook for 6-8 minutes per side. You want a crust on the outside and you need the burgers to cook all the way through because of the egg. If you try to flip and they feel like they might fall apart, most likely you don't have a great crust yet.
I added cheese to my burgers – After you flip once, add your cheese. Cover the pan to melt the cheese. A tent of foil should work fine.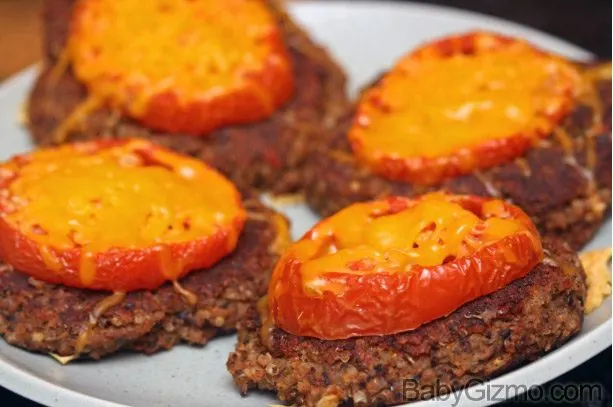 I also added a slow roasted tomato slice to each burger. I love slow roasted tomatoes… one of my favorite things.
To slow roast a tomato:
Preheat your oven to 250 degrees
Core and slice the tomatoes
Lay the slices on a baking sheet giving them enough room so they aren't touching.
Drizzle with a very little bit of olive oil
Sprinkle with salt and pepper
Roast for 2-2.5 hours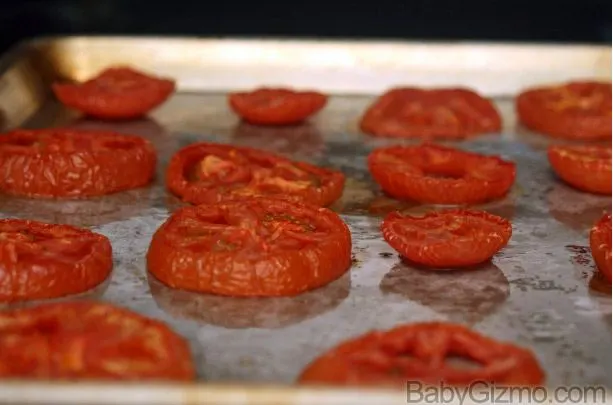 If you have a kid who doesn't like tomatoes but does like tomato sauce, give them these to try. I can speak to this firsthand – I was that kid.
As I said, nutritious, filling, easy, and packed with flavor. Quinoa black bean burgers for the win!
Adapted from this recipe