Seattle, Washington boasts tons of amazing activities for families, but the Pacific Science Center will always be one of my top picks. Over the years I've probably visited 15 times, as a child myself and now as a mama. Here in the Northwest most kids take a field trip at some point and growing up my family had an annual pass every few years. Pretty much, we love the Pacific Science Center! Some exhibits have been around forever (and continue to teach and excite year after year) and others rotate making the drive downtown worthwhile. Whenever you have the opportunity to visit, plan a full day — you won't want to miss a thing!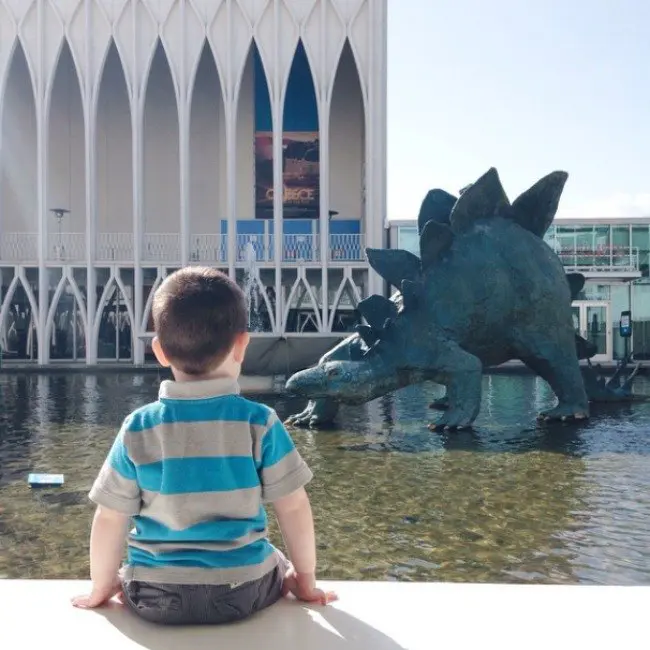 Here's a handful of our favorite stops, but like I said, plan an entire day to explore! You can always exit to grab lunch in the food court style Armory that is within walking distance.
IMAX — The Pacific Science Center's big screen is always featuring something amazing and educational. Often in 3D!
Naked Mole Rats — They're not the cutest, but they are sure fun to watch in their clear tunnels.
Tropical Butterfly House — It's the perfect place to visit and practice being both gentle and mindful as thousands of beautiful butterflies fly around, land on flowers and sometimes … YOU!
Indoor Dinosaur Exhibit — Learn about the Mesozoic Era and its dinosaurs. There is even a large footprint you can climb in to see how your size compares.
Outdoor Dinosaurs — Not a true exhibit, but a favorite of ours! We love snapping a photo by our favorite dinosaur statue when we enter Pacific Science Center.
Just For Tots — With a 2 and 4 year old, we spend a lot of time in the tot area. With a water stream, climbing and building activities, we're set for at least an hour here! Plus, there is a quiet room for mamas of babies who may want to tuck away for a spell.
Outdoor Exhibits — On nice days, there is lots to do outside! Our favorite being spinning a two ton granite ball with our bare hands!
Preschool Trip To the Moon — Always check the schedule for this short show in the Platentarium!
We usually plan to arrive right at 10am and take off by 4pm. Why before closing? Well, because we can walk over to the Seattle Children's Museum for their final hour of business. That last hour of any weekday is by donation and the perfect way to end a day of learning for the whole family!
Then, dinner here before the drive home!
I hope you have a chance to visit Seattle soon and enjoy the Pacific Science Center. I promise you'll love it!
FAQs
How much is the Seattle Pacific Science Center?
Adults (16-64): $25.95
Seniors (65+): $23.95
Youth (6-15): $17.95
Child (3-5): $13.95
Members (Join us!): FREE
Is the Seattle Pacific Science Center closed due to Covid-19?
Pacific Science Center's onsite operations are currently closed due to COVID-19. They expect that onsite operations will continue to be very limited well into 2021. They will extend all memberships by the amount of time that they are closed.