Top Hair Salons Across America
Which mom doesn't like getting pampered? Hair, nails, a massage, heck, even a bikini wax without screaming children is almost a vacation! So we're looking at some of the very best hair salons across America, that the stars love. So, maybe $175 is more than you or I would like to spend on our hair. But a mommy can dream… 🙂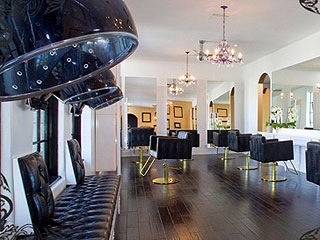 –Nine Zero One Salon: West Hollywood, CA. This is on my list because this is where I get my hair done and it's amazing.  Everyone who works here is insanely talented and they're also known for their fun braid bar. Their celebrity client list includes Julianne Hough, Jennifer Lawerence, Ashley Tisdale, Selena Gomez, and Vanessa Hudgens to name a few. The two owners' haircut prices start at $300, but stylist prices start at $175 and junior stylists at less than that.
–Jose Eber: Beverly Hills. Polished to perfection, this salon sits right on Rodeo Drive and boasts a big celebrity client list like Cher and Meg Ryan. Jose Eber even designs his own hair tools, so its no surprise his work is incredible.
-Andy LeCompte: West Hollywood, CA. The Kardashians and Jenners all get their hair done here as well as Reese Witherspoon, Madonna, Penelope Cruz, Katie Holmes, and Demi Moore. This place is known to book up way in advance, so book yourself in about six months early! They are cut and color experts here and usually focus on one or the other, so you'll have one cut master do your trim and a color master do your highlights!
–Ted Gibson Salon: New York City. An average hairstyle here costs $950. That might have something to do with the fact that Ted Gibson does Angelina Jolie's hair as well as Anne Hathaway, Zoe Saldana, Ashley Greene, and Mila Kunis. His work has appeared in publications such as Vogue, Harper's Bazaar, Elle, Marie Claire, and Vanity Fair, to name but a few. Needless to say, Ted Gibson is a style genius.
–John Freida Salon: New York City. Julia Roberts, Sarah Jessica Parker, Miranda Kerr, Rachel Weisz, and a ton of other A listers call this place "home" for their hair. The salon is adorned with pony-skin ottomans, a mini koi pond, and a chandelier in the cutting room- how fabulous does that sound?!
-Byron and Tracey: Beverly Hills. This upscale salon has every amenity you could think of and is known for their highlights. Drew Barrymore and J Lo are just two of their clients.
-Marie Robinson Salon: New York City. While still pricey, this place isn't as pricey as some. Hair color starts at $200 here and you know you're getting your money's worth since Natalie Portman, Michelle Williams, and Kristen Stewart get their color done here as well.
-Oribe Salon: Miami Beach, Florida. Olivia Wilde, Scarlett Johanssen, and Britney Spears go to this fabulous salon. Haircuts start at $400 and you can enjoy your pampering with a beach view.
-Sally Hershberger Salon: New York City. Mark Townsend is the leading stylist here, a master of cut and color. He is the stylist behind the beautiful heads of Jessical Biel, Rachel McAdams, and Lea Michele.
-Hiro Haraguchi Salon: New York City. Hiro is the owner and also the stylist who does Lisa Kudrow's hair and Vera Wang's. While his prices start at $300 for a haircut, his other salon stylists have much lower prices.