This keto recipe round up consists of MONTHS of trial and error. I've scoured Pinterest and cooked my heart out in and effort to support my husband's low carb diet and these recipes are the ones he truly loves. In fact, many are ones our whole family loves!
The only recipes I didn't add were salads, because, well, you can dream up or build you own of those with your favorite protein and low carb veggies. I will say that slivered almonds and Parmesan Whisps add the perfect non-crouton crunch. Now, on to the best of the best keto recipes! Eat your heart out … low carb style!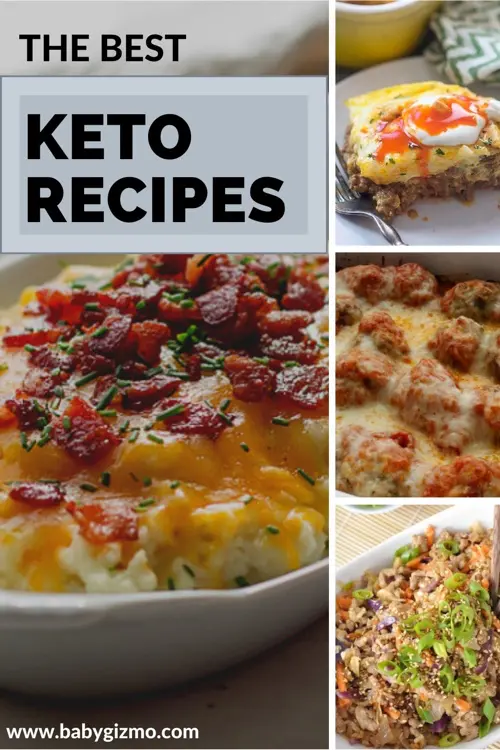 Taco Casserole
Taco Casserole from Buns In My Oven is one of the first keto recipes I whipped up for my husband and for years now it has been a staple. He loves it with a dollop of sour cream and drizzle of Tapatio. I often add a sliced avocado for a little green too 🙂
Check out this recipe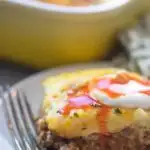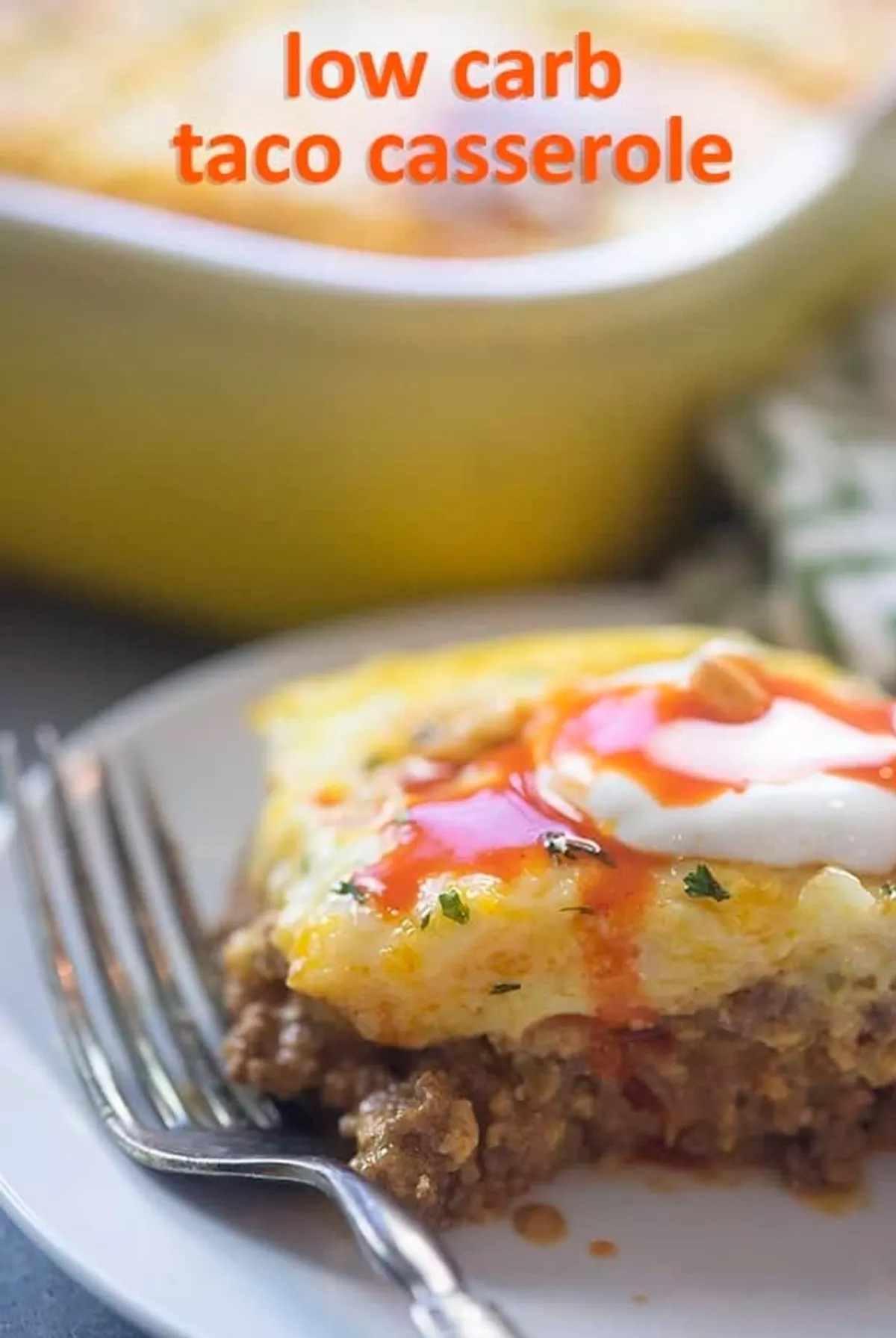 Taco Casserole
Butter Chicken
Keto Connect is a goldmine for all things keto. We've dabbled in many of their recipes, but hands down our favorite is the butter chicken. Like, ya'll, it is so so good … and I'm not even following the keto diet, just my husband! I do "cheat" on this recipe by doing half white rice, half riced cauliflower for the kids, but still! It's a keto recipe the whole family can enjoy. Get this butter chicken on your meal plan ASAP!
Check out this recipe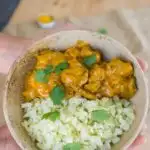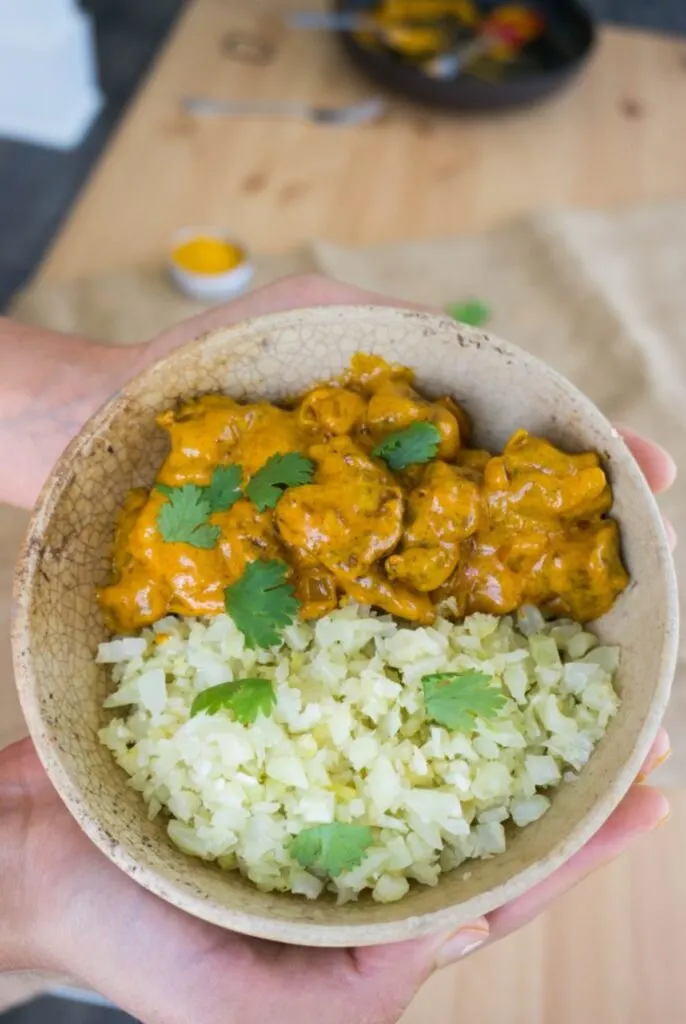 Butter Chicken
Italian Sub Roll Up
Sandwich roll-ups are always a win for both lunches and summer time dinners around here. My husband loves this Italian sub roll-up from Our Paleo Life and it's another one of those easy recipes to modify for the whole family. Bring on the peppercinis!
Check out this recipe
Italian Sub Roll Up
Eggs Benedict
Breakfast for dinner? Oh yes! When it comes to keto, buy a mini waffle maker stat so you can make chaffles – that's an egg/cheese waffle! Chaffles are the perfect base for homemade breakfast sandwiches and EGGS BENEDICT! This specific recipe from Tastaholics calls for an Oopsie Roll (also called Cloud Bread) so play around with that and a chaffle recipe to see what you like as your breakfast base the best.
Check out this recipe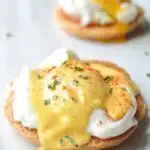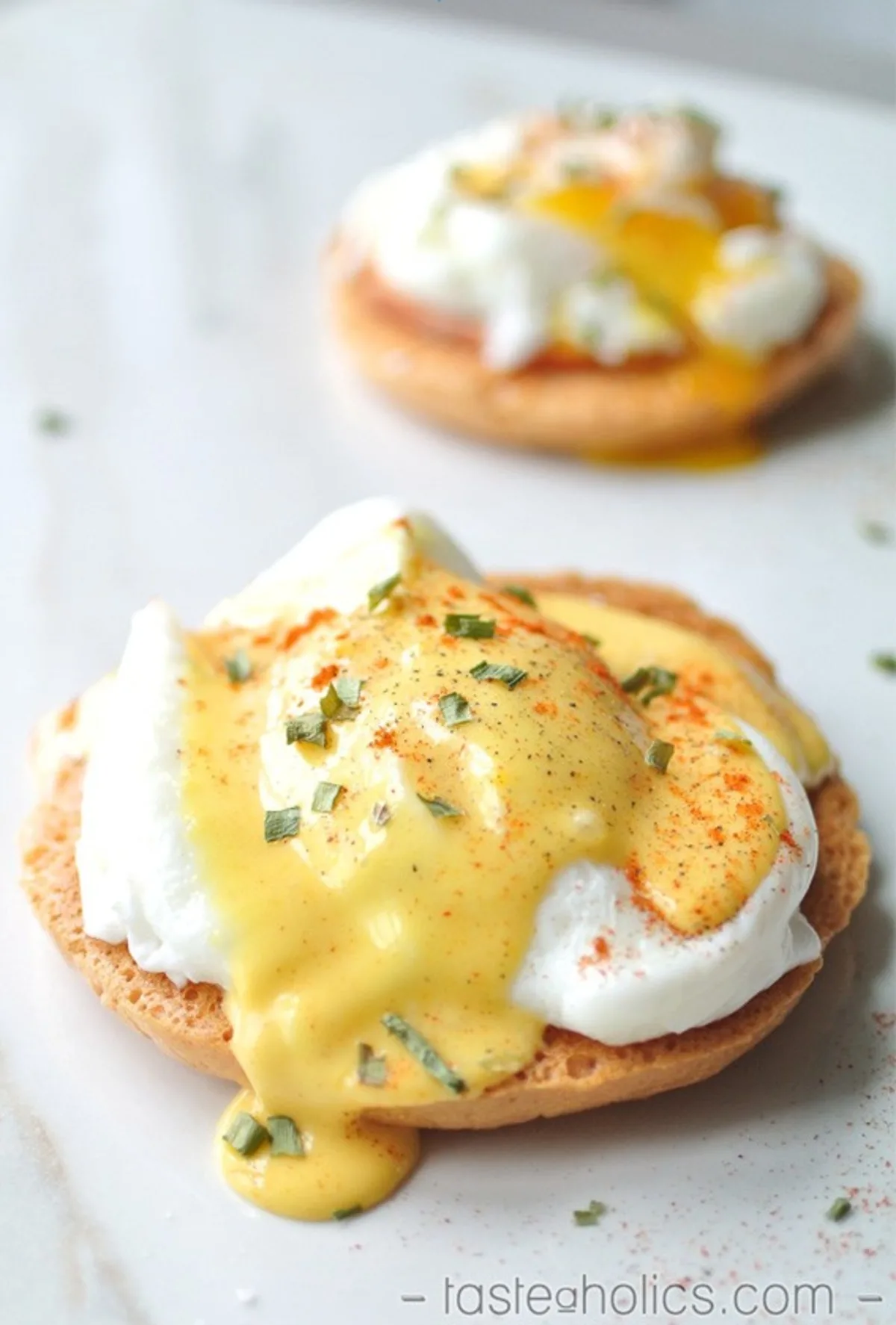 Eggs Benedict
Keto Meatball Casserole
This Cheesy Keto Meatball Casserole is delicious and super filling with homemade meatballs topped with creamy ricotta cheese, mozzarella and parmesan for the perfect low carb meal your whole family will enjoy!
Check out this recipe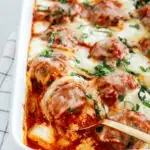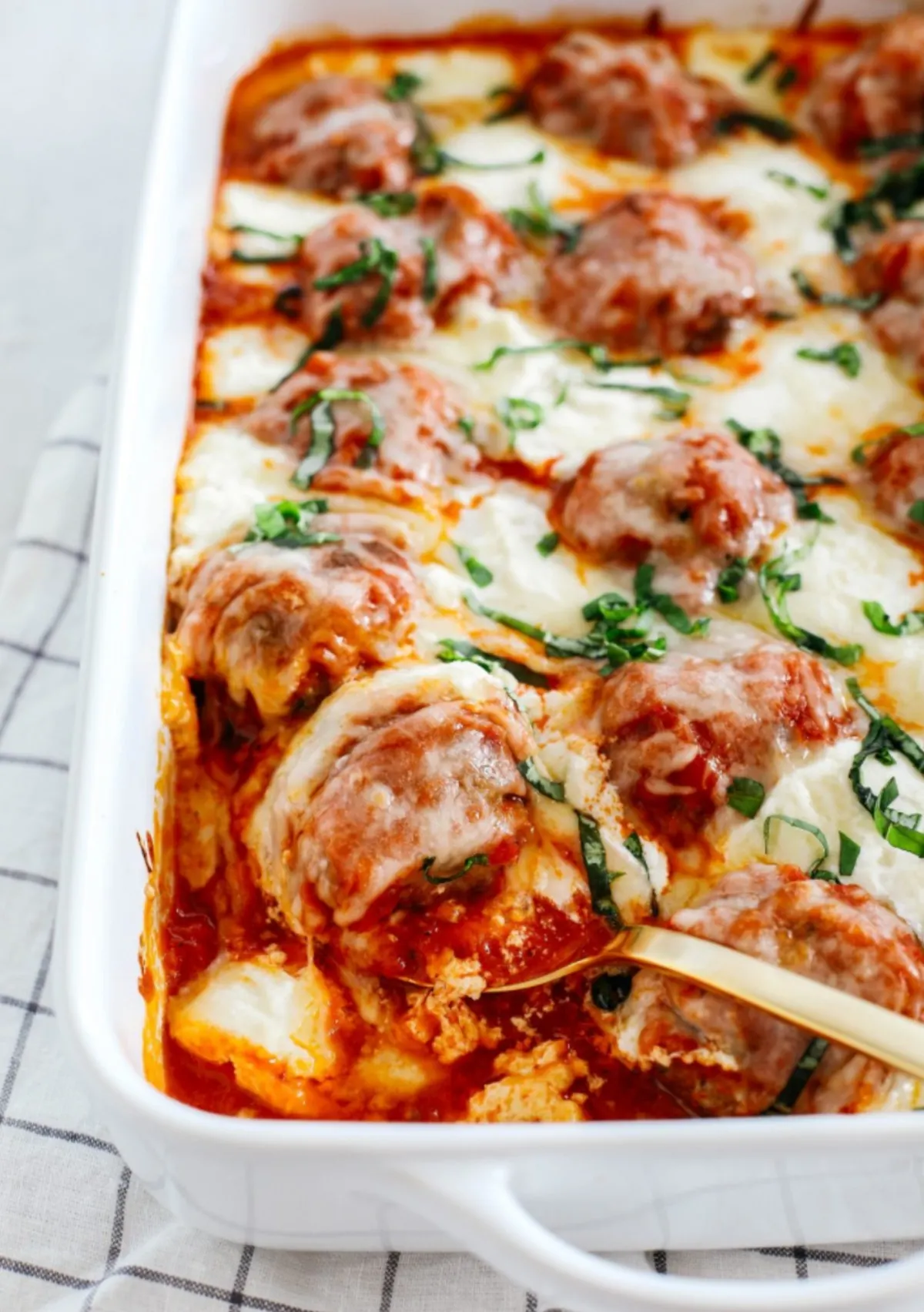 Low Carb Meatball Casserole
Pork Egg Roll in a Bowl
Pork Egg Roll In a Bowl from Peace, Love and Low Carb was actually a recipe I discovered back in my paleo days … good news is, it's low carb/keto too! It warms up perfect as leftover too. Don't forget the Sriracha!
Check out this recipe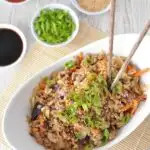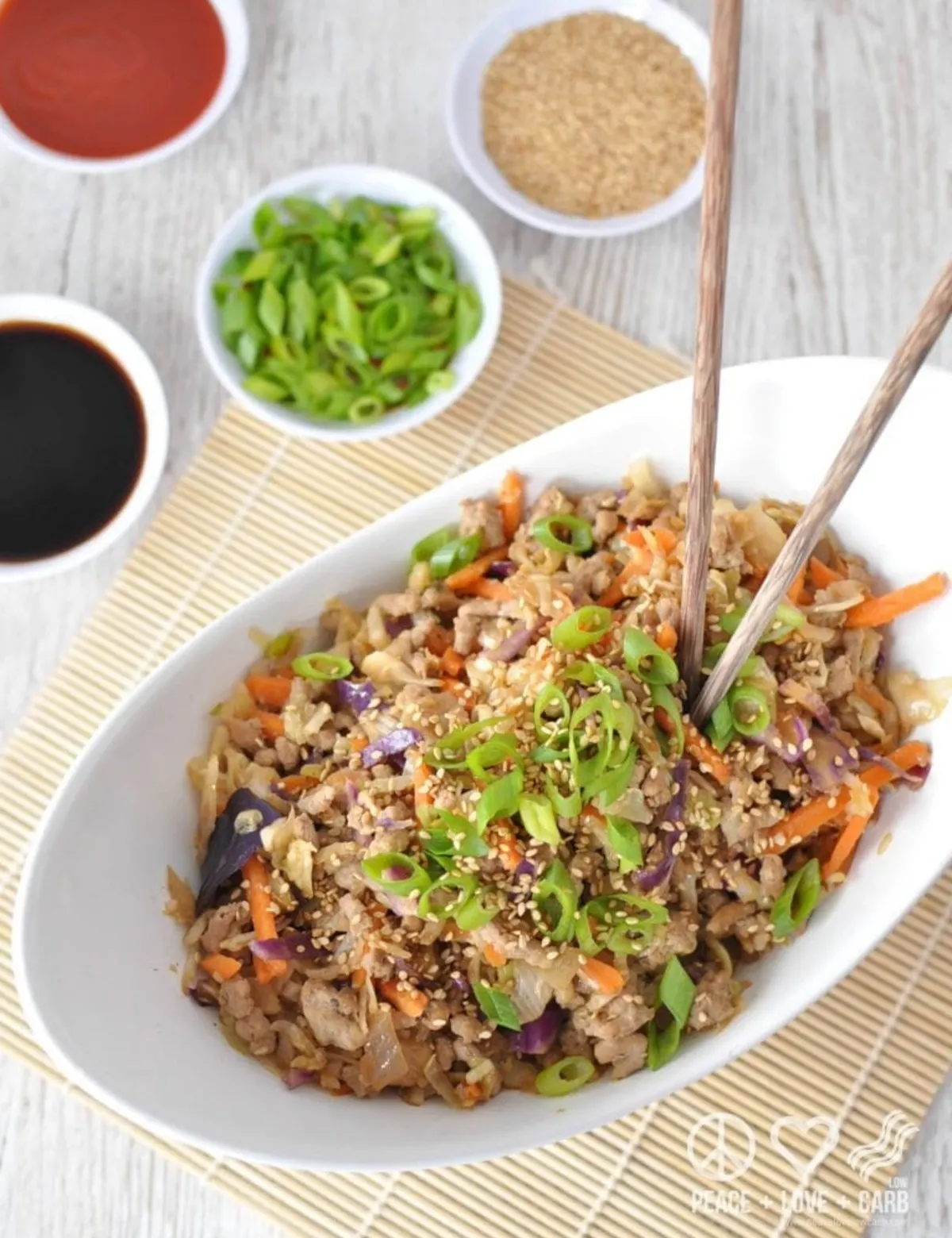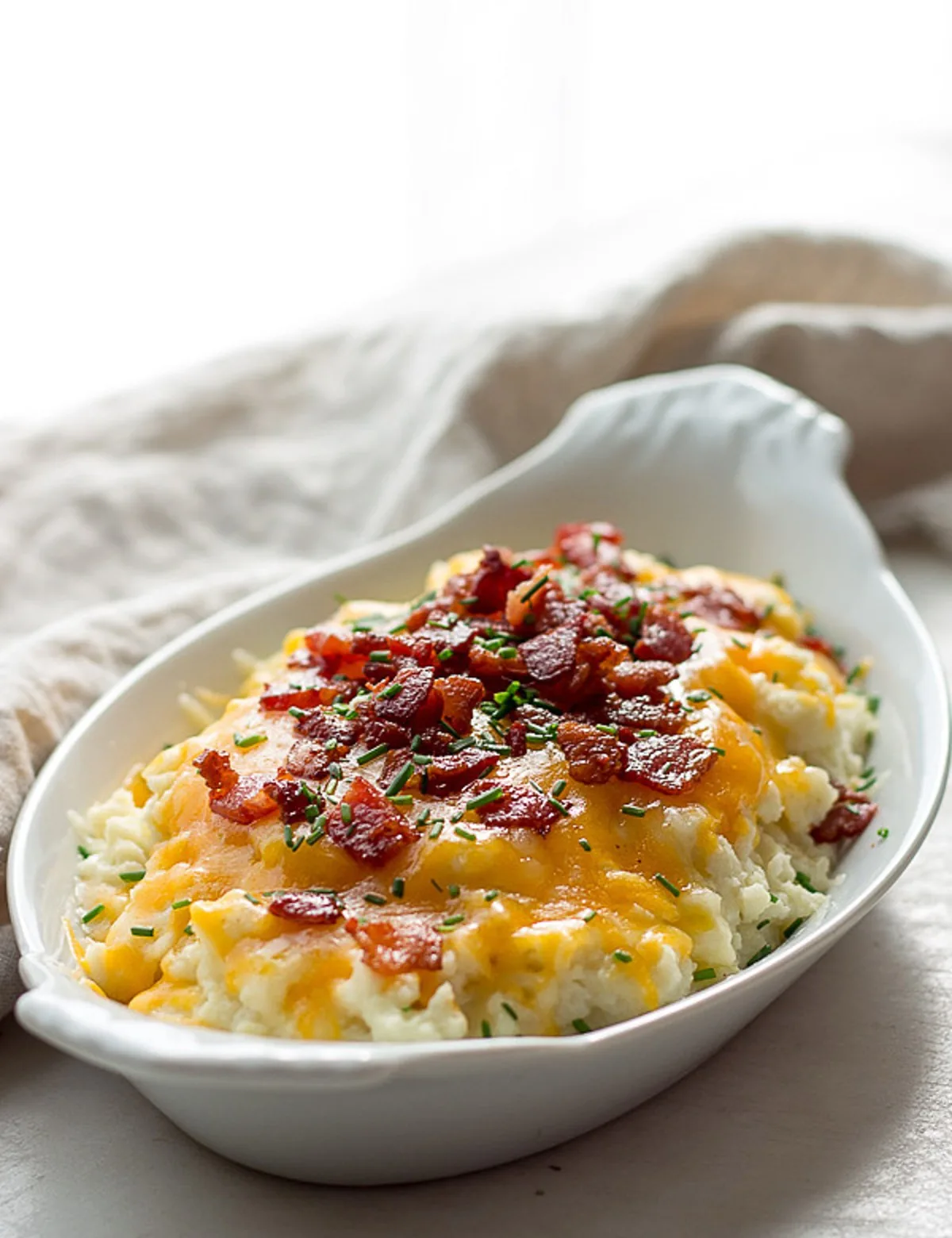 Loaded Cauliflower
Low Carb Maven knows her low carb recipes and although you might think Loaded Cauliflower sounds boring, I promise, it's actually a delightful comfort food. Think all the good things of a baked potato (add a no bean chili if you want!) with none of the pretentious carbs.
Check out this recipe