This summer, one of our stops on our "On the Road with Baby Gizmo" YouTube series was over the border to Niagara Falls, Canada. This has been on our travel list for quite a while, so this summer we made it happen!
After spending five days there, my kids are happy to announce that Niagara Falls is their #1 FAVORITE place to go (and that currently places it in front of Walt Disney World!). Yep, Niagara is THAT fun for kids.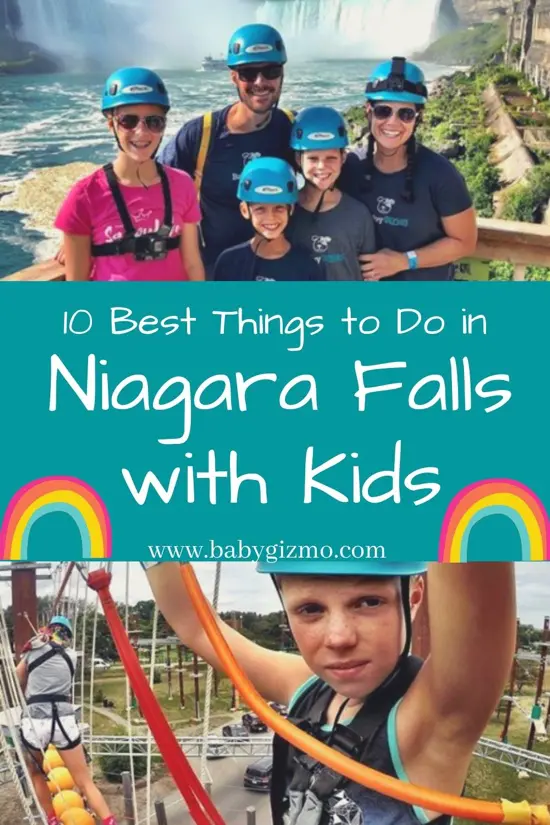 When I first started planning our Niagara Falls stop, I was under the impression that we'd stop there for a day or two, look at the beautiful falls and be on our way. I just didn't think there was going to be that much for the kids to do. Boy, was I WRONG! I had no idea of just how many things you can do in Niagara Falls with kids. We were there for 5 days, packed each day with TONS of activities and we still didn't get to do everything. This place is no one trick pony. From tours behind the falls, to cruises into the falls, to zip lines, adventure courses, haunted houses, race cars and more, there is so much for families to do at Niagara Falls.
We decided to break it down for you and give you a list of our TOP 10 Things to Do in Niagara Falls with Kids. Yes, these were our Top 10 favorite activities that we HIGHLY recommend and if you want to see EVERYTHING we did, please watch our YouTube travel series.
WILDPLAY MISTRIDER ZIPLINE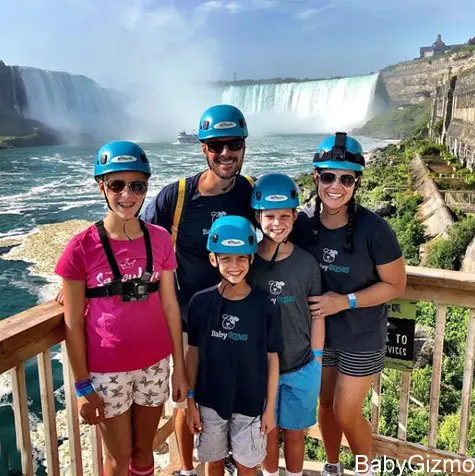 If your family is the adventurous type, ziplining is a great, thrilling activity. The Wildplay Mistrider Zipline is no ordinary zip line though. When you strap on your helmet and harness, you take a flight on the zip line down 2,200 feet at more than 40 mph with the most AMAZING view of the Niagara Falls. It's truly amazing and a fantastic out-of-the-box activity to do in Niagara Falls.
More information on the Wildplay Mistrider Zipline: http://niagarafalls.wildplay.com/
HORNBLOWER CRUISE
You may think you've seen Niagara Falls but you haven't really SEEN it until you go into the mist and sail into the falls (almost!). The legendary Niagara Falls Hornblower boat tour takes you as close as possible to the thundering roar, awesome power, and amazing mist of the Mighty Falls! This was one of our very favorite tours of our trip.
You put on your classic, red poncho and board the huge Hornblower boat to sail directly into the Horseshow Falls. It's absolutely thrilling! Take a peek at our video that takes you into the mist with us!
For more information on the Hornblower Cruise: https://www.niagaracruises.com/
WHIRLPOOL AEROCAR
When we arrived in Niagara Falls, I never thought I'd be in an antique, aerial cable car suspended above the racing waters of the Niagara River but OMG! The Whirlpool Aero Car was ahhh-mazing!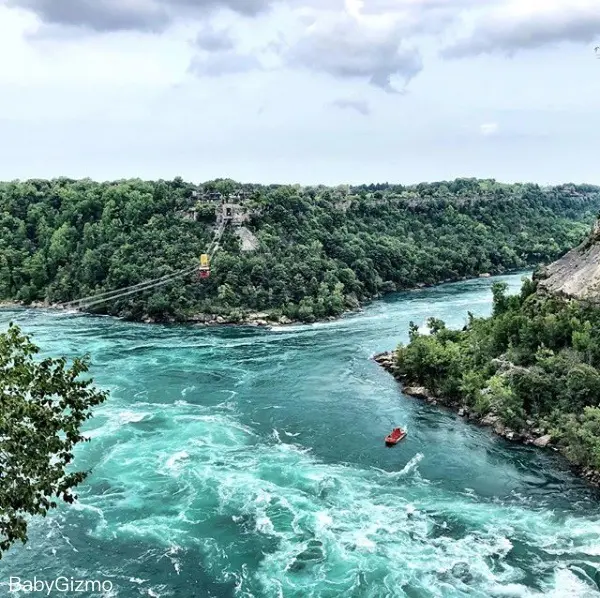 The roundtrip voyage between two different points of the Canadian shore of the Niagara River only took 10 minutes, so this was one of our shortest activities during our Niagara Falls visit, but it's definitely on our "Must Do List" for Niagara Falls. The Aero Car takes you high above the point of the Niagara Whirlpool which is formed at the end of the rapids where the gorget turns abruptly counterclockwise and the river escapes through the narrowest channel in the gorge. The view was absolutely breathtaking!
Come along as we take you with us in this breathtaking journey in Episode 29 of our YouTube travel series.
To find out more about the Whirlpool Aero Car, click here: WHIRLPOOL AERO CAR.
CLIFTON HILL
Honestly, I'm not really sure where to start with Clifton Hill because there is so much to share. The city of Niagara Falls likes to refer to Clifton Hill as the "world famous Street of Fun by the Falls" and they aren't wrong. We visited Clifton Hill for a different activity every day of our trip because there was just too much to see and do in just one visit.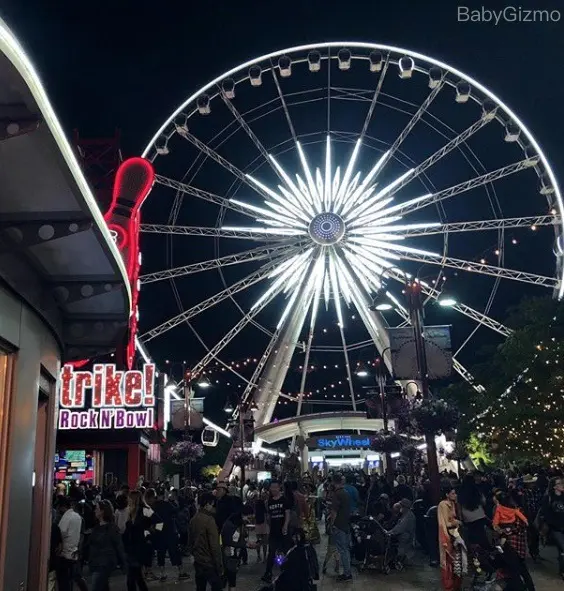 This is a Niagara Falls top destination thanks to the many attractions, restaurants, entertainment and more! It's just one block away from the Niagara Horseshoe Falls and is so much fun for the entire family. We highly recommend you purchase a Clifton Hill Fun Pass so that you get a discount on 6 different activities.
We can't share every activity in Clifton Hill (that will have to be an article on it's own!) but we can tell you our FAVORITE things to do there. Definitely make sure you take a ride on the Niagara Skywheel. This giant ferris wheel takes you high above the city of Niagara with some of the most amazing views of Horseshoe Falls and Niagara River. We did the Skywheel at night and the view was spectacular!
The new Niagara Speedway was also a family favorite! This go-kart race course is the newest addition to Clifton Hill and is "over 2000 linear feet of concrete racing surface, running through a four-storey helical spiral followed by a two tiered coaster style ramp that runs into another spiral." What does that mean? These karts are fast and FUN! The kids loved it.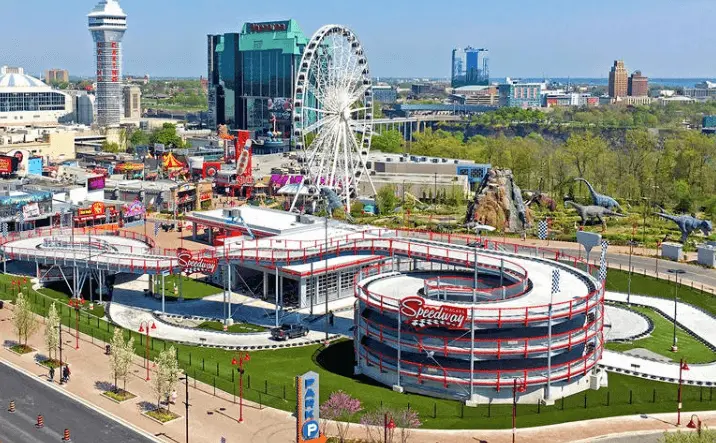 One more of our favorite activities at Clifton Hills was a bit unexpected to fall on our favorites list. We heard about the "Haunted House" in Niagara Falls online and on the Tonight Show, before but we honestly didn't think the Nightmares Fear Factory would happen for us because the kids would be too scared! Boy, did we underestimate the kids!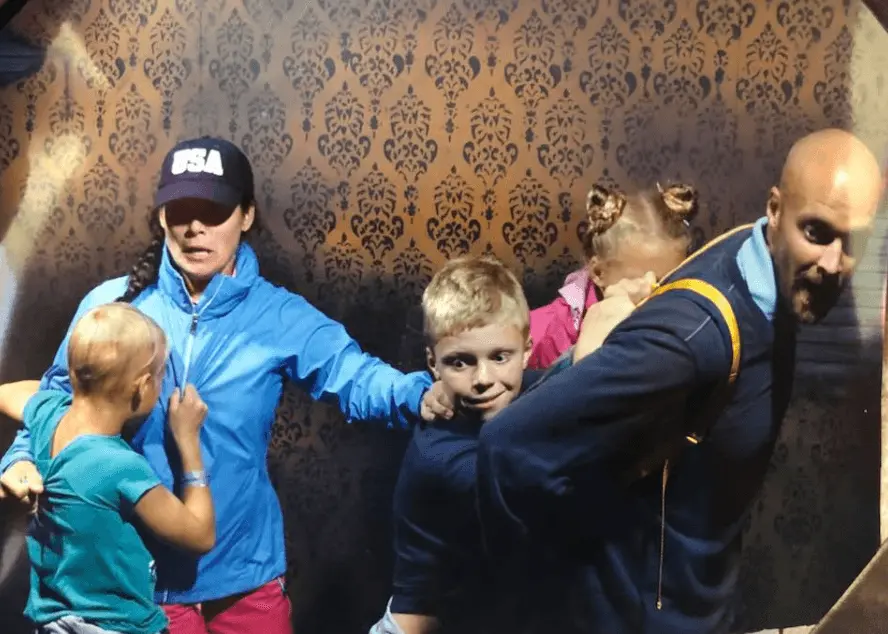 Yes, there are signs everywhere near the Fear Factory that 150,000+ have "chickened out" but that didn't stop us. (Yep, we are those crazy parents!). Now, don't get me wrong – it was SCARY. Like VERY SCARY! I mean it's a haunted house that exploits all your fears IN THE DARK… What could be scary about that, right?! Well, we made it through without ever saying the "safe word" to quit. That's right, my friends, all 5 of us (including the 9 year old!) made it through. If you are brave (like really brave!), put the Fear Factory on your list to visit in Niagara Falls.
SAFARI NIAGARA
Let me just start by saying, I'm NOT a zoo person. Never have been. But that being said, I think I may be changing my tune after visiting Safari Niagara.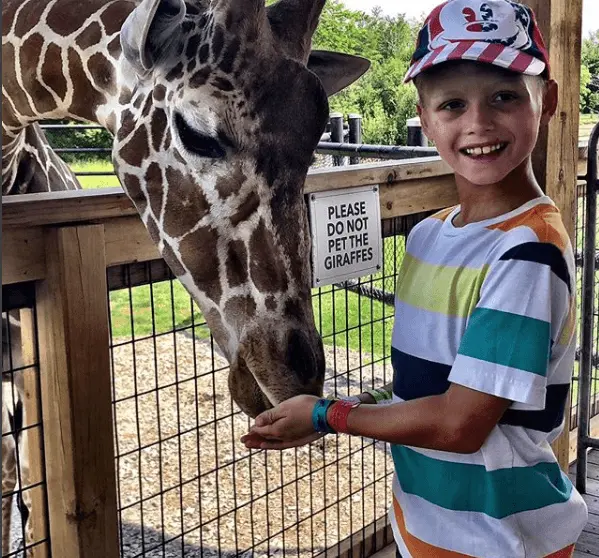 This is one of Ontario's top zoos and it is a privately-owned and operated nature park that's not only home to over 1000 animals but it also has two ropes courses, two huge jumping pillows, a fantastic playground, peddle cars and a fabulous splash park. Does YOUR zoo have all that? I'm guessing it doesn't.
As a matter of fact, this is my TOP activity choice for parents with small children! Yep, it's THAT good. Take a peek of Safari Niagara in this episode of our YouTube Travel Series.
For more information on Safari Niagara, click here: SAFARI NIAGARA
OH CANADA EH? DINNER SHOW
A dinner show, you ask? YES! A dinner show. At first Dad Gizmo balked a bit at going to a dinner show but after witnessing him ON STAGE in the production laughing, dancing and singing to "It's Raining Men" after they nudged him on stage, I think EVERYONE changed their mind.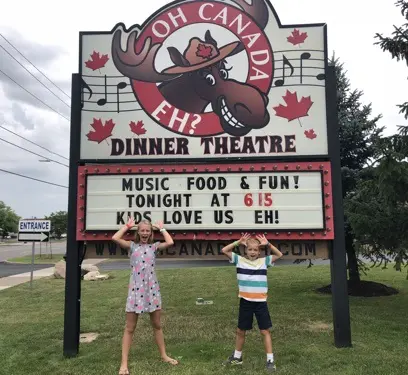 Oh Canada Eh? Dinner Show was a fantastic time for the entire family. The food was great and the talented actors and actresses were even better. It's definitely "Niagara's Must See Musical." You won't be disappointed!
You can meet their singing Mounties, Lumberjacks, Anne of Green Gables and even a Hockey Player as they present a Canadian inspired performance, paying tribute to over 30 of Canada's professional recording artists. For more information on the The Oh Canada Eh? Dinner Show, click here: OH CANADA EH DINNER SHOW
WHIRLPOOL ADVENTURE COURSE
We all know that ropes courses are all the rage with the kids right now. Okay, maybe they've been trendy for a long time but my kids are just at the perfect age that the bigger the better with ropes courses and the Whirlpool Adventure Course in Niagara Falls did not disappoint!
Just a few kilometers north of the falls on the Niagara Parkway, the Whirlpool Adventure Course at Thompson Point offers a fun and thrilling experience of suspended obstacles and ziplines in the midst of nature.
Come along with us as we navigate the the fun course in our YouTube Travel Series episode.
For more information on the Whirlpool Adventure Course, click here: WHIRLPOOL ADVENTURE COURSE.
WHIRLPOOL JET BOAT
Another thrilling activity in Niagara Falls that is not for the weak hearted is the Whirlpool Jet Boat! I've been on boats before. I've be on speed boats before. BUT I have NEVER been on a boat like this at THESE types of speeds in these types of rapids. It literally takes your breath away and is an experience you'll never forget.
The Whirlpool Wet Jet tour allows guests to enjoy the power and beauty of Niagara's class 5 whitewater rapids while experiencing their Hamilton 360 turns, and the excitement of the class V rapids up close!
There are few words to describe this experience so just watch the video!
For more information on the Whirlpool Jet Boat, click here: WHIRLPOOL JET BOAT TOUR.
NIAGARA HELICOPTERS
I may have just saved the best for last. That's right, we took a HELICOPTER OVER NIAGARA FALLS and it was phenomenal.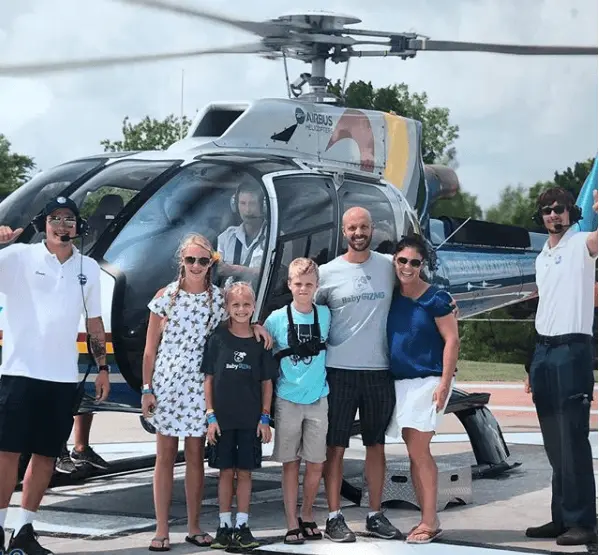 Seriously, if you are looking for something that is a little more over the top (get the pun there!! LOL!), extravagant and just downright amazing, take a helicopter ride. Make sure do to this last on your trip or everything may pale in comparison to your helicopter tour. Plus, if you do it last, the kids will be able to pick out all the cool things you did in the city from the air during your flight.
The Niagara Helicopters team were fantastic, and this was the perfect first helicopter ride for our entire family.
Take the ride with us in our YouTube Travel Series episode…

For more information on Niagara Helicopters, click here: NIAGARA HELICOPTERS.
So there you go! Those are 10 of our FAVORITE things to do with kids in Niagara Falls. Okay, so we technically gave you more than 10 but it was just so hard for us to choose. If you are planning a trip to Niagara Falls, here is a lot more information on things to do – https://www.NiagaraFallsTourism.com
FAQs
Is Niagara Falls a good family vacation?
Absolutely. There are so many family-friendly things to do in Niagara Falls that it ranks up as one of my kids' favorite places to visit in the US.
What is the best time of year to visit Niagara Falls?
The best time to visit Niagara Falls with kids is summer – specifically June to August. While the crowds are bigger, summer is peak season because the average temperatures are in the low 80s.
Do I need a passport to go to Niagara Falls?
Yes, non-Canadian citizens need a passport (or a Passport Card or Enhanced Driver's License if coming by land) for crossing the border into Canada unless you are age 15 or younger.
*Disclosure: Thanks to Niagara Falls Tourism Board for hosting our family while we were visiting.