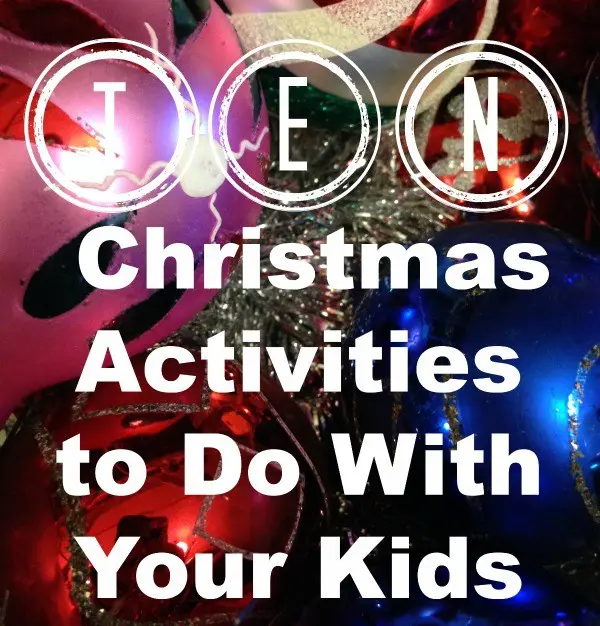 1) Participate in a Polar Express inspired train ride.
2) Make ornaments! These are my favorite, of course, but Pinterest is booming with kid-friendly ornament ideas. Just search "DIY ornaments" and you'll be feeling crafty for days.
3) Visit Santa … and not just the mall ones. My favorite Santas to visit seem to be the pop up ones that arrive at various tree lightings and events. Nordstrom always has a golden Santa too.
4) Take your kids Christmas shopping. I know, sounds counterintuitive to take them out at such a busy and secretive time of year. But, go with a mission, or one simple task. My daughter loved our recent trip to Wal-Mart to use a leftover gift card to pick out a present for her brother. It helped get her mind into the perspective of giving.
5) Join the Salvation Army as a volunteer bell ringer. This is a super family activity. When we have volunteered it has just been for an hour or two shift … about my max for kid-style crazy loud bell ringing 🙂 Kiddo smiles do bring in the coins and dollars though!
6) Bake! Christmas is all about baking – sweets for us, sweets to give, sweets for everyone! These cookies are one of my Christmas staples.
7) Participate in a holiday walk or run. Bundle up with the littles and get some winter exercise!
8) Grab a local newspaper – yes, they still exist – and check out the events section. Over the years we've had the best time at things like Snowflake Lane, Holiday in Lights, Fantasy Lights, and Peppermint Village.
9) Host a sweet themed party. My sister in law is the queen of this … each year she invites over a few friends for a Christmas movie and small gift exchange. Every guest brings a treat to share with one similar ingredient. Over the years she has had a gingerbread party, a peppermint one and I'm voting for eggnog themed treats soon!
10) Send support to our troops. Everyone wants to be home for the holidays, sending our love overseas to those who can't is a must this season and definitely something to get our kids involved in.
What activities do you love to do with your kids during the Christmas season?