Fact: I am not a drinker. For those of you who love your glass of wine with dinner, more power to you. But for people like me who don't drink, this post is for you. Sometimes I want to order a fancy drink when I'm out at a restaurant and other times I feel like whipping up something exciting in the kitchen but most fancy drink recipes contain liquor. This is a post for the non drinkers, or the drinkers who want an alternative! Read, make, and enjoy!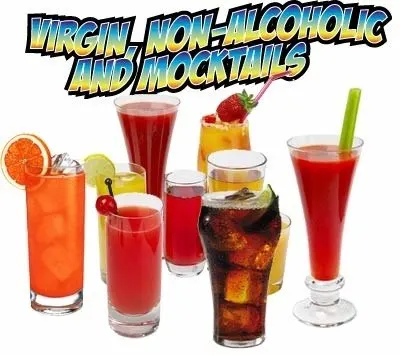 1. Mock Champagne. All you need is a 2 liter bottle of ginger ale, 1 can of pineapple juice, and 1 bottle of white grape juice. Make sure everything is chilled. Combine everything and enjoy your non alcoholic bubbly,
2. Tornado Twist. Mix up 12 ounces of cran raspberry juice and 1 can of lemon lime flavored soda. This is a fun drink for kids and adults who don't like the bitter taste of cranberry juice.
3. Arnold Palmer. A total classic. All you need to do is mix equal parts of lemonade and iced tea. This was always a favorite of my customers when I worked at a restaurant. Refreshing and delicious.
4. Virgin Mojitos. The ingredients you need are- 2 cups of water, 1 cup of white sugar, 2 cups of mint leaves, 2 cups of lime sherbet, 1 cup of lime juice, 8 cups of club soda, and lime slices for garnish. Combine the 2 cups of water and the sugar and heat on high for five minutes. Stir the mint into the water, then strain and discard the mint leaves from the syrup. Stir in the lime sherbet, lime juice, and an extra cup of water into a pitcher. Pour the mint syrup into the mix. Add club soda and stir. Serve this over ice, garnish with a lime slice, and you're ready to go!
5. Shirley Temple. The perfect drink for kids. All you need is Sprite and cherry flavor. Serve over ice and stick some cherries inside for fun!
6. Cucumber Punch. This cool refreshing punch only contains white grape juice and lemonade mix. Stir in some sliced cucumbers and you're done!
7. Cherry Lime Ricky. Mix half a cup of tart cherry juice, the juice from one lime, 1 packed of Sweet N Low sugar substitute and club soda. Add a lime wedge for garnish and you've got the refreshing pleasure of this old0time soda fountain favorite.
8. Virgin Garden Mary. Set out pitchers of carrot juice, tomato mary mix, and cucumber water. Let guests mix the drinks to their liking or do it for them. Add in hot sauce and lemon wedges, too.
9. Creamsicle Punch. You'll need a haf gallon of orange juice, one 1 oz package of vanilla instant pudding, 1 liter of ginger ale, and 1 pint of vanilla frozen yogurt for this one. Put the orange juice into a large punch bowl and whisk in the pudding mix until it's all dissolved. When you're ready to serve it, drop small scoops of the yogurt into the punch and pour the ginger ale on top. Serve this delicious drink immediately.
10. Chocolate Mock-tini. The perfect dessert. You need- Half cup of sugar, 2 tbs of natural cocoa powder, a pinch of cinamon, 1 cup of water, 2 cups of almond milk, and a lemon wedge. Stir the sugar and cocoa powder together. Put the mix and water in a saucepan and bring to a simmer. Remove from heat and cool to room temperature. Make a cut in the lemon wedge and run the cut lemon around the edges of martini glasses. Pour half the cooled syrup into a cocktail shaker. Add one cup of ice cubes and one cup almond milk. Shake until well chilled. Strain evenly into the glasses and repeat with the reamining syrup and almond milk. Chocolate, delicious, a winner!