Summer is here and that means picnics and potlucks and lots of great get-togethers. Today I'm rounding up 10 great recipes to take to a potluck. Have a look and find something new to make!
WHAT IS A POTLUCK?
A potluck is a communal gathering where each guest or group contributes a different, often homemade, dish of food to be shared.

Other names for a "potluck" include: potluck dinner, shared lunch, spread, faith supper, carry-in dinner, covered-dish-supper, fuddle, Jacob's Join, and fellowship meal.

Potluck dinners are events where the attendees bring a dish to a meal. Potluck dinners are often organized by religious or community groups, since they simplify the meal planning and distribute the costs among the participants. Smaller, more informal get-togethers with distributed food preparation may also be called potlucks.

The only traditional rule is that each dish be large enough to be shared among a good portion (but not necessarily all) of the anticipated guests. In some cases each participant agrees ahead of time to bring a single course, and the result is a multi-course meal. This agreement rectifies the problem of many participants bringing the same dish. Guests may bring in any form of food, ranging from the main course to desserts.

Wikipedia
Macaroni Salad. This Macaroni Salad from The Pioneer Woman claims to be the best and it sure looks like the best to me.
Deviled Eggs Who doesn't love a good Deviled egg? I always look forward to making them and eating them at any pot luck or picnic I attend. This recipe from Pinch My Salt is sure to be a favorite!
Potato Salad. What says pot luck more than a good potato salad? Try this recipe from Brown Eyed Baker next time you want to whip some up.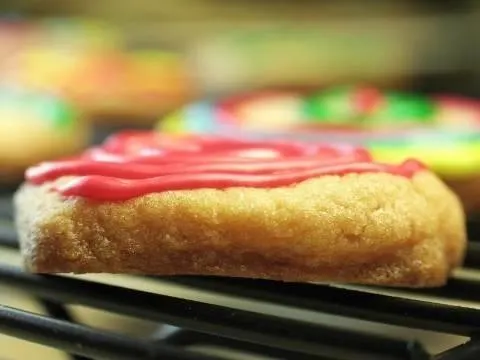 Sugar Cookies. Don't forget to bring a dessert like these delicious and cute sugar cookies from Moms Who Think next time you have a pot luck to attend.
Oven Fried Chicken. All pot lucks need some main courses and this one from Every Day Maven is not only delicious but it's healthy and paleo friendly, too!
Special K Bars. This recipe for Special K bars from The Dutch Bakers Daughter has my mouth watering. I don't know if this happens to be a Dutch thing because I happen to be Dutch and my family makes these all the time, but I think everyone Dutch or not needs to make them!
Hot And Cheesy Bean Dip. Don't forget to bring a dip for all those chips at the pot luck! This bean dip from Emily Bites will be a big hit!
Fruit Salad. If your kids are anything like mine, they love fruit! This fruit salad from Savory Sweet Life is a nice fresh and healthy dish that kids and adults will both love!
Homemade Rolls. Not only will these rolls taste amazing, Your Home Based Mom shows you how to make them in just 30 minutes!
Apple Pie. You didn't think I could leave out a homemade apple pie did you? What is any pot luck without a pie? Impress all of your friends and family with this pie from King Arthur Flour.