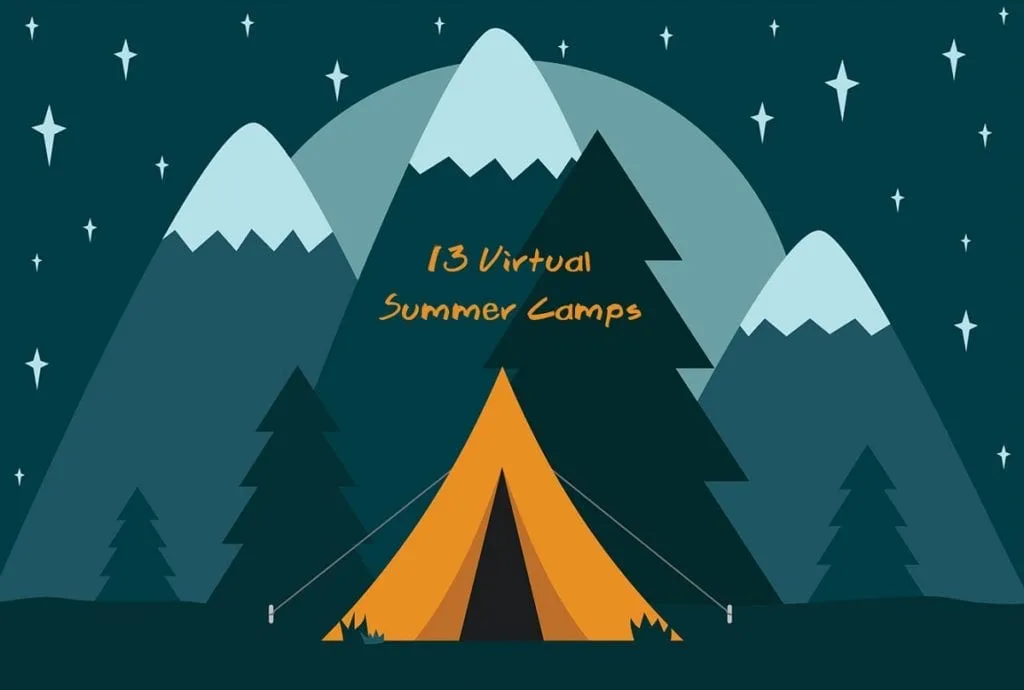 It's been hard watching as COVID-19 takes away parts of my daughter's life piece by piece. First it was school and church and friends and playdates and ballet. Then it was her trips to Camp GrammyPapa and Camp Grandma this summer. Then they closed the pool for the season. And then they finally cancelled sleep-away summer camp.
She's taken it all pretty well, but it's starting to get to her. And I'm noticing she seems sadder with the loss of structure her day had when school was still in session. I'm hoping as our state is beginning to open back up that we'll be able to start seeing her friends more, but that won't make up for the loss of all her summertime adventures. However, there are places stepping in to fill the void left behind as summer programs and sleep-away camps have been cancelled.
In my town the local kids' art studio has put together a Summer Art Camp at Home program where they provide the necessary art supplies, and then instructions and programming will be provided via Facebook. My daughter's summer camp has switched to "Camp Out of the Box" where you register, and then they send you five days of programming and camp swag. So, check out the places you would normally send your kids and see what they've got going on because these are great ways to help businesses and programs who could really use your support right now. But wait, there's more! In addition to local options, there are virtual summer camps you can send you kids to, as well! Check out some fun options below.
iD Tech: These camps are the height of personalized, maxing out at just 5 students per instructor. Balancing group time and personal project development time, participants have a chance to work on the latest in computer languages, programming, and popular games. A great way for your tech lover to connect with other like-minded kids.
Camp Wonderopolis: From the National Centers for Families Learning, this camp lets your child explore topics like Music, Building, and Wondering under the guidance of their Counselor (you or another trusted adult leader).
Woof Wag Dogs Summer Camp for Kids and Dogs: This is a great boredom buster for two members of your family who both probably need it. UK-based Woof Wag Dogs offers a virtual dog-training summer camp for children ages 7-15 (and their dogs) all over the world. And there's even a t-shirt you can order to commemorate the experience, too.
Camp Lessonface: Lessonface is an online platform for music instruction, and for the summer they've introduced a series of two-week camps. Days are made up of two 45-minute sessions with a 10-minute break, as well as afternoon and evening events that include a talent-show, sing-alongs, and special guests.
Varsity Tutors: Don't let the name throw you—these camps aren't all about schoolwork. In fact, the first one I looked at was about Fractured Fairytales for 2nd and 3rd graders. There's also one titled "Chemistry: Fireworks, Forensics, and Fun" for Grades K-8 taught by "TikTok's Favorite Chemistry Teacher," and another on recycled art for Grades 3-5, just to name a couple more.
Outschool: This learning website has a ton of camp options for kids! From computer coding languages to Minecraft design, to Percy Jackson, to creative writing, to sewing your own stuffies, there's something here for every interest.
Super Soccer Stars: This New York camp brings soccer skills right to your living room. Even better? Each week, it combines those soccer skills with either other sports or with enrichment programs like STEM or art classes.
Breathing Space: Is your kid feeling a little bit stressed out with everything going on in their world right now? How about a yoga summer camp? Washington DC-based yoga studio Breathing Space is offering a half- or full-day yoga and art camp for rising pre-K through 4th graders.
Baketivity Bake-A-Camp: Kids will get a big box with four Baketivity kits. The recipes and baking techniques get more advanced each week as campers learn some of the science behind their baking. And like any really good summer camp, yes, there's a t-shirt.
Camp KiwiCo: You may recognize the KiwiCo name from their subscription box service, but Camp KiwiCo is free. There are 5 days of videos, DIY activities, printables, and more for ages 3 through 9 and up. If you'd like, you can purchase a KiwiCo crate for each day to supplement the camp content.
Geek Squad Academy This one's not quite a camp, but there are four different self-directed "classes" for 9- to 18-year-olds to take that include photography, gaming with Godot, using binary language, and web know-how.
Camp Super Now: This is a virtual two-week camp experience in which 8-10 kids are assigned to a counselor in a virtual cabin; the group meets daily via Zoom for one hour. There are daily Super Shows (magicians, dance parties, story time, and more) in addition to cabin time. A free trial day is available.
Can you believe that these are just a sampling of the virtual camp offerings out there?! Even if your regular camp options have been cancelled for the summer, there are still tons of ways to keep your kids engaged. Did we leave any great options off the list? If you're sending your child somewhere awesome be sure to let us know in the comments.