Thanksgiving is such a wonderful time for families to connect and spend some time expressing gratitude for all they've been given and for one another. A time for charity opportunities, if you will. It can also be a wonderful opportunity for parents to intentionally instill gratitude through home projects, like a Gratitude Tree, or through community service projects outside of the home.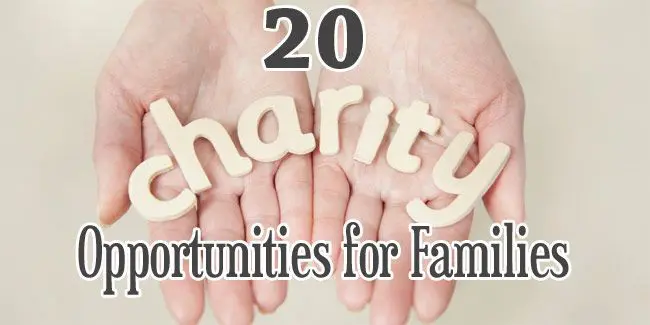 If you are looking for ways to serve your community as a family, check out some of these
20 Charity Opportunities for Families
Participate in a 5K Turkey Trot Fundraiser.
Assemble canned goods for your local food bank. You can find one here.
Distribute packets of essentials to local homeless on street corners. Check out this great link from How Does She. Your little ones can help you pack them!
Bring toys and games to your local children's hospital.
Visit an assisted living community.
Send care packages to veterans and their families.
Assemble a thanksgiving meal kit for a family in need (via The Birthday Project).
Help deliver meals to seniors and disabled members of your community.
Host a member of the military at your own family Thanksgiving.
Invite a refugee or refugee family to join you for Thanksgiving.
Make crafts with children's at your local children's hospital.
Bring holiday treats to a local Fire Station or Police Station to thank them for their service.
Assemble Fall Harvest Boxes (via Pennies of Time).
Sponsor a needy family through an organization like Family to Family.
Serve at the Salvation Army.
Tie coats and scarves to trees in your local park.
Send cards and books to your local jail.
Go through your old items and donate them to the Goodwill.
Participate in a trash clean up or other wildlife conservation project nearby.
Any other ideas? What types of community service projects have you done with your family?