Prepare yourselves: this homemade caramel corn recipe will make your mouth water! The combination of salty and sweet is irresistible, giving the perfect crunch without the chewiness so it won't get stuck in your teeth.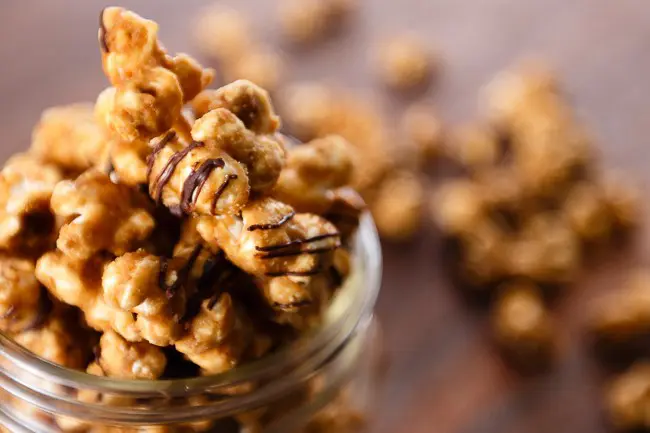 It's a great snack for any occasion, whether you just want something to munch on while sitting in front of the TV, you're preparing for a party or you want to make a homemade gift to give for the holidays.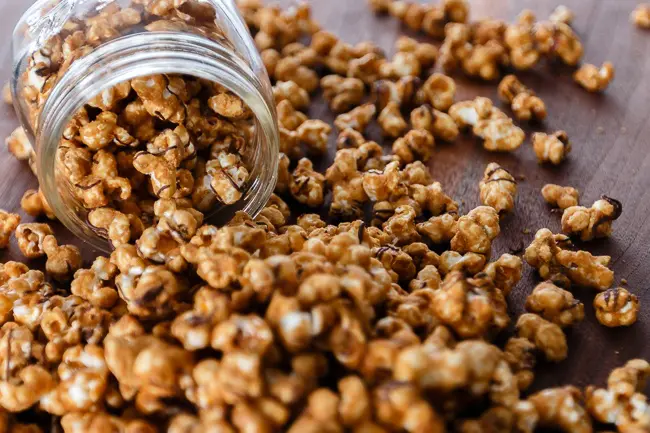 To make this delicious caramel corn, there are four main steps – pop the corn kernels, make the caramel sauce, mix the caramel sauce with the popcorn, and bake in the oven for 1 hour to get that nice crunchy texture. It might sound intimidating, but it's actually simpler than you think. The hardest part is having the patience to wait while it bakes in the oven to eat it. Once you get the basic method down, get creative and make any variation you can think of – drizzle with melted dark chocolate and white chocolate to make zebra popcorn, add nuts, or add flavoring such as cinnamon spice. Enjoy!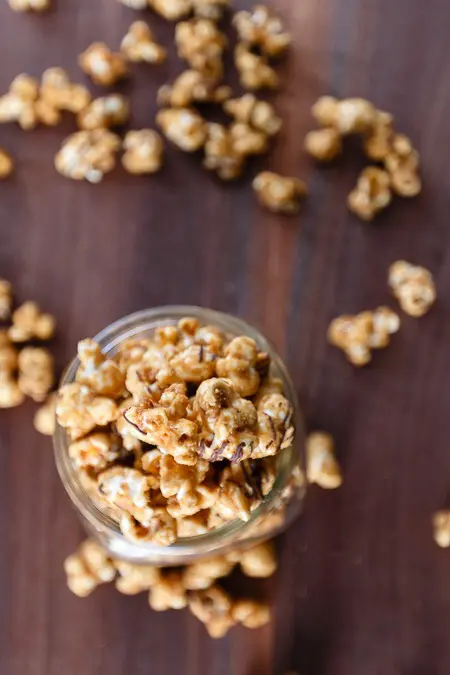 Homemade Caramel Corn
Ingredients:
½ cup corn kernels
2 Tbps olive or coconut oil
¾ cup butter
1 cup brown sugar
2 tablespoons honey
1 teaspoon vanilla
1 teaspoon salt
¼ tsp baking soda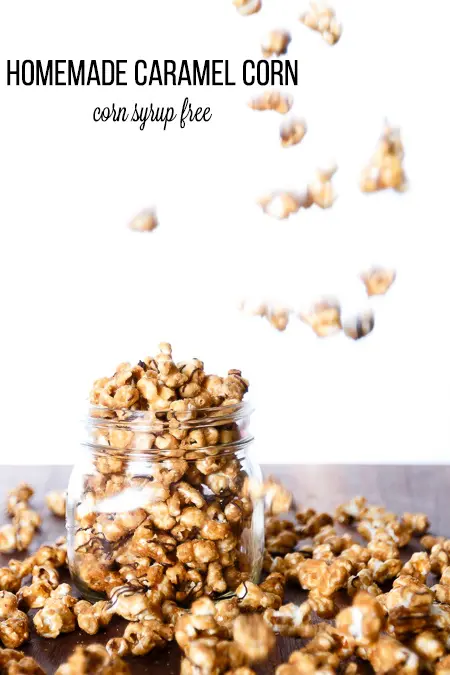 Caramel Corn Directions:
Preheat the oven to 250 degrees.
Make your popcorn:

In a 5 quart pot, add 2 tablespoons oil with 3-4 corn kernels.
Turn up the heat to medium high and cover with a lid.
When all the kernels have popped, remove the pot from heat for 30 seconds. Within these 30 seconds, remove the popped kernels, add the remaining ½ cup of kernels and give it a quick stir to coat all the kernels with oil.
Cover with a lid and put back on the heat. The kernels will begin to pop within a minute.
When you hear about a 5 second interval between pops, your popcorn is ready. Immediately remove from heat and pour into another bowl.

Make your caramel:

Melt butter, brown sugar and honey on medium heat in a 2 quart sauce pan.
Whisk together until melted, turn up the heat to medium high and let boil for 3-4 minutes while constantly whisking.
Turn off the heat, and add vanilla, salt and baking soda. The mixture will foam up when you add the baking soda.
Keep whisking until it's a smooth consistency and everything is incorporated together.

Mix the caramel sauce with the popcorn:

Pour the caramel over the popcorn while constantly stirring until all the popcorn is coated.
Spread onto 2 baking sheets lined with either parchment paper or a Silpat.

Put it in the oven for 1 hour, stirring ever 15 minutes.
Store in an airtight container for up to one week, if you have the patience to make it last that long!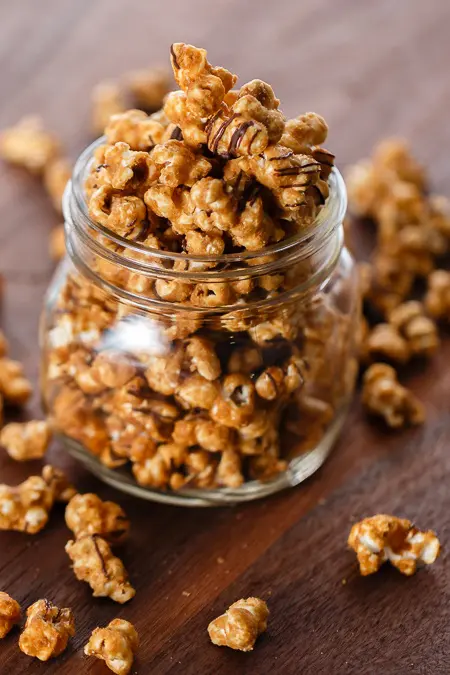 MORE SNACK IDEAS
Cream Cheese Caramel Apple Dip
About the author: Rubina Umarji is the owner and executive cake artist of Rubina's Cake Shoppe. After the birth of her son in 2009, she left her career in engineering to focus on her two passions: her family and her edible art. Since then, she's had the opportunity to showcase cakes and gourmet confections to thousands of dessert loving clients as well as over 100 of Hollywood's hottest stars and has had her cakes featured on television. Now her days are focused on teaching cake decorating classes to all ages. Her favorite students are her two children, ages 3 and 5. She frequently writes cake decorating tutorials and recipes on the Rubina's Cake Shoppe Blog (www.rubinascakeshoppe.com/blog).