Looking for somewhere to take the family for Spring Break or summer vacation? Colorado Springs is packed with family-friendly things to do that should make it part of your traveling list.
WHERE IS COLORADO SPRINGS?
Colorado Springs is the second most populous city and the most extensive city in the State of Colorado. It is the principal city of the Colorado Springs, CO Metropolitan Statistical Area and is the second most prominent city of the Front Range Urban Corridor. It is located in east central Colorado, on Fountain Creek, 60 miles (97 km) south of Denver. At 6,035 feet (1,839 m) the city stands over 1 mile (1.6 km) above sea level, though some areas are significantly higher and lower. Colorado Springs is near the base of Pikes Peak, which rises 14,115 feet (4,302 m) above sea level on the eastern edge of the Southern Rocky Mountains.

Wikipedia
FAMILY-FRIENDLY THINGS TO DO IN COLORADO SPRINGS
1. Ride a historic train: Hop aboard the Pikes Peak Cog Railway and ride to the 14,115-foot summit of Pikes Peak. Watch the scenery change as you move up the 8.9-mile track past the timber line. Once you reach the top, you are allowed 30 to 40 minutes to take photos, visit the gift shop, and eat a world-famous Pikes Peak donut—the only donut made at an altitude above 14,000 feet! The round trip lasts 3 hours and 10 minutes.Tickets are $35 for adults and $19 for kids ages 3-12, but you can get coupons here. Click here to reserve your train. And, get current weather conditions at the summit of Pikes Peak here. It is always much colder up top than it is on the ground, so you'll need a sweatshirt or coat!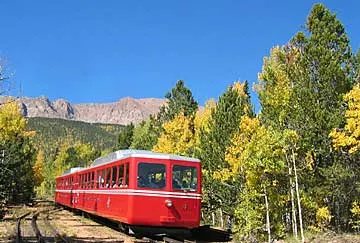 2. Have some old-fashioned fun: Visit the Manitou Springs Penny Arcade, where you can play both classic and modern video games, pinball, and skeeball for as little as a quarter. Kids can also ride one of many old-school rides—rocketships, airplanes, cars, and more! Afterward, stroll through historic Manitou Springs and shop in quirky boutiques, grab lunch or dinner at one of the many restaurants, and enjoy some homemade ice cream or fudge. You can even drink a cup of mineral water from the natural springs—if you dare!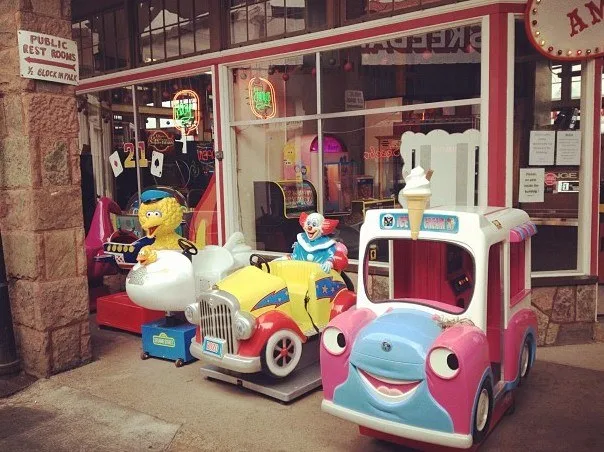 3. Take a hike: Hiking trails abound in Colorado Springs, and many of them are kid-friendly. Whether you want to see mountain vistas, waterfalls, or city views, there's a trail for everyone. Try Red Rock Canyon Open Space, Helen Hunt Falls, or Cheyenne Mountain State Park. Or, check out cospringstrails.com for information on a plethora of other great hikes around the region.
4. See the red rocks: Walk along paths that wind through awe-inspiring sandstone rock formations—some of which are 300 feet tall—at Garden of the Gods, a registered National Natural Landmark. Be sure to check out the Visitor & Nature Center, which offers free, hands-on exhibits about the geology, ecology, and cultural history of Colorado. There are also many hiking and biking trails.

5. Tour a military institution: The United States Air Force Academy offers free self-guided tours to the public. Start by viewing the exhibits at the Visitor Center and watching a short movie about the Academy. Tour highlights include Honor Court, where you'll see bronze statues and aircraft memorials, and Arnold Hall, which contains military and Academy exhibits. On Wednesdays and Fridays during the academic year, you may even see Academy cadets marching to lunch during Noon Meal Formation. Kids will love seeing all of the military aircraft on display!
6. Rub elbows with Olympians: The U.S. Olympic Training Center, where top U.S. athletes from more than a dozen sports train, offers free tours to the public. The hour-long tour includes a short film and a walk through the complex, with stops at the Aquatics Center, weightlifting and wrestling facilities, and more. There's also the U.S. Olympic Hall of Fame, a 12-foot-tall Olympic Ring Wall, and other highlights. You may even get to see some Olympians in action!
7. See a unique waterfall: The approach to Seven Falls will take you through a gorgeous canyon known as "The Grandest Mile of Scenery" in Colorado. Once inside Seven Falls, you'll be flanked on both sides by towering cliffs as you gaze at the 181-foot waterfall, which cascades down granite faces in seven distinct leaps. Seven Falls is the only Colorado waterfall to have been named to National Geographic's list of International Waterfalls. Adults and older children can climb 224 steep steps to the top of the waterfall to reach two hiking trails. Others can ride an elevator up through 14 stories of solid granite to an observation deck for spectacular views. In the summer, kids will enjoy traditional American Indian dance performances. Visit sevenfalls.com for more information, including rates.