Is your closet getting out of control? You don't need to spend a ton of money on storage systems. Here are seven household items that will help you corral the clutter.
Item: Pool Noodles
Use them to: Keep your boots upright.
How: Simply cut the noodles to size and slide them into boots.
Why: Boots will stand in a neat row and not fold over into a messy heap on the floor. This will make your closet neater and extend the life of boots by preventing them from cracking.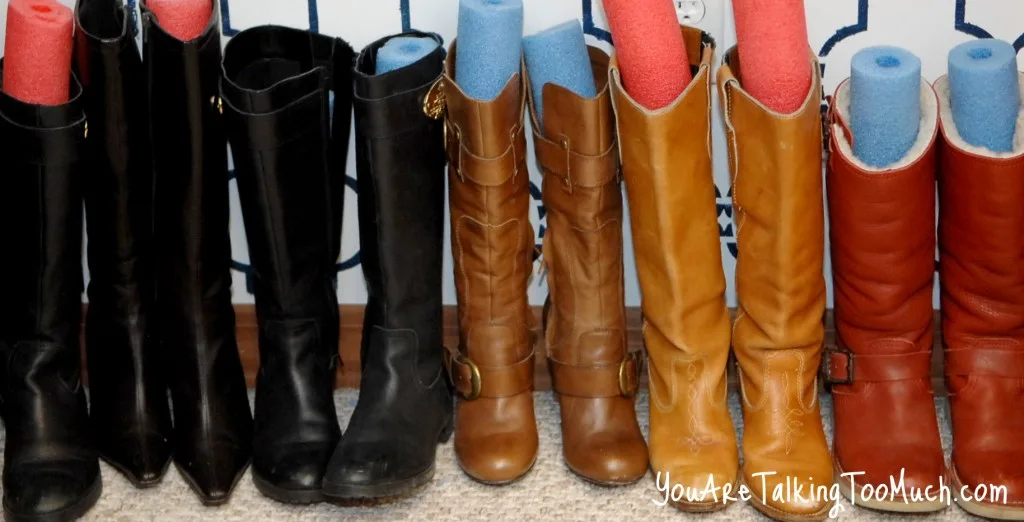 Item: Toilet Paper Tubes
Use them to: House your pantyhose and tights.
How: Slide hosiery into the tubes and label the tubes with markers so you'll know the contents at a glance.
Why: The tubes will keep your hose separate and snag-free. (See more clever uses for toilet paper tubes on the Whole Living website.)
Item: Wooden Clothespins
Use them to: Hang jewelry, belts, scarves, and more.
How: Learn how to make an accessories holder using the clothespins on the Power Tools and High Heels blog.
Why: Hanging necklaces and other long items on the wall keeps them from getting tangled and allows you to quickly find and grab the one you want.
Item: Magazine files
Use them to: Stash socks, gloves, and other small items. You can also use magazine files to corral hair tools in the bathroom.
How: Line the magazine files up on a shelf, or attach them to cabinet doors using screws or Velcro strips. Find out how on the Home Sweet Home blog.
Why: It's a great way to keep small items from getting lost at the bottom of a drawer or storage bin.
Item: Ladder
Use it to: Store throws, scarves, and more.
How: Lean the ladder against a wall and hang items from the rungs
Why: It allows you quickly find what you are looking for. Plus, it looks pretty!
Item: Ice Cube Tray
Use it to: Organize stud earrings, rings, buttons, and other tiny items.
How: Simply separate the items into each cube.
Why: You just may never lose an earring again!
Item: Metal bookends
Use it to: Separate handbags.
How: Line the bookends up on a closet shelf and slide purses in between them.
Why: You can organize purses by color, size, etc. so you can easily find the one you want. This photo is from my own closet!