More than ever I'm trying my best to be mindful in the purchases I make. It is my hope to support local farmers, small businesses (especially mama makers!), companies that have fair business practices.
Why does this matter?
Well, because people's lives and livelihoods are at stake. I don't support child labor. I want moms to thrive through their work at home businesses. I like seeing my local economy flourish and sustain itself. Like the official organic certification, fair trade is becoming a more common certification for specific products as well. Some companies have worked through the specific details and others have made commitments to a more general "ethical practices". Whatever route they go, I'm proud to support companies that are being both transparent and mindful in their business practices. They deserve a high five and more importantly, our shopping dollars!
If you're on the lookout for fair trade and ethically made toys for your child's collection, you'll be happy to know these 5 companies are making a difference in the toy industry by seeking quality and environmentally sourcing and livable wages for their staff.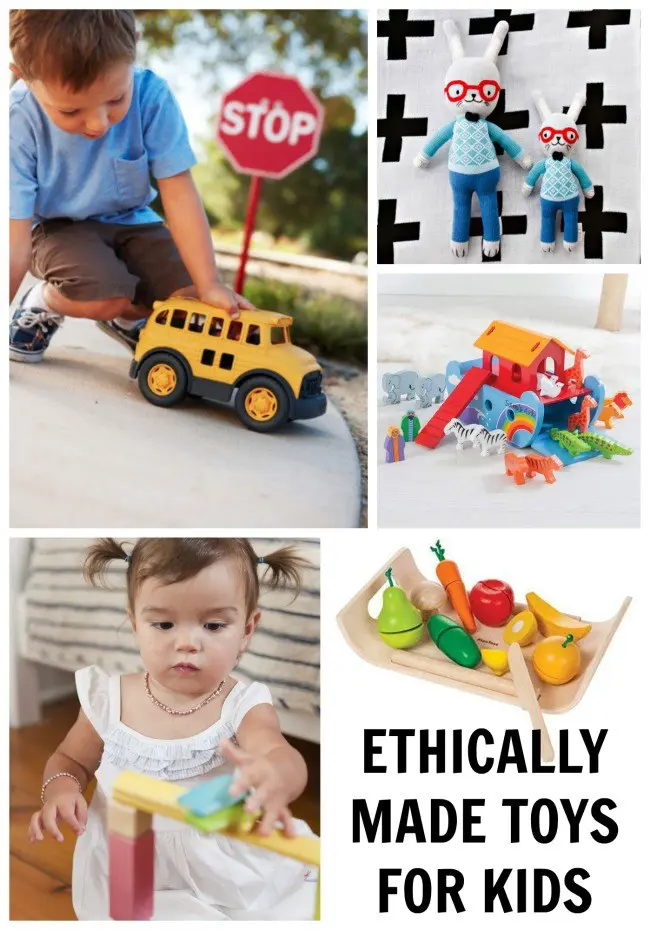 Green Toys School Bus — The entire Green Toy line rocks! From bath toys to transportation inspired things, these toys are all made from recycled milk jugs.
Cuddle + Kind Dolls — These guys and gals are my new obsession! So soft, so darling, and every purchase provides 10 meals to a child in need.
Oskar & Katie Noah's Art — Don't handcrafted wood toys provide such a gorgeous aesthetic? This Noah's Ark set is sure to become a family heirloom, as are many of the other toys by Oskar & Katie.
Plan Toys Fruit and Veggie Set — Plan Toys may have been my first introduction to ethically made toys. And, after 6 years with our own food set, I can personally attest to the quality of every piece. Definitely worth the investment!
Tegu Blocks — Non-toxic with a water-based lacquer finish, Tegu Magnetic Blocks are mega popular with little ones who adore building. Best of all, you can start with a small set and add to it as your child's interest and ability grows.
What fair trade and ethically sourced toys are your family's favorite?