My husband and I just returned from our babymoon; our little getaway in preparation for baby three's arrival. It was splendid! Seriously, we had the most wonderful time taking a break from regular life and focusing on one another before we begin our journey as a family of five.
Some people shy away from the celebrity feel of babymoons, but I promise, they can be whatever you make them! If you want to go extravagant and take off on a week long cruise – do it! If you want to plan a long weekend with spa time and room service – follow your dreams! If your budget will allow for one night at a local inn – that's perfect too! The idea of a babymoon is to set aside time for you and your partner. To pause, reflect, and relax before life goes topsy turvy with a new baby.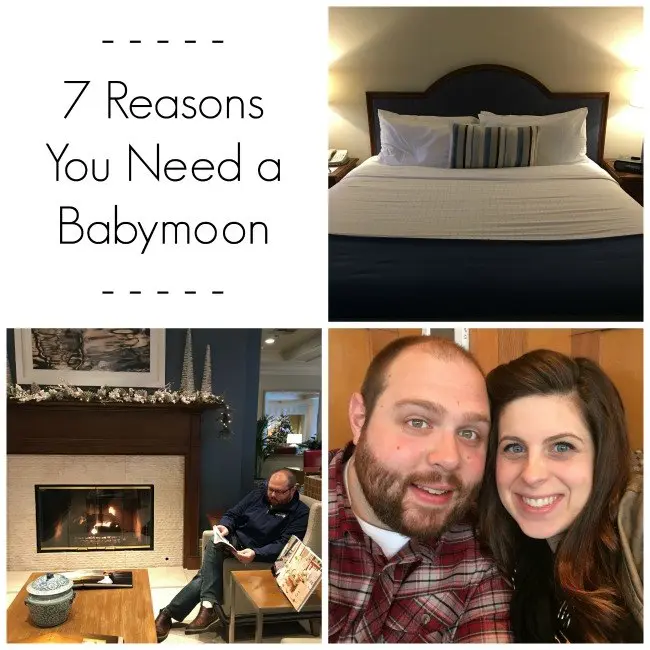 If you're still not convinced, here are 7 reasons I consider a babymoon a must:
You deserve it! Truly, being pregnant is a special time and before baby arrives, I strongly advice taking advantage of the ease of packing up and sneaking away with your partner for a getaway.
Sleep! It's going away soon, so embrace the luxury of a hotel room while you can.
When will your next chance be? After my first child was born, my husband and I didn't go away solo for over a year. After my second, it was closer to two years. Time is of the essence! Babymoon now … or else 🙂
Uninterrupted conversation. Once baby arrives, and even when you're just at home doing to normal routine, it's hard to have an uninterrupted conversation. But, when you go away — your mind is calm and there are less distractions. On a babymoon you can really go deep into valuable conversations that grow your relationship.
Food! I love nothing more than visiting restaurants and enjoying room service WITHOUT ANY CLEAN UP. Babymoons can revolve around food if you choose (ours kind of did!) and it's every expecting mamas dream. Dads don't usually complain either!
It's good for your kids. Investing in your marriage is important for your kids. Babymoons are one investment option. And a fun one at that!
Quiet. Maybe this is such a clincher for me because we left a 3 and 5 year old at home, but the quiet of our babymoon was absolutely divine. It gave me a chance to focus on the baby in my belly and send extra love his way as my husband and I emotionally prepare for his arrival.
Now, of course, I'm curious … did you have a babymoon? Where did you go? What did you do?