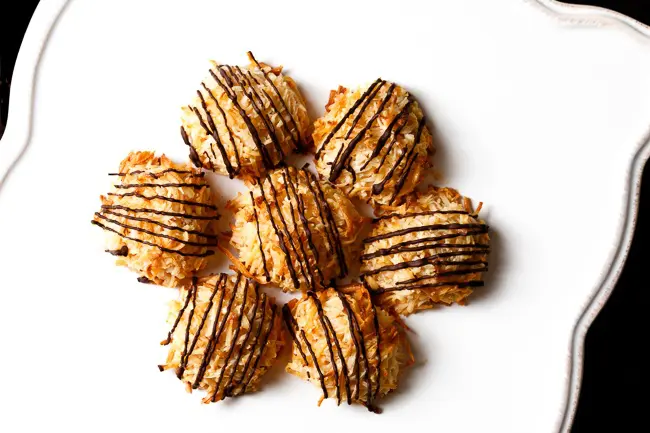 This week I decided to go through my freezer to use up anything I have so I can start the new year with a fresh start. I always have extra ingredients that I'm left with after baking that I throw into the freezer for later use and unfortunately, they are usually not found again until it is too late to use them. This year will be different. This year will be about Coconut Macaroons.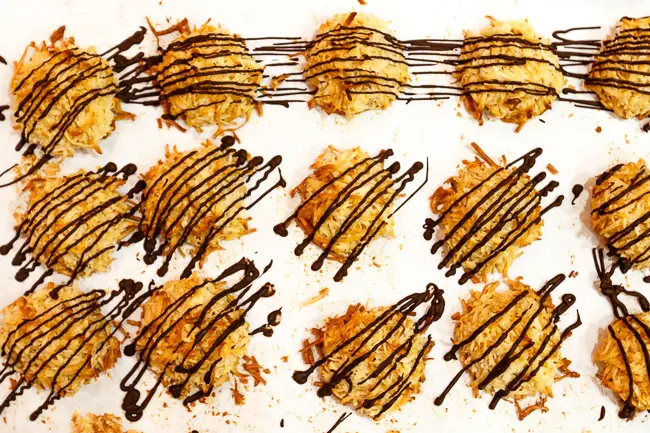 I kinda felt like I had a mystery box on a cooking show where I had to whip something up with the ingredients given. I hit the jackpot with this mystery box; the first things that came out of it were condensed milk and egg whites- two main ingredients in my Coconut Macaroons. These Coconut Macaroons are moist and chewy on the inside, with a delicate golden crust on the outside. The whipped egg whites add fluffiness while the condensed milk adds an extra depth of scrumptiousness.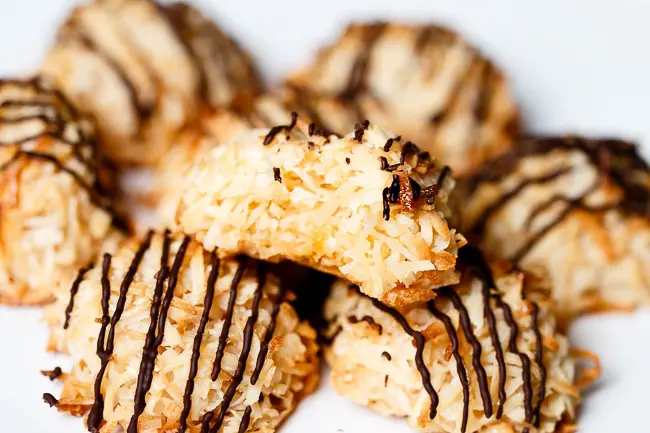 The process only requires about 10 minutes of prep work and 5 ingredients. Simply whip up your egg whites and salt until they are foamy and they form a peak that does not fall down after lifting up the whisk. In a separate bowl, combine the shredded coconut, condensed milk, and vanilla extract in a separate mixing bowl. Gently fold in your egg whites trying not to deflate the egg whites. Scoop them onto a lined baking sheet and wait until they are nice and golden on top. Drizzle with melted chocolate if you would really like to indulge. Hope you enjoy the coco-nutty goodness!!
Looking for more cookie recipes? We got you. Baby Gizmo Cookie Recipes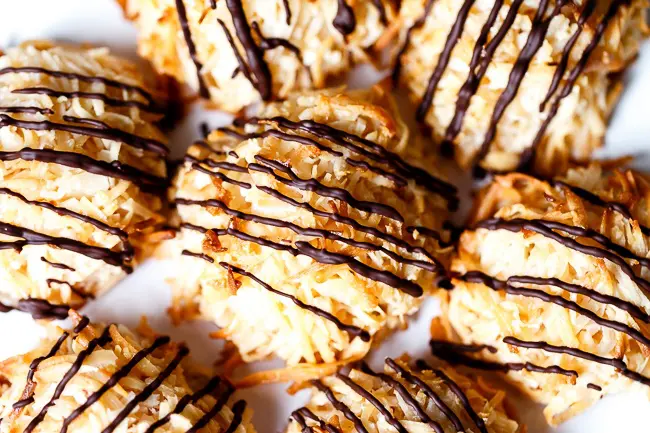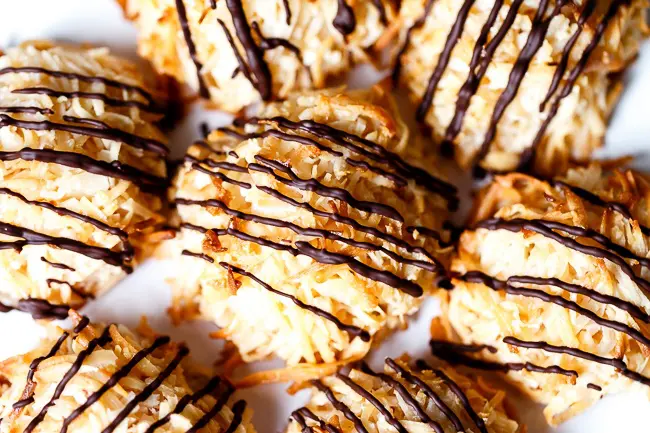 Coconut Macaroons
This coconut macaroon recipe is so easy to make with jus 5 ingredients
Ingredients
2

egg whites

1/4

tsp

salt

12

oz

sweetened shredded coconut

8

oz

condensed milk

1

tsp

vanilla extract

1

cup

chocolate

optional
Instructions
Preheat the oven to 325 degrees.

Using a mixer, whisk the egg whites and salt on high speed until stiff peaks form (the egg whites will foam up and when you lift the whisk, it will form a peak without falling back down).

In a separate mixing bowl, stir together the shredded coconut, condensed milk and vanilla.

Gently fold in the whipped egg whites into the coconut mixture.

Scoop the mixture onto a lined baking sheet.

Bake for 15-20 minutes, until the tops are lightly browned.

Drizzle with melted chocolate. (optional)
Nutrition
Calories:
210
kcal
Carbohydrates:
25
g
Protein:
3
g
Fat:
13
g
Saturated Fat:
10
g
Cholesterol:
5
mg
Sodium:
118
mg
Potassium:
162
mg
Fiber:
2
g
Sugar:
23
g
Vitamin A:
38
IU
Vitamin C:
1
mg
Calcium:
46
mg
Iron:
1
mg
About the author: Rubina Umarji is the owner and executive cake artist of Rubina's Cake Shoppe. After the birth of her son in 2009, she left her career in engineering to focus on her two passions: her family and her edible art. Since then, she's had the opportunity to showcase cakes and gourmet confections to thousands of dessert loving clients as well as over 100 of Hollywood's hottest stars and has had her cakes featured on television. Now her days are focused on teaching cake decorating classes to all ages. Her favorite students are her two children, ages 3 and 5. She frequently writes cake decorating tutorials and recipes on the Rubina's Cake Shoppe Blog (www.rubinascakeshoppe.com/blog).