I was born and raised in the Pacific Northwest and that means this part of the country holds a special place in my heart. I can't wait to share some of my most favorite places to visit in Washington and Oregon … especially in the spring! These seven stops are great options for Spring Break. They're family-friendly, picturesque, and I don't doubt for a bit that one or two will become the location of some of your very favorite spring break memories.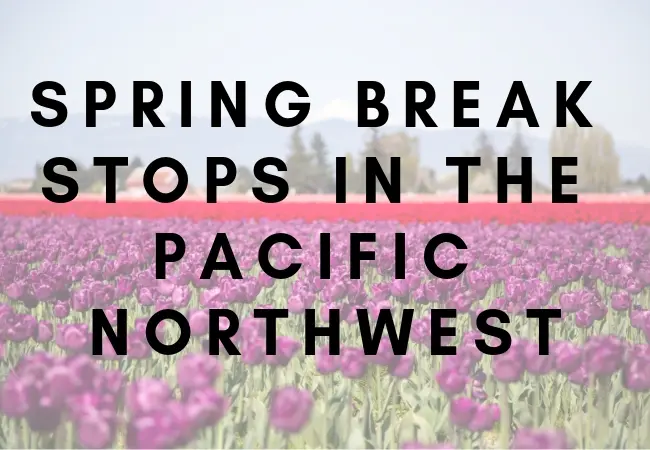 If you can come on a weekday, do that … the weekends can get crazy busy! But, regardless of when you visit, it's definitely a PNW bucket list stop to see these colorful fields. Take home a bouquet or bulbs to plant your own blossoms. Watch the bloom map to know exactly when the fields peak. If you're early, you can pop over to La Conner and catch the gorgeous daffodil fields. Yes, Skagit Valley is brimming with flowers in the spring!
The Hands On Children's Museum is a favorite of ours for spring break. It's full and fabulous with both indoor and outdoor exhibits. Grab a sub sandwich at Meconi's (also located downtown) before you leave town – they're delicious! Second runner up when it comes to children's museums is Imagine in Everett. It has a rooftop playground that is super fun!
Map yourself to 1428 Post Alley, Seattle, WA 98101 and there you will field the famous gum wall! It's a super gross, but also a super fun place to snap a photo! Don't forget to bring gum of your own!
You'll need at least a full day to truly explore Leavenworth in Eastern Washington if visiting during spring break. Better plan is a few days! With food, music, Bavarian souvenirs and more, everything about Leavenworth will make you feel like you're tucked in the Alps. If you stay awhile, I highly recommend the Icicle Gorge Trail for a hike. It's an easy few miles with a beautiful view along the river.
Nothing beats the coast of Oregon, especially when you have Haystack Rock as your backdrop. The town of Cannon Beach, as well as nearby Seaside and Gearhart, is a calm, restorative place to spend a spring break … or any weekend you can get away. Our family love Mr. Fultano's Pizza there and you can't miss a cup of chowder from Mo's.
Just 30 minutes from Portland, this waterfall is a sight to see! Especially in the spring when the water level is high. Eat at the lodge or travel on to explore other waterfalls in the area.
Our favorite exhibit is the tropical butterfly house, but truly, everything is amazing at this modern science museum! It's not just for kids, I learn something new from the plethora of exhibits every time we visit. Be sure to check the IMAX schedule and catch the latest release too.
Do you have a favorite stop in the Pacific Northwest? Tell us about it!
Looking for more travel tips? We got you. Baby Gizmo Travel Tips.