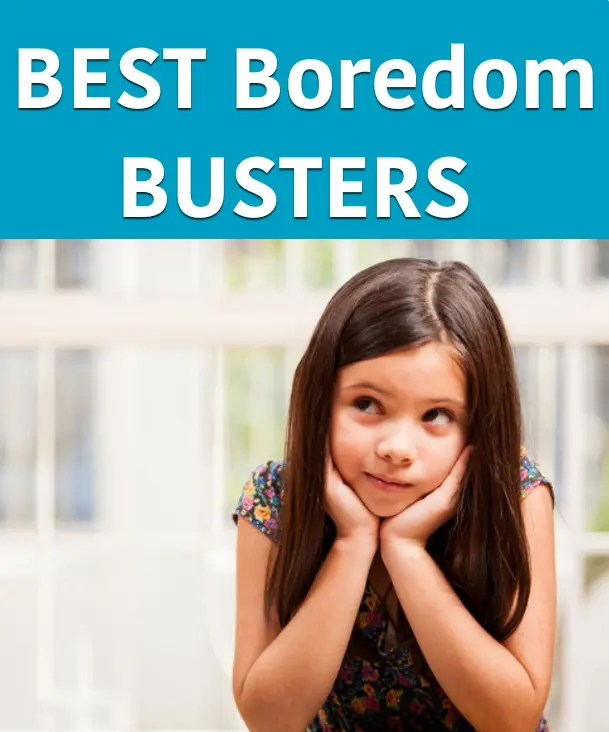 My kids are pretty fantastic but somewhere along the way my oldest son learned the word "bored". Oh. My. Goodness. Please, no.
It irks me like no other to hear him wail, "Mooooooom, I'm bored!" I've been pretty clear that the b word isn't allowed, but occasionally it pops up. That's when I bring out all the boredom busters. Things like fun activities I have tucked in the cupboard, outside games, and the imagination jar.
Does the b word visit your house every now and again? Send it on its way with some of these boredom busters!
Jennifer H., a mom of three, is all about board games (get it, a different kind of bored, lol!) and a family stash of legos.
Katie R., a mom of two, quickly hops on Pinterest and chooses a craft based on her kid's favorites. Most recently it was dinosaurs and space!
Heather L., a mom of five, shared, "There have been a few funks where [my kids] were more lonely than bored and just needed someone to play with. If the other kids didn't want to play, I'd invite them to join me in whatever I was doing. I know for myself boredom is usually more of a lack of connection or needing a change in environment." This is such great insight!
Erika T., a mom of three, scoots her kids outside to use their imaginations or encourages them to grab a book when boredom strikes.
Leah W., a mom of two, roped her kids into a boredom brainstorm recently. They made a two column chart for their fridge with a bunch of ideas. One column was a list of things they could all do together and another was a list of independent activities. Now they have an easy reference when they need to bust boredom. One of their most favorites activities is to look up perler bead patterns on Pinterest and then create Harry Potter, Star Wars, or emoji faces.
Kathleen K., a mom of three, usually tries to steer clear of screen time, but Cosmic Kids Yoga on YouTube is a great way to get active no matter the weather. Her kids love the themed yoga sessions and she loves the peace and quiet.
Mallory P., a mom of two, offers up the snack or dessert section of a family favorite cookbook and lets her kids pick a cooking project to do all together.
Rose E., a mom of four, pulls out her camera (or hands off her phone with strict instructions to stay in the camera app) and let's her kids play photographer. They feel grown up and she gets a priceless collection of life from their perspective.
Last but not least, I mentioned our imagination jar! In the kitchen I keep a jar filled with scraps of paper that all sorts of scenarios written on them. When my kids are sooooooo bored, we choose one to jumpstart some fun. Each paper has a simple prompt like, "You're going on a bear hunt … go pack your backpack with all the essentials you'll need" or "Let's play school, it's circle time right now and ______ is the teacher".
What do you do to beat boredom?
Share your ideas with us!
Photo credit: Liana Mikah on Unsplash