Welcome to our dining room! To be honest, we don't get a ton of visitors who stay to eat a fancy meal, but if we did, the dining room is ready. At least, almost ready. Located at the front of the house right by the front door, this is the one of the rooms that guests will see first when they come to my house. Even if you are just at the door, you can see the dining room. Therefore, this room needs to look nice, put together and inviting.
Just like any room in a new house for a year or two, this one is still a work in progress. We may add a rug or additional wall decor but for now, we are very happy with the outcome. We were going for simple but chic.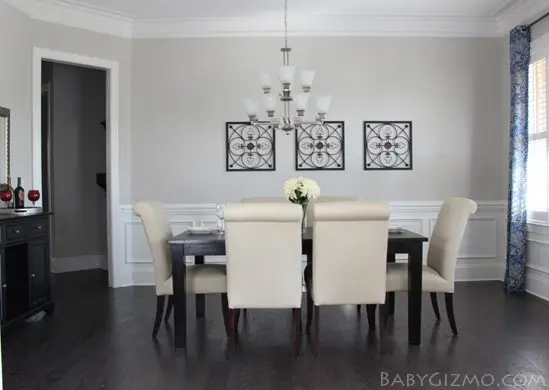 LIGHTING
When building the house, we upgraded our lighting package at the design center that included this dining room chandelier. I loved the brushed nickel and squared off lights that fit perfectly with our traditional with a tiny bit of modern flair style. Even though this lighting was provided by my builder as a package, I found that it is for sale by itself from the major home improvement stores like Home Depot. The exact light is the Progress Lighting North Park Collection 12-Light Brushed Nickel Chandelier.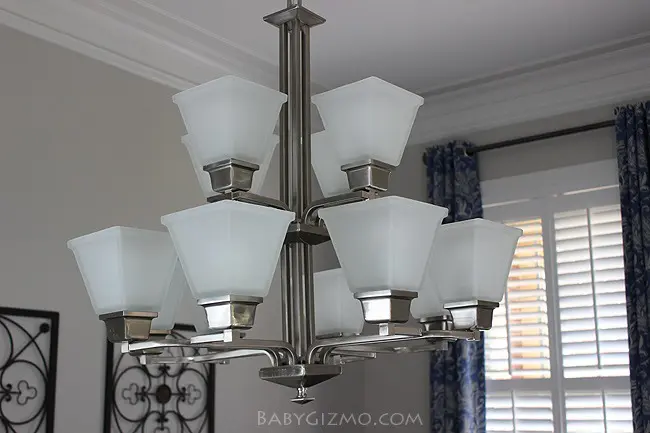 FURNITURE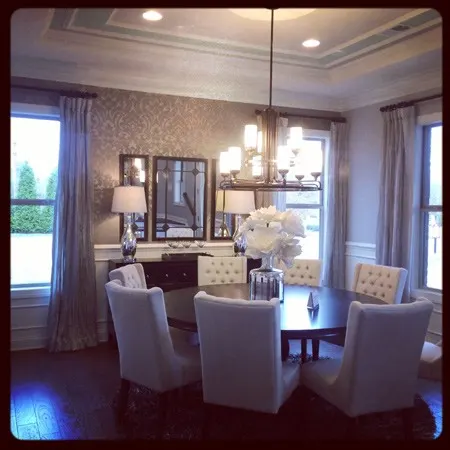 When we were house hunting last winter, we came across a model home with a dining room that I was in love with. Here is that dining room. I decided that I wanted to duplicate that dining room with the round table, white chairs and everything. Even down to the vase of white flowers on the table.
After searching for the dark table, I ultimately decided that our dining room isn't suited for a large round table. The room just needs a rectangle table so my original plan was completely foiled. It's okay because I love the table that we bought from a local furniture store in Charlotte, NC.
When the entire planned design of the room changed, I thought I would switch up the chairs and decided to forgo tufted chairs and grabbed a great deal at the Pottery Barn Outlet one day and picked up 6 of their off-white chairs that were on sale. Each chair was $119 which is a GREAT deal for brand new Pottery Barn dining chairs.
On the table are fake white flowers from Pottery Barn and Christmas dishes for the holiday as if someone is coming over for dinner.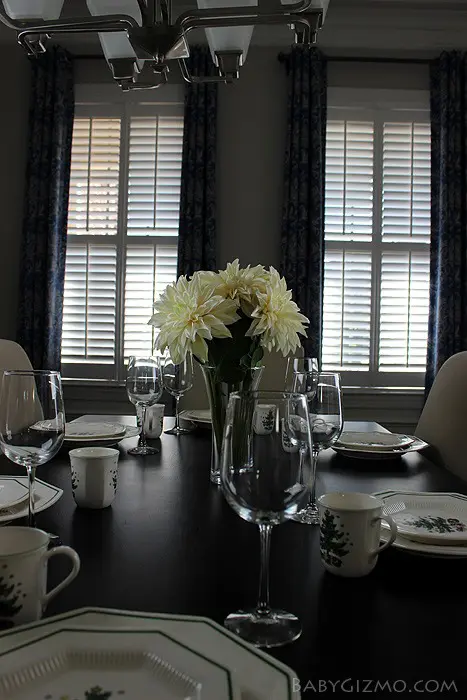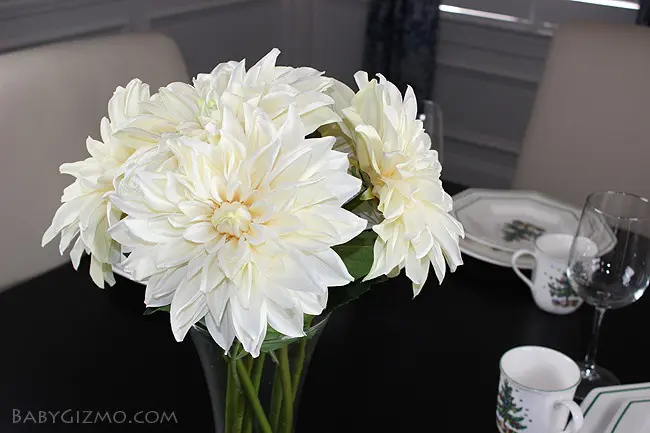 Next to the table is a Crosley Alexandria Buffet Server/Sideboard Cabinet that we ordered from Bed Bath & Beyond. It comes in three colors but we chose the black to coordinate with the table, and after a 20% off coupon, it only cost us about $320. It did take 2 1/2 hours to put together and was missing a shelf that we had to have sent separately, but we are really happy with the finished piece.
The mirror about the buffet is one that we bought in SoCal almost 15 years ago and the decor on the table is from Pottery Barn.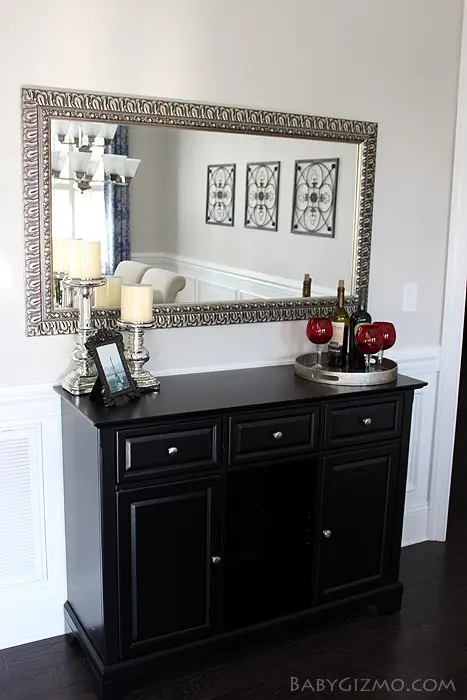 WINDOW TREATMENTS
We worked with Blinds.com to make the windows in the dining room pop. The easy-to-install (we put them in ourselves!) Simplicity Shutters are beautiful and give us the privacy we want in the evening but open up to let the light in during the day. These are the same shutters that are on all the windows on the first floor of our home.
The Bali drapes are also from Blinds.com, and are honestly, my favorite drapes in the entire house. They are so beautiful! They are called Bali Grommet Top Drapery in the fabric "Bazaar Cosmic" and are elegant and everything I was looking for in dining room curtains.
SHOP Simplicity Shutters at Blinds.com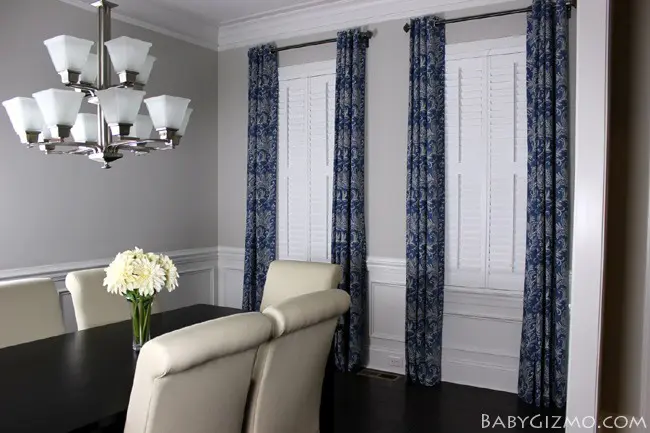 So, that's it! You've seen the dining room! We are taking a short hiatus for the holidays and will return with episode 8 in January.
*For more information on the accessories in the photos, make sure to watch the full video episode above.
**Disclosure: Thanks to Blinds.com for sponsoring our "At Home with Baby Gizmo" video series.