A few weeks ago, my son and I had the opportunity to find out how to visit the hugely popular resort, Atlantis, on a budget. We know many families may not consider visiting this massive resort complete with a waterpark, pools, amazing kid program, fabulous restaurants, dolphin encounters and much more due to budget. With a destination that has so much to offer, many parents on a budget may write it off as being too expensive for their lifestyle. I know I did!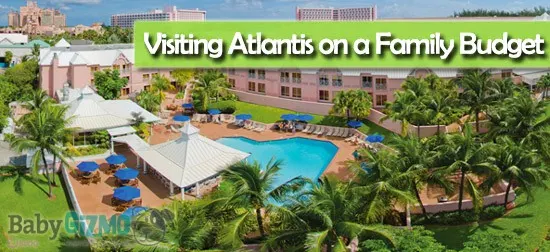 Well, we are happy to report that is not the case. On our three-day trip, we found out the secret to experiencing Atlantis on a budget.
How?
By staying next door at the very family-friendly Comfort Suites Paradise Island Resort!
This is the Bahamas best kept secret! (Not for long if we have anything to do about it!) The Comfort Suites is a newly remodeled, all-suite hotel that is perfect for families. With each hotel room booked, you get FREE breakfast, FREE WiFi and four wristbands to enjoy all the amenities next door at Atlantis. That's right, your family gets to use the Atlantis waterpark, sign-up for the Atlantis Kids Program (extra fee), enjoy the restaurants, gamble at the casino, and much more by being a guest of Comfort Suites.
Atlantis and Comfort Suites has quite the partnership going on and YOU are the one who benefits from it.
We had so much fun during our visit splashing in the waterpark, swimming with stingrays (and sharks!), getting to know the dolphins, eating at the fabulous restaurants (do NOT miss Virgil's Real BBQ!) and hanging out in Marina Village.
We, of course, want to show you all kinds of fun photos, and you'll find those below, but we couldn't help but capture it all on video. And this isn't just any video – this is the Comfort Suites Paradise Island and Atlantis through the eyes of a child – a 6 year old boy to be exact! 🙂
The rooms at Comfort Suites have a choice of king or two queen beds, a pull-out couch, mini-fridge, desk, TV, and small bathroom. The rooms were clean and perfect for families. NOTE: Even though technically it could sleep more, the max per room is four! They are extremely strict on this because you will only receive FOUR wristbands daily for Atlantis.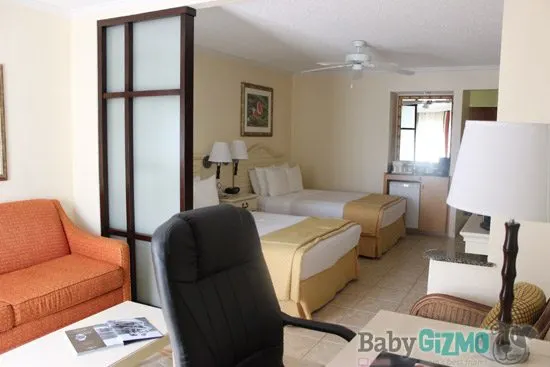 Heading Over to Atlantis
Obviously, the draw of this area is the Atlantis Resort! It is amazing. It is beautiful. It is massive. Here is just one of the pools.
What kid doesn't like a waterpark, right?!? This one did!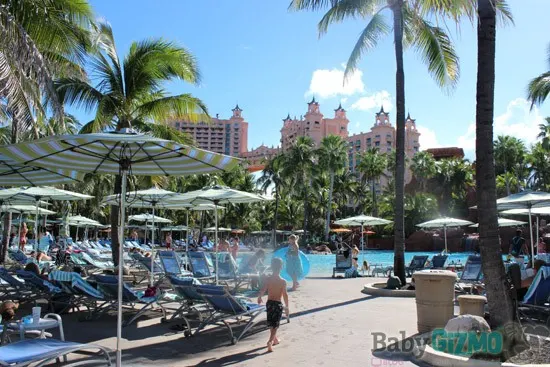 You can't really visit this resort without taking the standard photo in front of the hotels!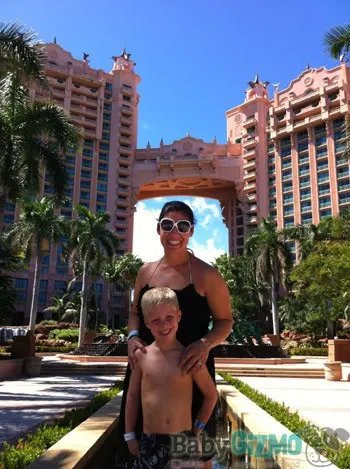 A shot from across the lake while we were standing on the beach.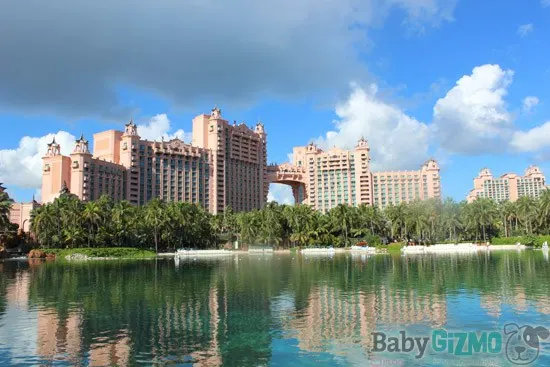 The marine life is amazing at the resort! There is "the dig" which is a aquarium-type tunnel that you can see all types of fish, sharks, and other marine life.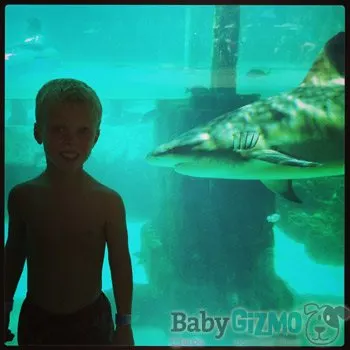 His favorite ride at the Atlantis waterpark was the "Current". This is a fast-faced, not-so-lazy river type ride that we rode on many, many times. This was also due to the fact that you have to be 48″ to ride most of the big waterslides. My son is 47 1/2″. We were able to get on three rides before being shut down. Yes, we are rule-breakers but it is a HALF INCH!! Needless to say, he was disappointed that he wasn't able to ride the big rides but he's excited to go back again when he grows a little taller!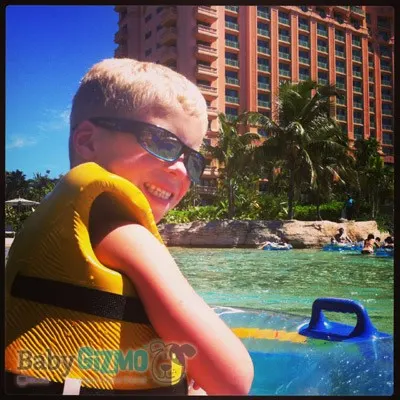 The dolphin encounter at Atlantis was also a favorite!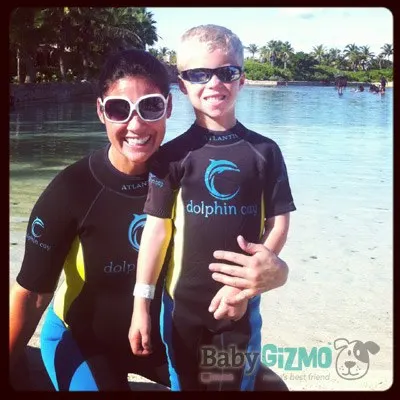 Awww…look! His first kiss that wasn't his mama or grandma! 😉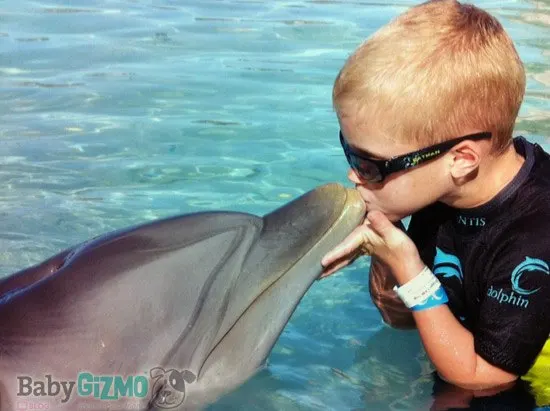 My son didn't have time to take advantage of the Atlantis Kids Program but we did get a super cool sneak peek! We even got to see the SECRET room that is so top-secret that we can't even tell you about it! Anyway…you can see the rest of it in our short movie trailer about the Atlantis Kids Program…
Marina Village is right next door to Atlantis and across the street from Comfort Suites Paradise Island. It is an outdoor plaza that has restaurants, shops and is home to the occasional parade! We were lucky enough to visit during a Junkanoo parade! My son had the best time being part of the action!!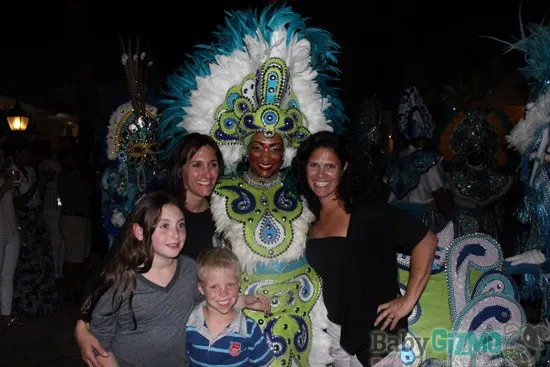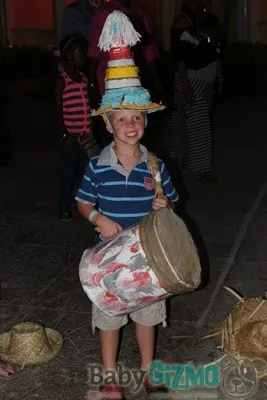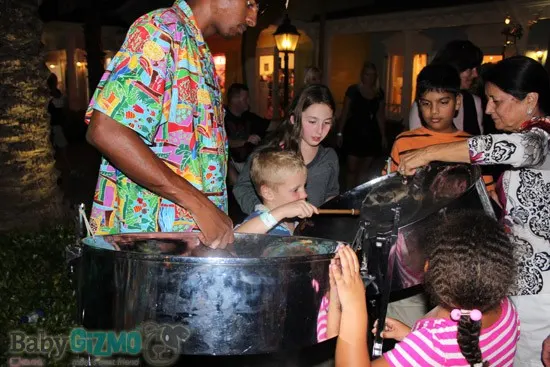 Overall, we had the BEST weekend ever and can't wait to go back with the entire family! Oh yeah, we also figured out a super secret, budget-friendly for visiting Atlantis during a cruise stop at the Bahamas! Take a peek at our video below to learn all about that!
*Disclosure: We visited Comfort Suites and Atlantis as part of a group press trip. We want to thank Bahamas for their hospitality, but as always, all our thoughts, opinions, and statements are our own!