Stokke is Norway's top baby product company that is probably most well-known for their celebrity-style stroller, the Xplory, and their grow-with-your-child high chair, the Tripp Trapp. Stokke's mission is to make products that "are designed and constructed specifically to encourage child development and to strengthen the bonds between parents and children in those crucial early weeks, months and years. We believe it is in a child's best interests to be as close as possible to his or her parents, and to be placed in an environment of genuine safety and security, free to learn and to grow."
With their Scandinavian thinking, they have recently ventured into the world of baby carriers. The Stokke MyCarrier is a top-of-the-line, unique carrier that is both versatile and sporty to appeal to active families.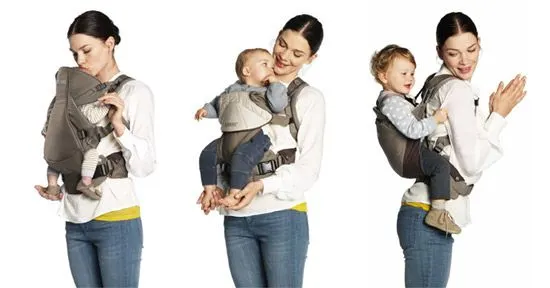 This 3-in-1 carrier boasts some stand-out features that will make the carrying experience better and more comfortable for both parent and baby. This three piece carrier grows with your child and accommodates a child from birth until three years old.
I'm not going to lie, the MyCarrier looks very intimidating out of the box. We are talking three separate pieces and lots of clips, buckles and fasteners. The carrier comes with two baby carrier harnesses (one for front carry and another for back carry) and a parent harness.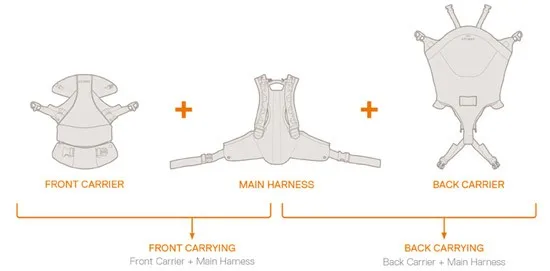 While it's a little overwhelming with the three separate pieces at first, we were able to figure it out very quickly (at least how to get it on!) without reading the manual. BUT make sure you read the instructions because a proper fit will make all the difference in the world if you are baby wearing comfortably or not. If you feel uncomfortable, go back to the instructions and make sure you have everything in the right place. For example, the safety carabiners on each side should be level with your armpit. If they are not, you might be unnecessarily uncomfortable. So, while you can figure out how to get it on by just looking at the box, it's important to read the manual.
Parent Harness
The parent harness sports a wide hip belt that helps to distribute the baby's weight properly. The portion of the carrier that wraps around your waist is padded in both back and front and sports a long enough adjustable belt that fits both the skinny-mini mamas up to the plus-size parents comfortably.
The small pockets on the sides are a great addition for items as large as an iPhone to loose things such as binkies and change.
The parent harness also sports a ergonomically shaped back plate to help keep your back and neck comfortable. This includes a removable aluminum back support that is optional for front carry but required for baby carry. Since the back support is rigid (it literally is a flat aluminum bar!), I not only felt like this made me more comfortable without any back pain but that it gave me better posture. I'm a shoulder schlumper sometimes and that back support really straightened me up so I chose to keep the support bar in for back AND front carry.
Front Carry
The MyCarrier allows you to front carry your baby in two ways: facing inwards from birth or facing outwards when baby can hold up his/her head unassisted and is ready to face out at the world and explore their surroundings.
I love that when your baby faces inwards, they are seated in the "Happy Hips" position that has their knees up and around you and their back, butt and thighs all supported. This makes for a more comfortable riding baby which means a happier baby.
Back Carry
The back carry option is for babies who can sit up unassisted and are taller than 28″. While the same parent harness is needed, you will have to switch to the back carry harness to accommodate this position.
As opposed to struggling to get a child in a carrier that you are already wearing on your back, I love that you can put the baby in the carrier first, then put the baby AND carrier on your back. It's much safer this way as I struggle to easily get a child in a back carrier otherwise without a team of help.
Material & Safety
I love that the MyCarrier is made with soft, organic cotton with no harmful chemicals. This is especially great for those babies with sensitive skin.
I found the carrier to be very sturdy, secure and safe and I love that the carabiners that attach the carry harness to the parent harness at the top are double-locking for extra safety.
The carrier is machine washable and the stitching, buckles, carabiners and belts are all top-notch and strong. I have to say with all this sturdiness and quality comes a bit of weight. This is one of the heaviest carriers (besides those frame carriers and backpack carriers!) that I worn. Not a deal breaker because it's comfortable to wear but I did want to mention it. Also, all the padding and the back support, plus the two carry harnesses, make this a more bulky carrier than some. This isn't one you are going to be able to stuff into a small diaper bag. It has some size.
One other thing to keep in mind, is that even though the material is breathable, the carrier can warm you up on hot days especially the back piece that covers quite a bit of your back. For this reason, I would recommend dressing just a big lighter than you normally would for the weather to keep you cool.
Price & Colors
The Stokke MyCarrier is one of the most expensive baby carriers on the market retailing for $250. While Stokke products are not usually for the budget-conscious parents, it will last you from birth through 3 years old (33 lbs) and offers you three carry options.
The MyCarrier comes in three colors: red, brown and dark navy and comes with a 3 year Stokke warranty.
Overall
I like the Stokke MyCarrier. I know the price will deter many parents but for a well-made carrier that is not only comfortable for both parent and baby but offers three different carry options, I think it is worth it if it is in your budget. I think back support for the parent alone is worth it for this one!
Pros:
Exremely sturdy, secure and safe.
Who doesn't like hands-free?!
3 different carry options
Usable from birth to 3 years old
Comfortable. I think I might start wearing the parent harness with the back support while I work at my computer just to keep my posture better! (Yes, I'm wearing it right now!)
Easy to use once you get the hang of it
Organic materials and no harmful chemicals
Cons:
Overwhelming at first glance.
Bulky and heavy
Can heat you up if you are overdressed
Can't stuff in a small diaper bag
Expensive
*Disclosure: Thanks to Stokke for sending us a MyCarrier to review. We were not paid or compensated otherwise for our review, thoughts, or opinions. As always, our thoughts, statements and opinions are our own.