After our recent family cruise, we had planned to stay an extra day in Fort Lauderdale before we headed home to snowy, cold Chicago. We wanted to take one extra day to unwind, possibly visit the beach, and just relax after we got off the boat but before the chaos of real life started again. I went online about a week in advance to search for a good hotel deal in Ft. Lauderdale. I wasn't finding any earth-shattering deals that were too good to pass up.
So, I decided to roll the dice and get a hotel on Bookit.com – a site I had never used before but thought I would give it a shot. Not only was I going to book a hotel through them but I was opting to book the "Mystery Hotel" for a cheaper price. This means that you basically book and pay for a hotel in a certain area but you have no idea which exact hotel you will be getting. I was nervous as I booked it because in reality it could get really ugly booking a hotel for 5 people including 3 small kids without having any idea about the hotel.
Turns out that it was the best move I made that day! Seriously. We were given the B Ocean Fort Lauderdale Hotel that was an oceanfront property for $159/night. Let me say that again. We got an oceanfront property in Fort Lauderdale!! Score.
I had never heard of this hotel before but it was a brand new hotel in a prime area of Ft. Lauderdale.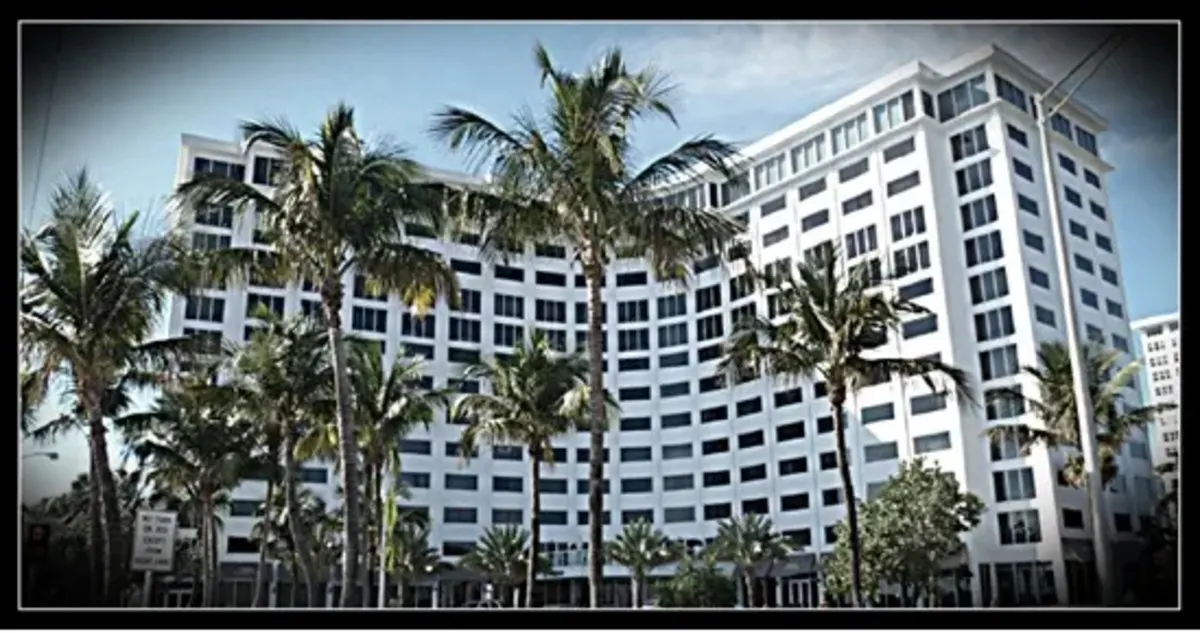 Lobby
The B Ocean Fort Lauderdale is a beautiful, modern, 4-star hotel that is located steps from the beach. The lobby walls were designed to look like ocean waves and the lighting changes to change the color of the waves. Every staff member from the valet to the front desk employees that we encountered were amazing! Very polite, good with the kids and accommodating.
We arrived at the hotel at 8:30am knowing full well that check-in wasn't until 4pm. Since we had taken a cab to the hotel, I figured at the very least they would hold onto our luggage until check-in. The guy at the front desk said he would find out if our room was ready even though it was so early. It was not.
Fortunately, the manager was standing right next to him and overheard that we had just gotten off a cruise and maybe it was my antsy kids whining around me but she said "let me check and see what I can find for you." After 30 seconds of her clicking around on the computer, she said, "you are all set. We have upgraded your room free of charge and it's ready for you."
What?!?! Seriously?
Plus, I want to say that they had no idea I was intending to review the hotel for Baby Gizmo or anything. We were just some family in off the street as far as they knew! I was already loving the B Ocean by this point!
As a huge bonus, they have free coffee (with to-go cups) in their cafe every morning. Love that!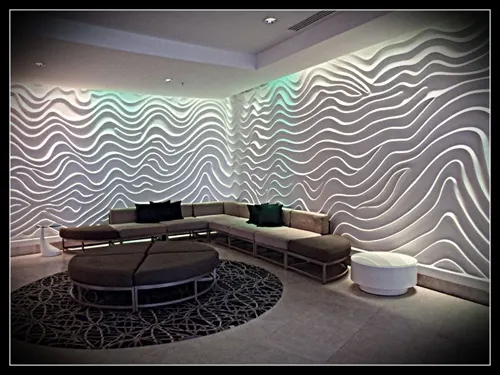 Room
Our room was great! It was sparkling clean and everything was perfect. Including the view! Seriously, our "upgrade" was to this amazing ocean view room! The view is definitely confirmed that I made the best choice by ending up with this "mystery hotel".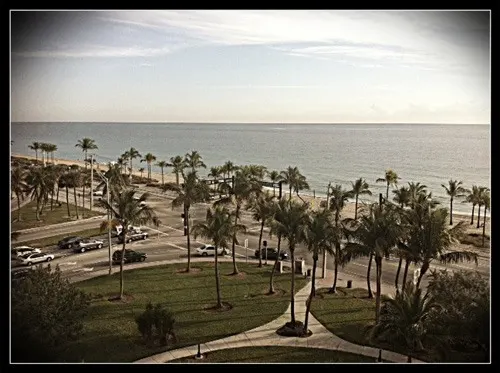 Besides the view, we had two queen beds, a full desk area, dresser and arm chair in the corner. The entire room was white with blue accents. All the sparkling clean white walls, sheets, comforters, dresser made me a little nervous with my 3 little ones with their bags full of markers, crayons, candy and so on. I did have to keep the kids in check so they wouldn't redecorate the room with a little more color.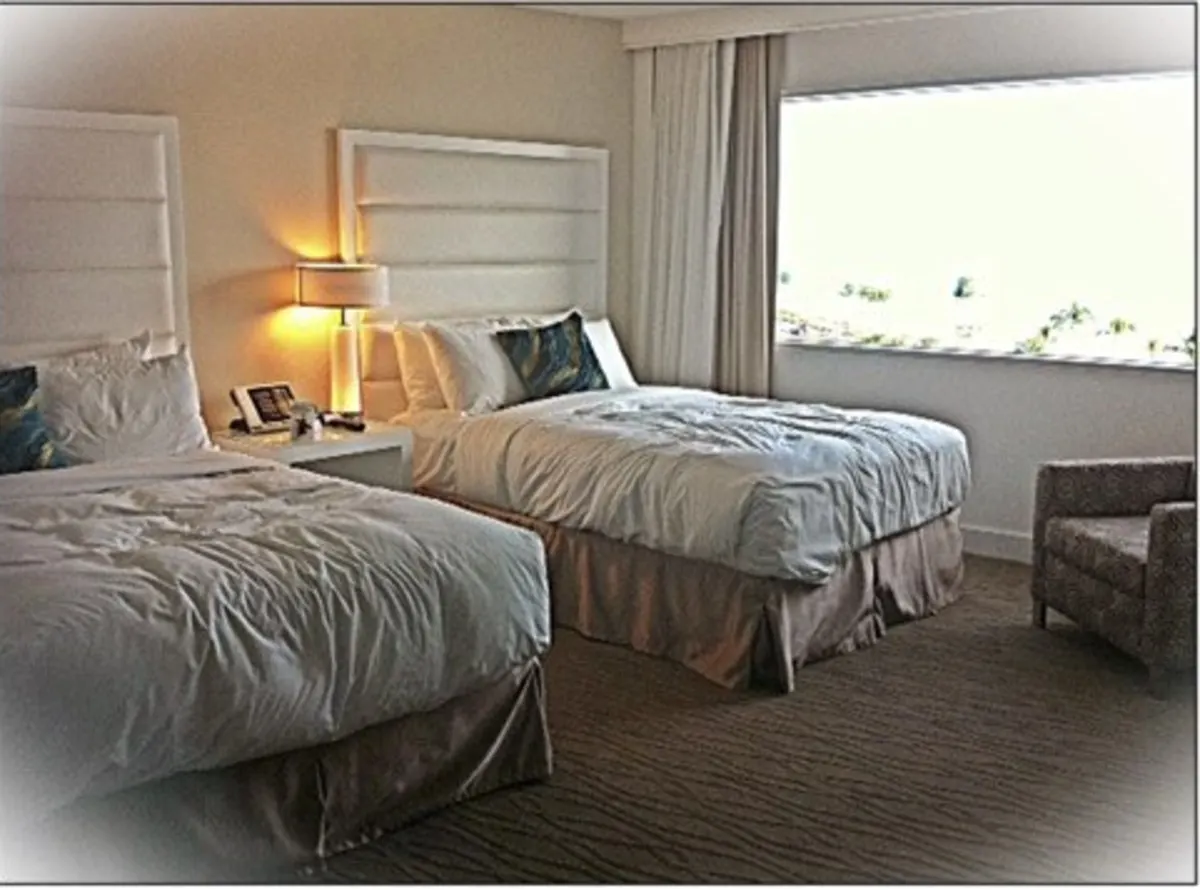 Pool
The B Ocean pool was right off the lobby and was a decent size. Not huge but not super tiny either. The pool area was complete with comfy lounge chairs and fun cabanas. Since we decided to hit the beach across the street instead, we didn't actually use the pool.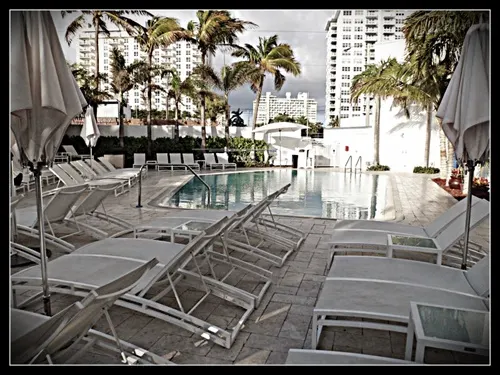 Surrounding Area
Did I mention that the B Ocean is an oceanfront property? It's not technically on the sand but across the street which is like all the "oceanfront" hotels in that area. All you have to do is literally cross the street and you are on the beach though. Like a 1 minute walk. As soon as we checked-in, we took a walk around the area to check it out. There is a yummy pizza place next door, a fantastic ice cream shop where they make their own ice cream right behind the hotel and a few other shops and restaurants all on the same block.
Plus, there is a fire station just down the street with the friendliest firefighters that let my kids have an impromptu tour and let them climb all over their fire truck and ambulance. I think it was the highlight of my kids' day! Yep, we just walked up and asked for a visit and they were more than accommodating!
A full grocery store is within walking distance for any essentials and a great harbor full of luxury boats to give the little ones something look at is also right down the road.
What we liked about the B Ocean Hotel
The staff that was unbelievably accommodating.
The view from our room.
The modern decor.
The beach across the street.
Free coffee in the cafe.
What we didn't like about the B Ocean Hotel
Nothing. Our visit was perfect.
Disclosure: This was a personal stay and the B Ocean had no idea that we intended to review the hotel for Baby Gizmo. As always, all our statement and opinions are our own.