We took a family cruise last week and chose the Holland America Nieuw Amsterdam to accommodate our multi-generational family. We were traveling with ten people ranging from 2 to 68 years old. Since we had three children (ages 2, 4 and 6) and the grandparents, we were looking for a cruise that would appeal to both young and old(er).
My sister-in-law, who is an avid cruiser, chose the newest Holland America ship, Nieuw Amsterdam, for our voyage. While I had my reservations about this cruise line, the "3rd and 4th Passenger Sail Free" promotion last year was too good to pass up.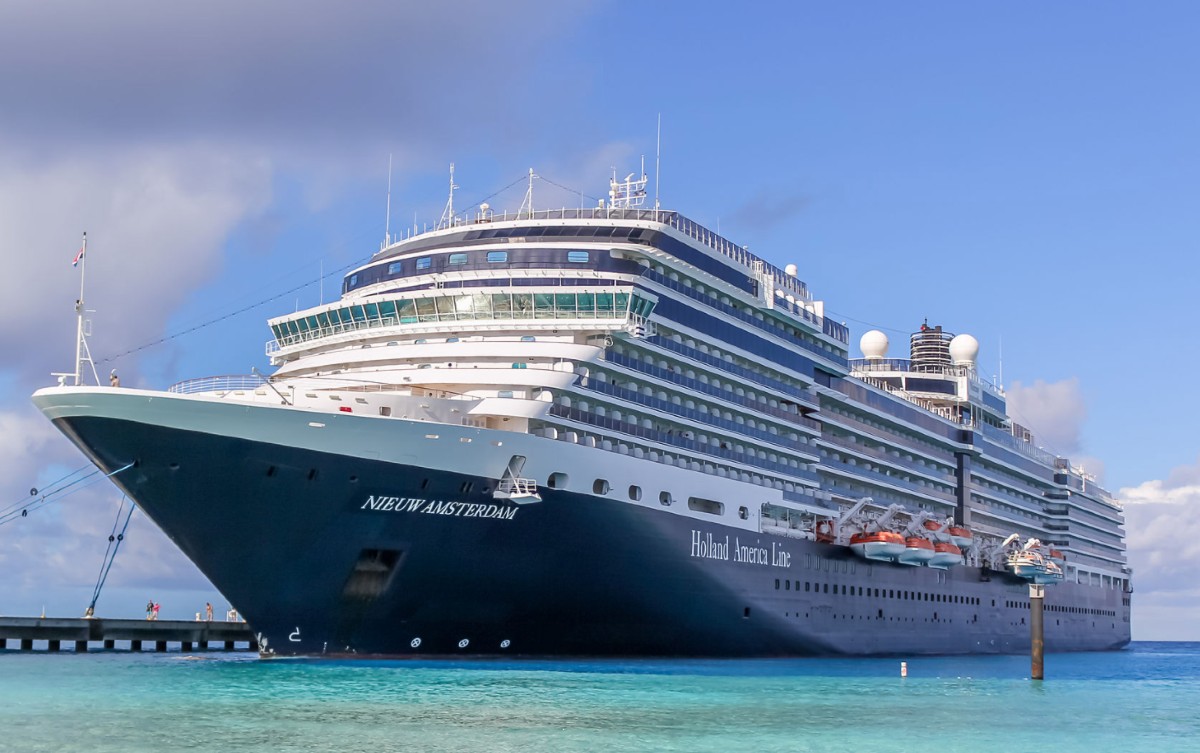 Holland America Nieuw Amsterdam Video
To be honest, I was concerned that Holland America is known to cater to an older crowd. While I figured the grandparents would have a ball, this cruise line isn't known for its kid-friendly amenities that others are known for. I was willing to go with the flow and check it out. At the very least, I could report back to all our Baby Gizmo parents about our experience with three young kids on a 7-day Holland America cruise.
Embarkation
We arrived at Port Everglades in Fort Lauderdale at 11:30am on Sunday morning to a massive line. Thinking that we would beat the crowd since the rooms weren't scheduled to be available until after 1pm, I was surprised by the crowds. After a random miscommunication (nothing to do with this review or Baby Gizmo!), we were able to skip the line and board the ship right away at the front of the line. While this was crazy good luck for us, a few of the waiting passengers were not so happy. Opps. Sorry, guys!
We proceeded into the cruise terminal at 11:40a and we were through the check-in process with keys in hand and walking on-board by 12:20p. Due to the whole line skipping thing, I'm not sure how long it would have taken to check in otherwise. Sorry. Every Holland America employee that we encountered to this point was absolutely amazing. Friendly. Polite. Patient (we have 3 kids!). Perfect with the kids.
Room
We booked a Verandah Room on the 5th floor. This is your standard balcony room and our party had four rooms in a row so that we could open up the balcony dividers and walk from room to room. I was a wee bit nervous about the balcony with small children but was happy to see a solid plexiglass half-wall on the balcony that the kids could see out but couldn't climb.
The room was a standard, small cruise room but I have to say that Holland America was amazing at making a small space work. They created more storage space in our room than we even needed which is no small task since I had "stuff" for 5 people. Under the bed was storage space which had two big drawers for our stuff and space for our 2 suitcases, folded Inglesina Zippy stroller, folded Radian XTSL car seat and additional blankets. There was also a huge closet full of shelves and hangers with plenty of space for all our clothes.
We had a comfy queen-size bed, a love seat, a small (movable) table, a desk area with ottoman chair, and a mini-fridge. The mini-fridge was stocked with liquors and drinks that were an additional cost so I had the cabin steward quickly clean it out so that my kids wouldn't get into it. We were then able to use the mini-fridge for our own drinks and snacks. This was great for keeping milk on hand for the 2 year old.
This type of room sleeps 4 comfortably. The loveseat pulled out to a bed and there was a hideaway bunk above the queen bed that the cabin steward unlocked and pulled down each evening for us. Needless to say the bunk was a huge hit with my kids!
The bathroom was standard with a sink and toilet but surprisingly had a full bathtub shower which came in handy with the kids. Overall, the room was a bit tight for all of us to walk around at the same time (very common on all standard cruise rooms!) but definitely had room for all our stuff plus more!
ClubHAL
Our first plan of action was to find about the kid's program called ClubHAL for our two older children (4 and 6). I have to say that there was a consensus among our group that ClubHAL definitely sounds like "Club Hell" if you say it quickly. Maybe they should reconsider the name since the kids' uncle giggled every time we said the kids were going to ClubHAL?
ClubHAL is for kids 3+, so our 2 year old had to hang with us for the week as he was too young to join in the fun. During busier weeks, ClubHAL divides the kids into age groups 3-7, 7-12 and teens. Since there were so few kids during our week, all kids 3-12 were put together into what would normally be just the 7-12 year old room. I think there were only 4 teenagers on board so I'm not sure what they did.
We quickly heard that there were only 35 kids onboard this week which is basically no kids when there are almost 3,000 passengers aboard. This made me nervous as I thought the kids might not like ClubHAL with so few kids. Wrong. The kids LOVED it! Seriously, they begged each day to go back!
With so few kids visiting ClubHAL, there were basically two counselors. They were friendly but definitely ran a tight ship which was prefect for my two "spunky" kids that needed that. The ClubHAL room was very fun and kid-friendly. It had a real taxicab in the center of the room that the kids could climb in and out of, a large area full of bean bags to chill, art tables, various TVs mounted on the wall for Wii or Xbox playing, a large screen for movies and lots of space to roam.
There were planned activities each day from pizza and movie night to a pirate-themed evening. The kids even attended a show with their ClubHAL friends one evening. The ClubHAL hours of operation varied from day to day depending on if it was a port day or sea day. For example, on sea days it was open from 9-11a, 1-4 and 7-10p.
Besides the snack in the evening, the Club was closed during mealtimes. I would have loved to see ClubHAL open earlier in the evenings. The kids didn't really want to sit in the dining room every night with us but the grandparents wanted to go to dinner earlier than 7pm. If the Club had opened at 5pm, it would have been perfect.
Food/Dining
The food on the ship was excellent. For lunch and breakfast each day, we visited the casual buffet restaurant (Lido Restaurant) and the Terrace Grill that served hamburgers and hotdogs poolside. The kids' favorite part was the ice cream and dessert bar, of course. While we tried the Lido for dinner, we definitely preferred the main dining room in the evening.
The Manhattan Dining Room had a complete kid's menu with yummy kid's favorites like chicken tenders, mac and cheese and quesadillas. Let's just say that the Lido wasn't so kid-friendly with their food choices in the evenings. Not a chicken tender in sight.
For the adults, the Manhattan Dining Room offered a menu with many choices from steak to seafood to pasta. If a guest didn't like the daily specials, there was always a standard selection that was offered daily such as top sirloin, caesar salad and chicken breast. The food was always delicious, hot and cooked perfectly. For the kids, there was a special kid's menu that included kid favorites such as mac and cheese, quesadillas and chicken tenders. The service was outstanding with the waitstaff paying special attention to the kids with paper animals each night.
Alternative Restaurants
On board there are three specialty restaurants that are an additional charge per person to eat at: Pinnacle, Tamarind and Canaletto. We decided to try the Pinnacle and the Tamarind.
The Tamarind is an Asian-fusion restaurant. The food was excellent and the atmosphere was phenomenal. If you are a fan of Asian-fusion food, including great sushi, this is a definitely can't-miss restaurant on board at only $15pp!
While the Tamarind was great, the Pinnacle was by far our favorite dinner of the week. The Pinnacle is a steakhouse and carries a $25/per person charge with it. Let me just say, it's definitely worth it to drop the kids at ClubHAL and eat there. If you plan to make reservations (you have to have reservations!) that coincide with ClubHAL hours, I definitely recommend making those reservations in advance.
The only reservation we could get was 8:30pm no matter which night we chose, so one member of our party had to leave dinner before dessert was served to get the kids from ClubHAL when it closed at 10pm. Okay, back to the Pinnacle food. It was exceptional. Seriously, so good! While we could have had top sirloin every night in the dining room, it didn't even hold a candle to the filet mignon and shrimp ("Land and Sea" entrée) at the Pinnacle.
The service was also excellent in the Pinnacle. Our waiter, Bonie, was fantastic and even attentive to our 2 year old who joined us. (Remember he couldn't go to ClubHAL.)
Pool
There are two pools on the Nieuw Amsterdam: the Lido Pool and the Adult Pool. The adult pool is just that – for adults. They are serious about that! The Lido pool is where you will find the few kids on board. The Lido pool was surrounded by comfortable deck chairs and no matter when we visited the area, we could always find chairs. This isn't the kind of cruise that you need to hit the pool with your towels at 8am just to get a chair. Chairs are always available. There were three hot tubs surrounding the pool.
The kids had a good time each day laughing, splashing and playing in the pool and we never seemed to worry about upsetting any other guests in the area. Most of the time the only ones in this pool were the kids and the parents. Any other guests who wanted to lounge on the side of the pool were smart to hang by the adult pool.
It's important to note that like all major cruises, toddlers/babies in diapers (even swim diapers!) are not allowed in any of the pools. This is a safety regulation in order to avoid the pools from being contaminated on the ship.
Ports/Excursions
Our Western Caribbean cruise had four port days and two days at sea. Our itinerary included Half Moon Cay, Bahamas, Grand Cayman, Roatan, Honduras and Costa Maya, Mexico.
Half Moon Cay
The first port on day two was Half Moon Cay which is Holland America's private island. It was a great day to hang at the beach. We chose to do a horseback riding excursion in the morning and beach lounging in the afternoon. The "Horseback Riding by Land & Sea" was an excursion through the cruise line and five adults from our party participated. We had a great time with this 1 hour and 20 minute excursion. We spent about 25 minutes riding along the beach and an additional 20 minutes galloping in the water. Yes, we rode the horses in the sea! It was thrilling and a little scary all at the same time.
In the afternoon at Half Moon Cay, we hit the beach. My kids were pleased to see a large water playground with two waterslides right on the beach. On busier weeks, we were told that there are water trampolines out in the water but sadly not the week we visited. There was a floating mat that the kids (and the guys!) had a great time "walking on water". ClubHAL held a "playdate" on the beach in the morning but since our horseback riding conflicted with that AND the parents had to attend with the kids, we opted out of that ClubHAL activity.
Grand Cayman
On our fourth day, we docked at Grand Cayman. We chose a "Dolphin Memories and Turtle Farm" excursion through the cruise line at this port. We chose this particular excursion not only because swimming with dolphins sounded super fun but also because it was one of the few excursions that the kids could participate in. My husband, I and our 4 and 6 year old did the Dolphins trip. After a 25 min bus ride, we arrived at the Turtle Farm and Dolphin place. The turtle farm was great fun for the kids as they walked around looking at huge turtles all the way down to 12 week old baby turtles that they got to pick up and hold.
After visiting the turtles, we headed across the street to the Dolphins. We suited up with life jackets and went with a group of about 20 people into the pool with a dolphin. We petted, kissed, shook hands and played with the dolphin for about 30 minutes. Each person in the group (including the kids) got to take a turn with the dolphin.
We weren't allowed to take a camera into the pool with us and opted not to pay the $25 per photo charge for our dolphin encounter pictures so these general pictures will have to be good enough. Even without photos, it was one of the coolest excursions we have ever done and we are really glad we took the kids to join us. It's not everyday that they get to have an encounter with a dolphin.
Honduras
Roatan, Honduras was our 3rd port on our fifth day. We chose to skip all excursions and visit the beach instead. We loaded up all ten people in our party and played in the sand and water at a gorgeous beach. If you visit the Rotan Beach, I highly recommend walking the path to the beach instead of taking the ski lift chair that costs you $12/each. The walk is a 10 minute walk and unless you have people in your party who can't walk that far, skip the chair lift!
Costa Maya, Mexico
Costa Maya was our 4th and final port. We had pre-planned a shore excursion to visit the Mayan Ruins through a local Costa Maya company rather than through Holland America. We had a private, air-conditioned van for our party of 10 and our own private tour guide for the same price as a group tour through the cruise line.
While the adults in the party really enjoyed this excursion, the almost 4 hour excursion was just too much for the kids in the group. It was an hour drive each way to get to the ruins and a hour and a half tour through the actual ruins. I think the travel time was what put my kids over the top with this one.
By the time we arrived at the tour, within 10 minutes both my 4 and 6 year old were whining about returning to the ship to go swimming. We spent a lot of the ruins tour carrying children. Part of it was our fault because we didn't realize that a stroller would have come in handy with this excursion.
The tour was fun and educational but I just wouldn't recommend it for antsy kids between the ages of 2-6. And if you have to take them, I recommend bringing a stroller for the tour and a car seat for the van ride.
Activities/Entertainment
Since Holland America caters towards an older crowd, you will find different types of activities and entertainment than you would on other cruise lines. Instead of the volleyball tournaments, belly flop contests, and parades down the promenade, they have things like trivia contests, afternoon tea, card/scrabble player meet-ups and ballroom dance request hours. Besides the planned ClubHAL activities, there are not many kid-friendly activities. Sure, they have the traditional daily bingo games but they are not really meant for kids.
The ship has a basketball court/tennis court that is open all the time. There are rackets, tennis balls and basketballs ready to be used. Every time we went up to the court, it was empty and ready for play.
In the ship's theater, there are nightly shows to entertain. I have to be honest though, the shows are definitely not up to par with other cruise lines. I love show tunes. Love Broadway. Love musicals. Love theater.
The shows that I saw during our cruise were just not that spectacular. I would compare it to a high school musical vs. the extravagant Broadway-style shows that I have seen on other cruise lines. They aren't bad (the grandparents in our group thought the mid-week show was "cute") but just know people don't cruise Holland America because of the shows. All the adults under 40 in our group walked out after 10 minutes of sitting in the first show and headed to the casino.
Speaking of a casino, the adults in our party were very happy to see a casino onboard! It had all your typical casino games like roulette, blackjack and craps, as well as, many slot machines to keep the gambling going.
Wrap-up
Overall, we had a fabulous week! We did miss all the kid-friendly activities of other cruises, but because of the pool, we never had a shortage of things to do. My kids could basically spend the entire day at the pool and that's pretty much what we did when we weren't getting off the ship at the various ports.
Yes, the ship is full of older people. I'm talking about 85% of the passengers were over 60! To be honest, I was nervous from time to time during the week that my kids were upsetting the older passengers so I had to really keep them in check more than I normally would. An innocent run down the hall would worry me that a lady with a walker or a gentleman on a scooter would be around the corner.
Most of the passengers were super sweet and smiled at my kids or told us that they looked just like their grandchildren who they missed. There were a few though that looked as if they didn't appreciate the kids on board. Honestly, you'll find that anywhere though. Some people are nice and understanding and some people aren't. The staff on the other hand was excellent with the kids! Many of them said they had kids of their own and loved when kids were onboard. They really went out of their way to accommodate their requests and keep them happy.
Holland America is a different type of cruise for kids. There are no waterslides, mini-golf courses, rock walls, arcades, FloRiders, Johnny Rockets or even shuffleboard on the Nieuw Amsterdam. You have the pool, ClubHAL and a tremendous group of Holland America employees that give you the royal treatment. That being said, you don't have the drunks in the hallways, the loud partying at night, the pools that you have to get to at 8am just to get a chair, pools with wall to wall people and a ship with 1/3 of the passengers being kids.
If you are looking to take the family on a cruise, I would definitely recommend Holland America if you are traveling with grandparents and looking for a low-key cruise. It's one of those cruise ships that the grandparents will appreciate the lack of drunks and super loud music, but the kids will still have fun hanging with new friends at the pool and in ClubHAL.
For more information on a Holland America Cruise, visit their website at http://www.hollandamerica.com/
*Disclosure: This was a personal family vacation. We'd like to thank Holland America for 2 of our 3 excursions and for covering the charge for the alternative restaurants. As always, all opinions and statements are our own.