We just returned from a weekend adventure to the Kalahari Resort in Wisconsin Dells. If you haven't heard of this indoor/outdoor waterpark resort, you should! Kalahari is a full-featured resort that offers something for everyone in the family from the babies to the grandparents. While Wisconsin can be brutally cold in the winter, it's always summertime inside the indoor waterpark where you and your kids can splash in the wave pool, brave the water slides, surf the waves in the Flowrider, hang with the kids by the giant water play structure in the center or the new Tiko's Waterhole for the toddlers, or just pull up a beach chair and drink to relax.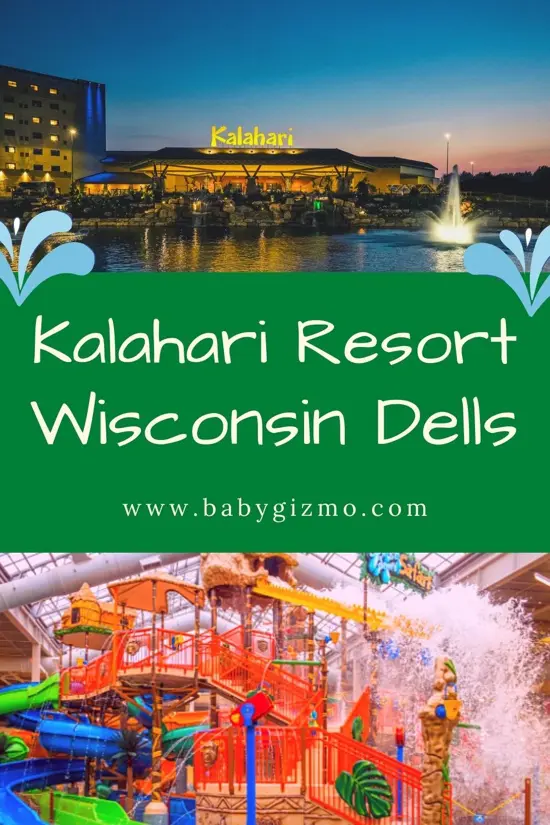 On our visit this weekend, we tried to see as much of the inside fun as we could. While it's a bit much to get done in 2 days, we accomplished a lot to bring you an inside look at Kalahari.
All the details are below but if you'd prefer to watch our video review about Kalahari, just click play on the video below:
Arrival

I don't know if it was a combination of good timing and good luck or if this is how it always is, but we arrived at 7pm on a Friday night and I was through the check-in process with key in hand within 3 minutes. We were helped by "Jason" at the front desk to check-in and I have to tell you – this was service! He was polite, helpful, friendly and yet speedy all at the same time. Kudos to Jason!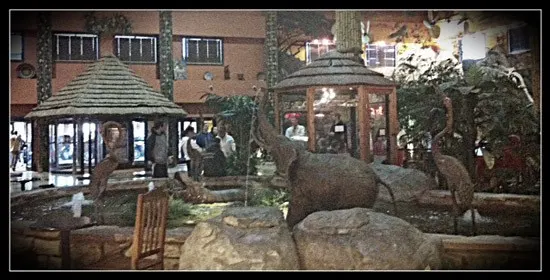 Room
We had a two bedroom suite for our stay and I cannot say enough good things about it. If you have small children (we have a 2, 4 and 6 year old), I highly recommend looking into one of their 1, 2 or 3 bedroom suites. What was fantastic about our room was that there were two separate bedrooms (one with a king and another with 2 queen beds) where the kids could sleep while we chilled in the living room and watched TV by the fireplace without fear that we'd wake the kids.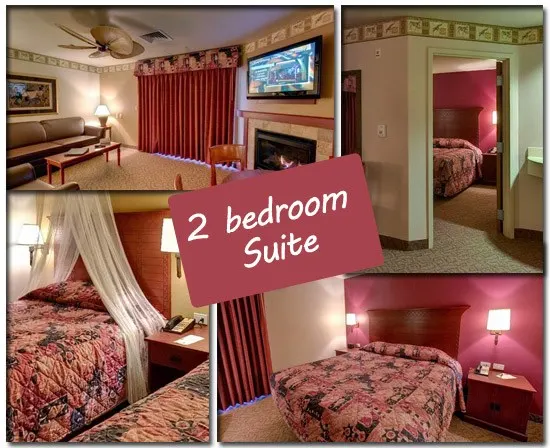 The room was super clean when we arrived and was complete with a mini-fridge, full-sized coffee maker, sink and wet bar. The two full bathrooms were perfect for our bunch since there was a lot of changing in and out of swimsuits. We had a large balcony complete with patio furniture that we didn't use because it is January but would be of great use in the summer.
LOBBY AND COMMON AREAS
Kalahari has an African theme and it is shown throughout the resort. The front lobby is large and welcoming and my kids loved the African animals around every turn. I loved the multiple lounge coves in the resort that were setup with large, comfy couches, a fireplace and plenty of room to just sit and relax.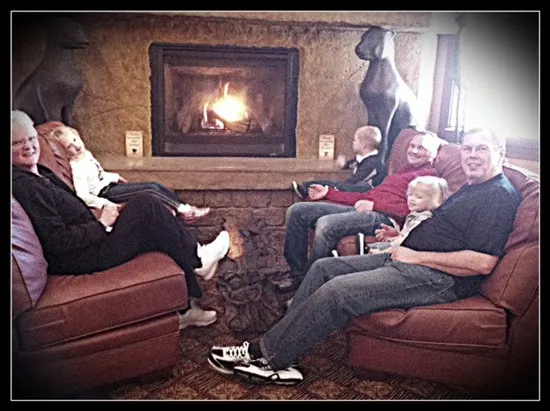 In the lobby, you will find the Sweet Hut (think yummy homemade ice cream, caramel apples to die for and lots of other candies), Pottery Pizzaz for those looking for a fun pottery craft, Java Manjaro for a hot drink or tasty baked good and gift shops.
RESTAURANTS
For breakfast on Saturday morning, we headed out with pancakes in mind. We decided to visit The Ivory Coast Lounge because of its laid back feel (it's right off the lobby!) and menu full of pancakes, eggs and other breakfast goodies. We were seated immediately and greeted by our waiter, Alex, within 1 minute. Alex was superb! He was friendly, great with the kids and quick. He checked on us often without being annoying. Alex even dropped the check immediately upon seeing we were finishing up. This obviously wasn't the first table of kids he has waited on during his shifts.
The food was excellent. It was hot, the portion size was good and everything was tasty. No complaints at the Ivory Lounge from start to finish. Great place to eat. We enjoyed it so much that we returned to the Ivory Coast for lunch and had the same great experience.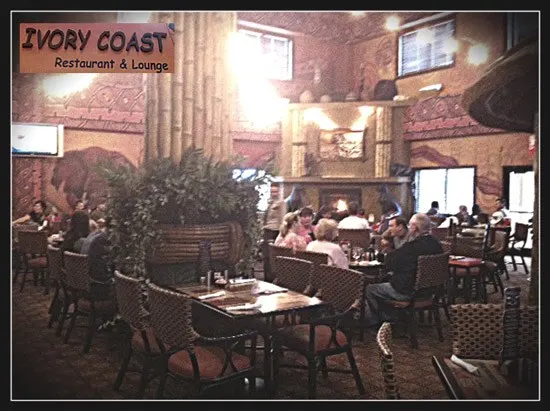 Other sit-down restaurant choices on property are: Damon's – BBQ restaurant specializing in prime rib, grilled steaks, chicken, seafood, salad, and ribs, Kahunaville – a tropical themed casual restaurant where the bartenders entertain, and Great Karoo – a nicer restaurant featuring steaks, pasta and restaurant made desserts.
INDOOR WATERPARK
Wisconsin Dells is known for their waterparks and Kalahari is probably one of the most well-known. Kalahari has two waterparks, one indoors and one outdoors. Since we visited in the middle of winter, the outdoor waterpark was obviously closed and we focused on the indoor park which was the highlight of our trip. My kids couldn't wait to hit the waterpark as soon as we walked into the lobby. Kalahari's indoor waterpark has a wave pool, lazy river, giant water play structure, Flowrider, new Tiko's Water Hole (for babies and toddlers) and 7 waterslides.

We were excited to visit just weeks after Kalahari completed a multi-million dollar renovation to their indoor waterpark that included a new baby/toddler area and three new thrill waterslides.
I have to say we have been to many indoor waterparks in Wisconsin Dells and Kalahari's is one of our favorites. First, I love that the entire waterpark is in one building so if you are visiting with teenagers, younger children and babies, they can all remain in the same building with activities that will appeal to all of them. Other water park resorts may separate the wave pool, toddler areas and water slides into different buildings therefore making you pack up everyone each time you want to switch from let's say the wave pool to the toddler area. I just like it all in one place like Kalahari. Second, I think Kalahari is the perfect sized indoor waterpark. Not too big but definitely not too small. Third, Kalahari has definitely taken time to accommodate its smaller visitors with plenty of play space.
With my 2, 4, and 6 year old in tow, we headed straight for the giant water play structure called "Leopard's Lair". This water structure was huge complete with 7 kid-sized water slides, rope ladders and lots of fountains and water sprays. The water wasn't too deep but there are life jackets provided by the resort that they ask that all children 42" and under to wear. Leopard's Lair is a perfect area for your 3-9 year old children give or take a year or two. My 2 ½ year old even loved it and his favorite part was that there wasn't a huge bucket of water that dumped all over the structure that scared him at other waterpark resorts. There is a constant rain in one area of Leopard's Lair (that you can avoid) but no water dump – which he appreciated.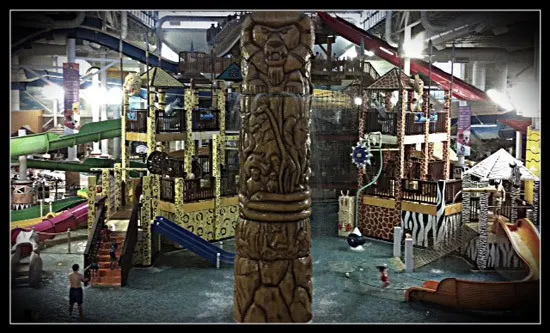 One of the new areas of the water park was "Tiko's Watering Hole" which was designed exclusively for the tiny crowd of babies and toddlers. This area was a perfect size for the 2 year old. It's complete with 10 little waterslides, baby water swings/bouncy chairs, a mini lazy river (complete with mini rafts!) and lots of little water sprays. Tiko's Watering Hole keeps the African theme with lots of animals that the little ones can climb all over.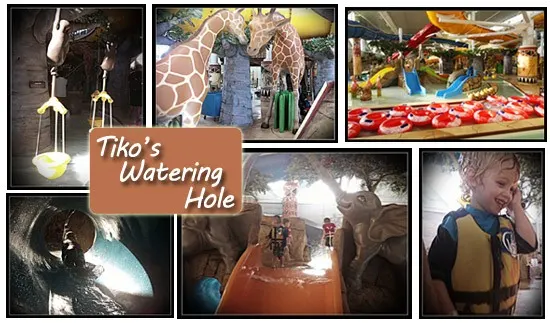 If you have older kids or a husband that is a kid at heart, the 7 waterslides are awesome. Between my husband and I (and the kids on the family raft ride), we hit them all. Note: Some of these waterslides such as the Screaming Hyena and Sahara Sidewinders are not for the faint of heart. They are scary! The FlowRider is also a fun area for the older kids and adults. It's a five-foot ocean-like wave that allows you to "surf" or "boogie board".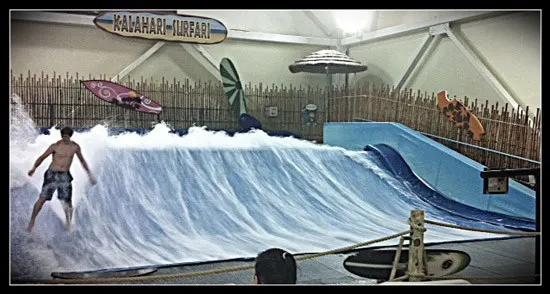 A wave pool and lazy river complete the waterpark with activities that would appeal to everyone from babies to grandparents.
My three tips for the indoor water park are:
1) If you plan to sit on the sidelines, dress lightly and sit near the perimeter of the building. While the temperature is absolutely perfect if you are in the water, it can be quite warm if you are not. The coolest areas are near the emergency exit doors.
2) Bring your own towels or a robe if you plan to walk back to your room before changing out of your swimsuits. The resort provides towels but you are required to leave the towels in the locker rooms before you leave. The walk back to your room in a wet swimsuit can be a little chilly without a towel or robe.
3) Get to the waterpark when it opens at 9am in the morning. You will be able to ride every waterslide without waiting in any lines and it will be the least busy time.
ARCADE
My kids love games and the arcade next to the waterpark was a huge hit. It was stocked with games such as skee-ball, claw games (yes, I still hate the claw game!), driving and shooting games. All the games work with credits on a card so there are no coins to deal with and tickets can be won.
INDOOR THEME PARK
A unique area of Kalahari is the Giant Indoor Theme Park! It has a giant indoor ferris wheel (totally cool!), 100s of arcades games (yes, many of those darn claw games here too!), rock climbing wall, ropes course, mini-golf, go carts, laser tag and a bowling alley. You can buy a theme park wrist band for a daily fee (it doesn't include things like bowling and arcade games though) or you can pay for each activity separately.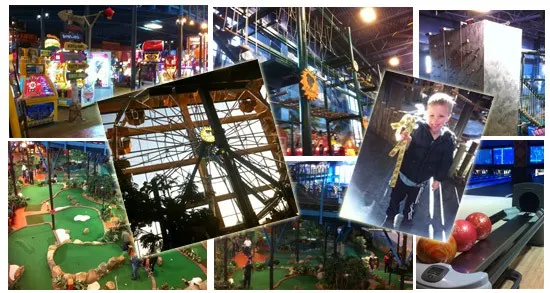 We chose to play a few arcade games and hit the bowling alley. My kids have never bowled before and I figured since they had bumpers and lightweight bowling balls, we'd give it a whirl. It was a huge hit! The bowling alley was not crowded (we were there at 5pm on Saturday night) and we got a lane right away. For lane fee and shoe rental, it was $7/person.
OTHER RESORT AREAS
Kalahari also has a huge AMC theater attached to the resort if you'd like to catch one of the latest flicks while you are visiting. See, I told you this resort really has everything! A spa, fitness center and pottery shop (the kind you paint a pottery piece) round out the amenities to the inside of Kalahari. There is a golf course and outdoor waterpark that we missed on the outside.
Overall, we had a fabulous weekend getaway at Kalahari Resort in Wisconsin Dells. Every resort employee we encountered from the front desk staff to the lifeguards to the cleaning staff were unbelievably friendly – the kind of people that go out of their way for you. We did not meet one single person with an "attitude"! Love that!
If you are trying to decide where to stay in the Wisconsin Dells or you hadn't considered a vacation to the Wisconsin Dells before our review, I highly recommend the Kalahari Resort. I can't find anything wrong with it! It can be pricey but if you go in the off season, during the week or wait for a special, you'll get a deal and it will be worth every penny. We can't wait to visit again during the summer to try out the outdoor waterpark because we are sure it's as great as the indoor park!
*Disclosure: We'd like to thank Kalahari Resorts for providing the room for our review. As always, all opinions and statements are our own.