Does your list of baby names have the perfect one on it?
Maybe yes, maybe no. It's a mighty task to name a little one and before your finalize THE ONE, take a peek at this fun list of baby names inspired by fall!
Being an October baby myself, I'll admit, I'm a bit partial to the fall season. My oldest was also born in the fall so truly, it's a special time of year for our family. Add that on top of the delicious pumpkin treats, the gorgeous falling leaves, and all the fun that harvest brings and fall just might be the perfect thing to inspire your baby's name!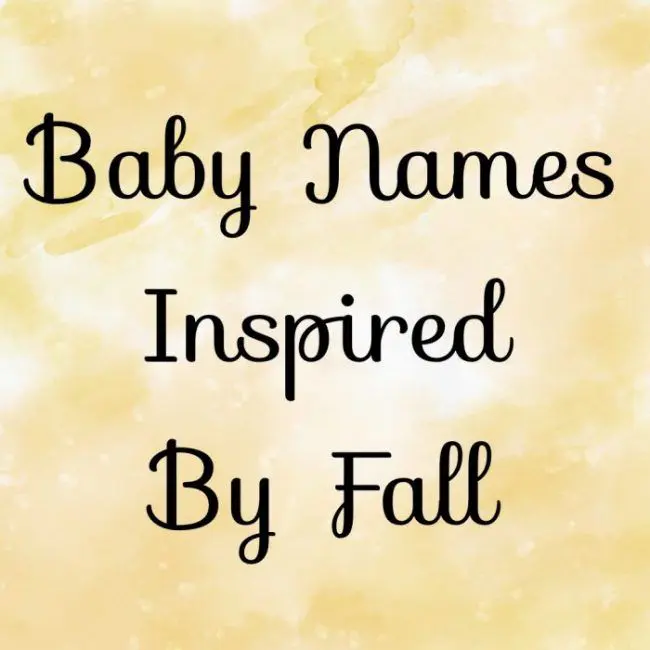 Autumn — The quintessential name for a little girl born in the fall.
September, nickname "Tembie" — Don't you just love this?!?
October, nickname "Toby" — Growing up I thought it would be the cutest thing to name a little boy October and call him Toby. My husband nixed that idea, but hopefully someone out there with a flair for fall can help this name find a home on a handsome little fella!
Nova — Meaning "new" or "young" and inspired by the month November.
Apple, Kale, Maize — Let the fruits and veggies of harvest guide your baby naming ideas.
Amber, Coral, Jade, Mauve, Saffron, Sage, Scarlet, Sienna — Fancy names for fall colors just might be the perfect pick for your little one!
Forest, Hunter, Leaf (or Leif) — Fall always makes me think of the woods, so let a walk in nature guide your son's moniker.
Breezy, Rain, Windy — The change in weather is a welcome change in the fall and perhaps it will make a lovely name for your baby too!
Sapphire, Opal, Topaz — The fall month's birthstones are unique and special name options.
Aster, Marigold, Chrysanthemum — September, October, and November's birth month flowers, respectively.
Which fall inspired name would you add? Which is your favorite from this list?