Memorial Day is fast approaching and it usually means outdoor family fun! My family and I always get together on Memorial Day for a fun day of BBQ'ing, so we're brainstorming some fun ideas for you to enjoy!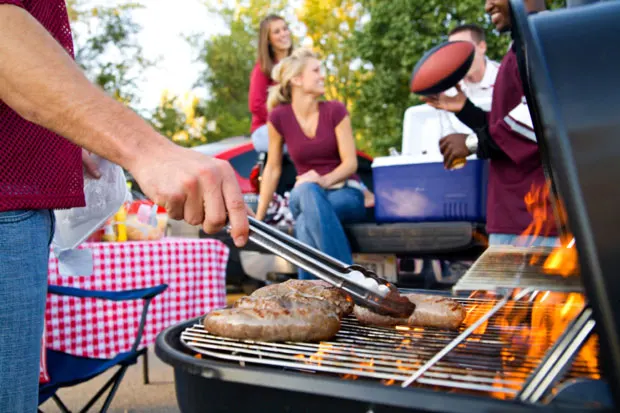 Memorial Day Food Ideas
Appetizers– Don't forget appetizers on Memorial Day to get the party started. French fries, mini hamburger sliders, chips and salsa, chicken wings, and flatbreads would be perfect choices.
Salads– Potato salad is always a must. Caeser or cobb salads would be light and refreshing. Fruit salads bring color to your spread, macaroni salads are filling, and coleslaws are just delicious! You can never have too many of these healthy options.
Side dishes– baked beans, stuffed baked potatoes, green beans, vegetables, think anything that would pair well with your main course!
Main course– Memorial Day main courses should be hearty, filling and go on the grill! Burgers, burgers, burgers! Turkey burgers, stuffed pork burgers, bacon burgers, cheeseburgers, classic burgers! Do it all and give people options. Throw some steaks on the grill, make chicken and steak kabobs, or do pork sandwiches.
Don't forget desserts– Yogurts with a spread of different toppings, angel food cake topped with citrus fruits, ice cream desserts, or s'mores bars! Any of these would be perfect for Memorial Day! If you've got a pit in the backyard, let everyone make their own smores or just roast their own marshmallows after!
Drinks– Lemon water, juice, margaritas or mojitos would be perfect for a backyard affair! Have plenty of ice on hand incase it's hot!
Memorial Day Game Ideas
Don't forget the fun! You can set up games in the backyard like-
Bean bag toss
Bocci ball
Croquet
Hopscotch
Tag
Marbles
Board games
Puzzles
If you've got a pool, make it a pool party!
On Memorial Day, anything goes! Eat yourself silly, laugh, play games, have a blast!
What are you plans this Memorial Day? What's on your menu and agenda? Leave us a comment and let us know!