Bath time can be tons of fun for the whole family. Most babies love to play in water of any type, and the bath is no exception! Children are naturally curious little creatures and water is a sensory extravaganza. From the feel of the water to the sounds of splashes and sprinkles, bath time is a true learning experience for your little one.
According to the National Safety Council, over 80% of home accidents occur in the bathroom. For this reason, it is generally regarded at the most dangerous room in the house. Even the most mundane of bath time routines can turn dangerous in a split second.
Oftentimes, it's the things parents take for granted that can cause the most serious injuries. The faucet, a slippery tub, or so called "safety" seats can be the cause of some of those unforeseen accidents. However, by taking some safety precautions, parents can lessen the risk of bathroom related injuries and make bath time a little less daunting. In the words of Fire Marshall Bill – Remember Kids, Safety First!
Overwhelmed? Join the club! During my National Bath Safety Month "refresher" course, I was shocked at all the different ways kids are susceptible to injuries in the bathroom. So how do we as parents keep our kids safe? The first step is constant parental supervision paired with good old common sense. The second way to arm yourself is by outfitting your water closet with some great bath safety items.
Fortunately, manufacturers have started to take notice and have come out with some fantastic new items to help us along the way. In honor of national bath safety month, check out this list below for some ideas on products to help keep your kiddos safe and happy in the tub.
NOTE: There are NO products that will EVER allow you to safely step away from your child.
Baby Tubs / Baths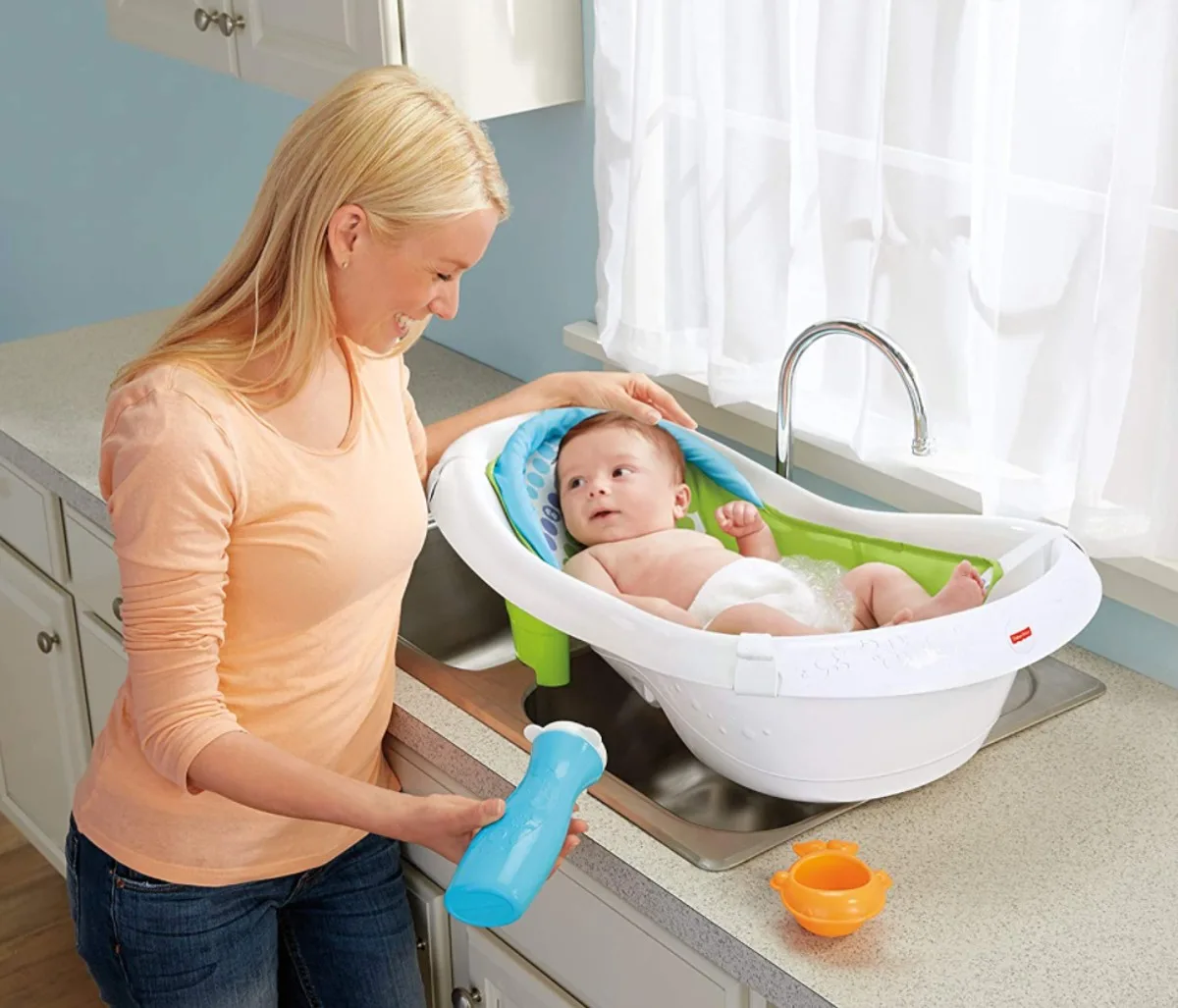 Fisher-Price 4-in-1 Sling 'n Seat Tub – A baby tub that fits in the sink or adult tub AND safely holds the baby upright AND won't allow them to slouch down in the water? How come no one ever told me about this thing? This is hands down my personal favorite among baby tubs and is my go-to gift for baby showers. It gets rave reviews on Amazon.com and is definitely a great all-around newborn bathtub.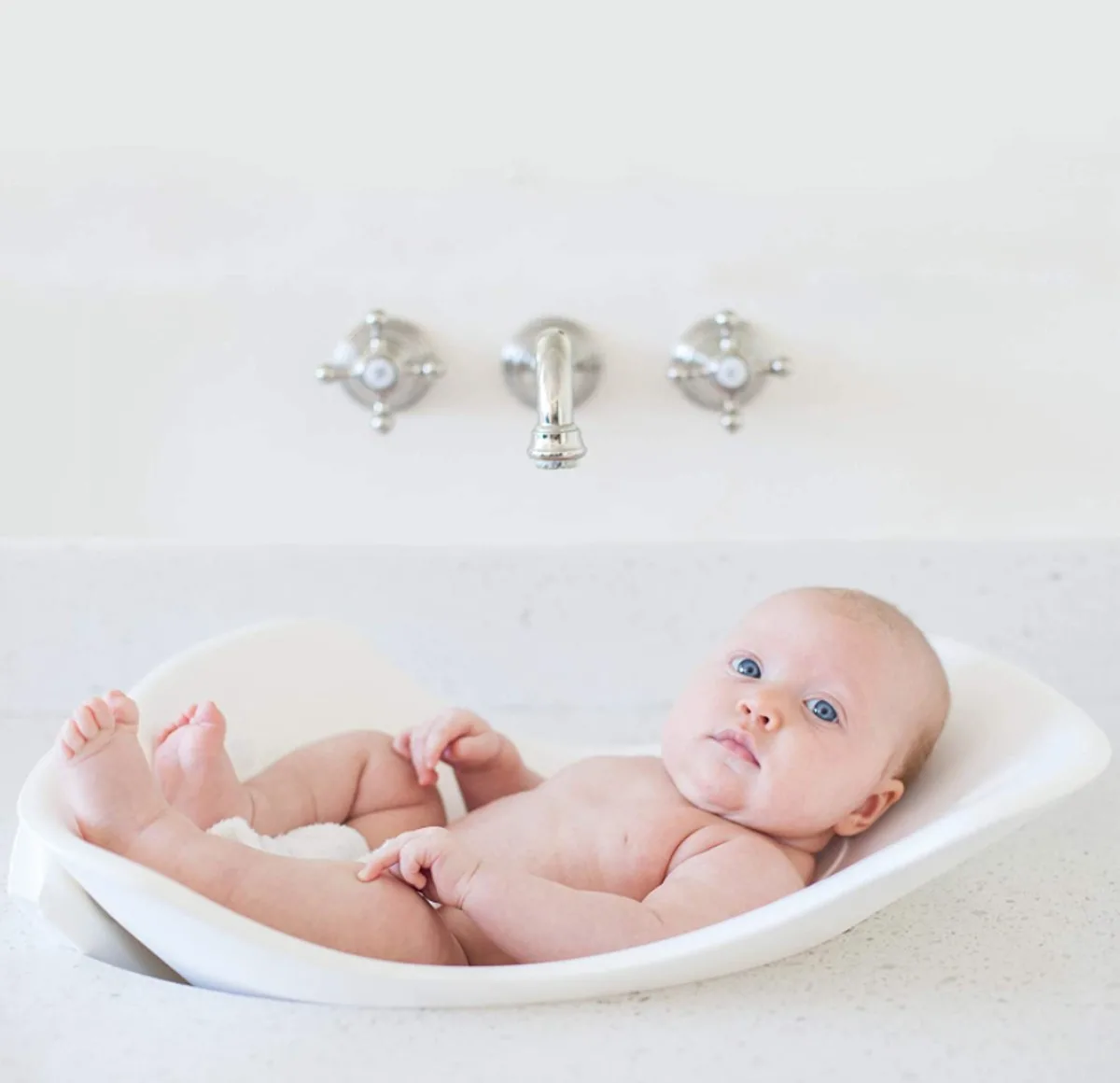 Puj Tub – Wave goodbye to the huge, bulky baby tubs of yesteryear and say hello to the Puj Tub. This soft foam tub fits in any standard bathroom sink and folds flat after use for easy storage. The tub cradles the baby, allowing parents the piece of mind of having 2 free hands to wash the baby. No more greased piglet syndrome. I'm having baby tub envy. Puj Tub, I think I love you.
Faucet Covers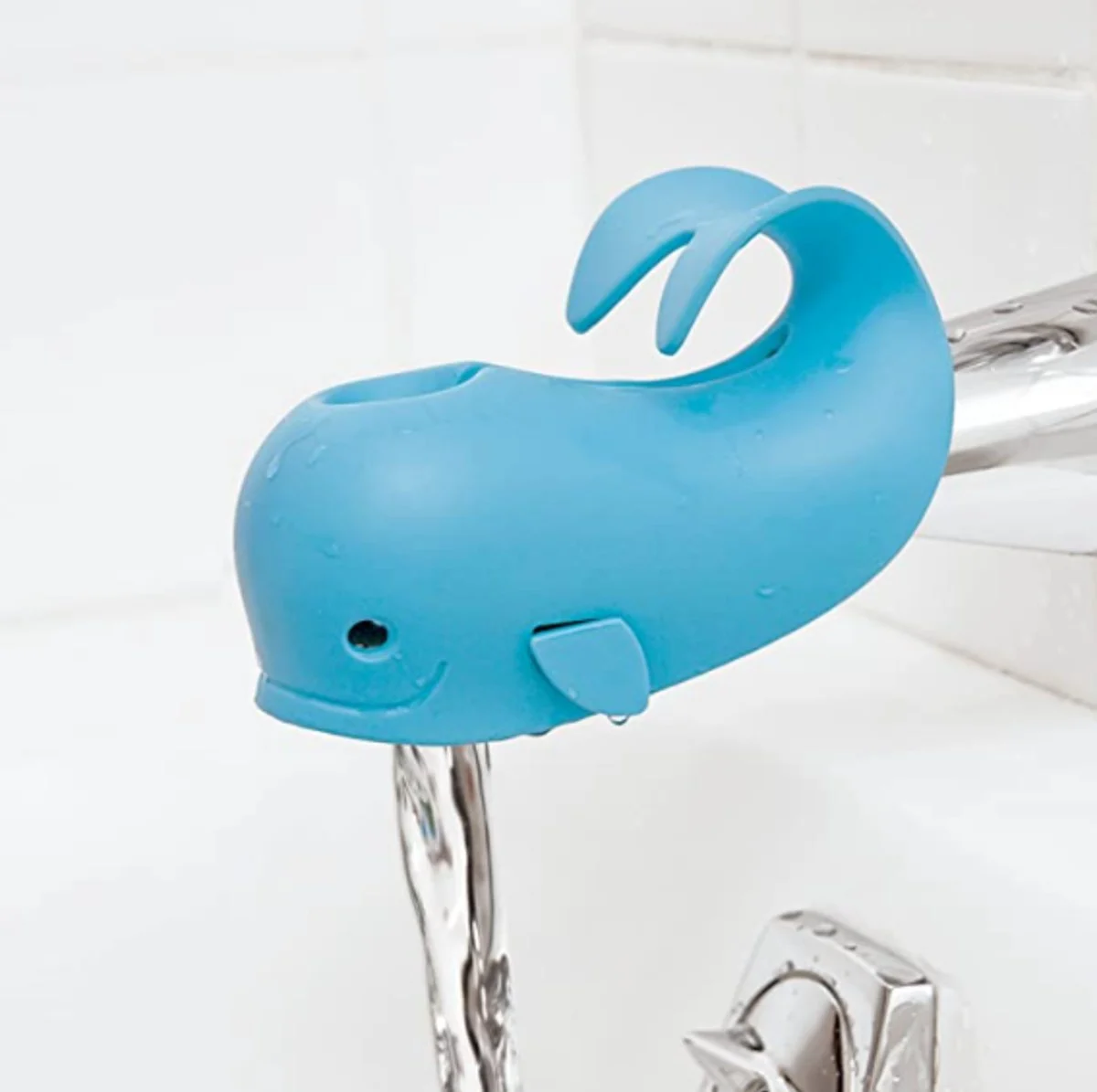 Skip Hop Moby Bath Spout Cover – This is a Baby Gizmo favorite! Keep those little noggins safe with this fully adjustable spout cover from Skip Hop. This handy little guy's tail is also a hook, allowing moms and dads the added convenience of a built-in way to hang the cover when not in use. It's easy to remove and clean too!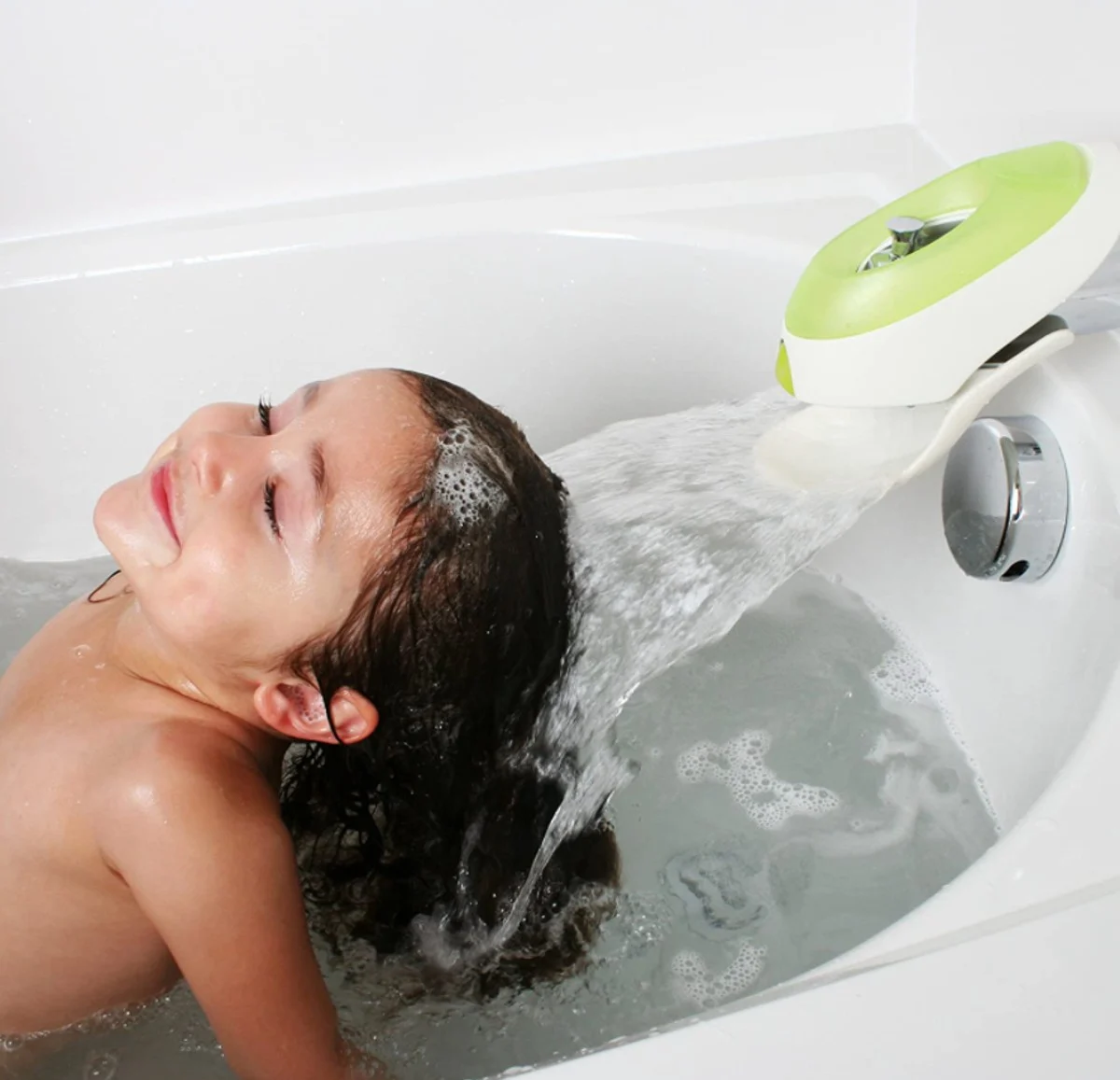 Boon Flo Water Deflector – The great thing about this faucet cover is that is also creates a waterfall effect with its deflector that makes rinsing your bigger kids a snap! Shampooing a hassle for your little one? Big Bud loves that the water is deflected out and away from the faucet and all he has to do is lean back into the flow. No more shampoo in the eyes!
Bath Mats / Non-Slip Decals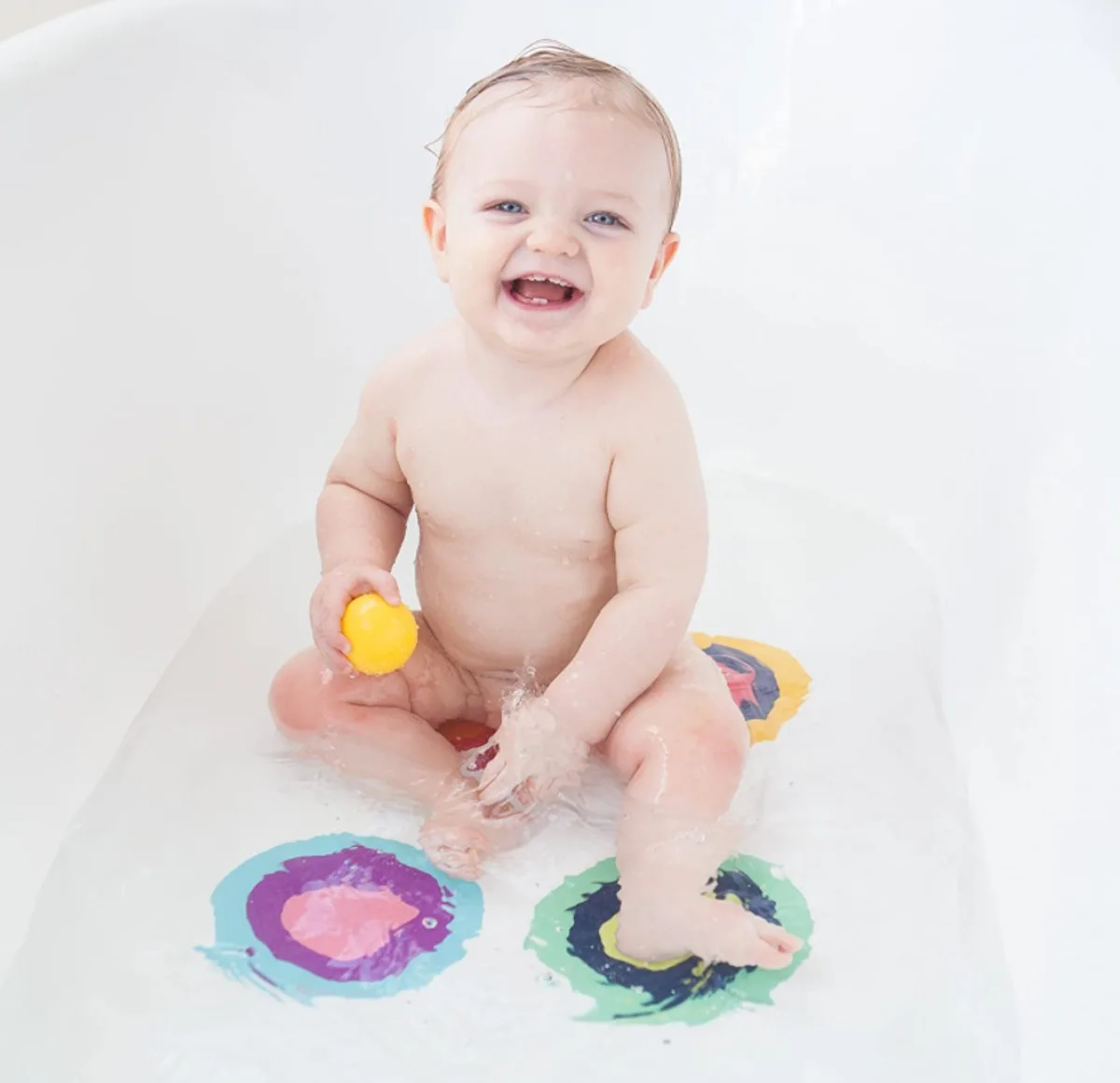 Puj Treads – Tired of the boring clear non-slip mats? Try these fun, non-slip ring bath treads. The Puj Bath Treads are designed to look great and function much better than traditional non-slip bath mats. These are truly a toddler and kid bath essential!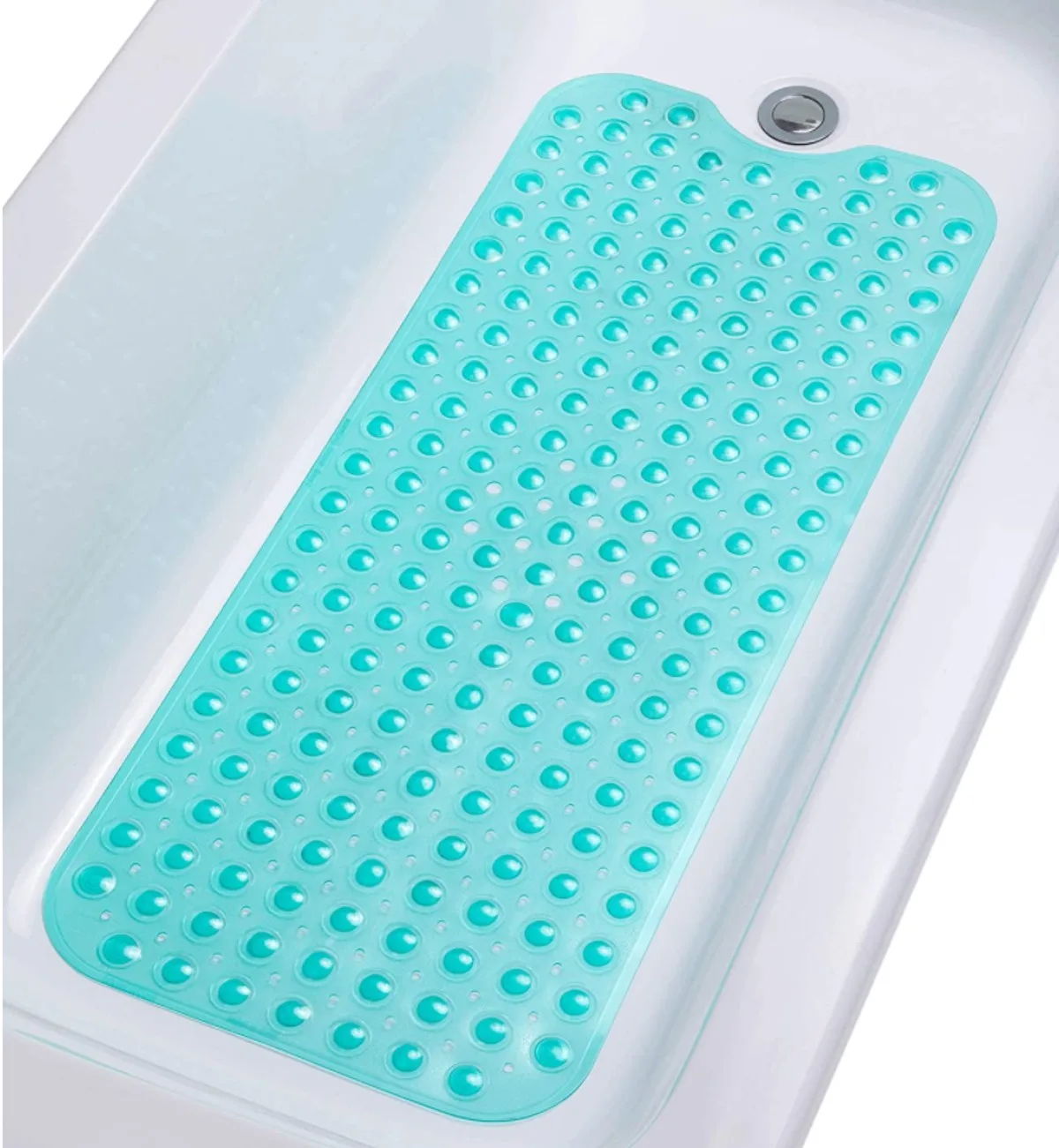 Tike Smart Extra-Long Bath Tub Mat– If you prefer a full coverage, non-slip bath mat, this one from Tike Smart will keep your baby from slipping around with 200 powerful suction cups that will not slip when used on non-textured shower or tub surface.
Toilet Locks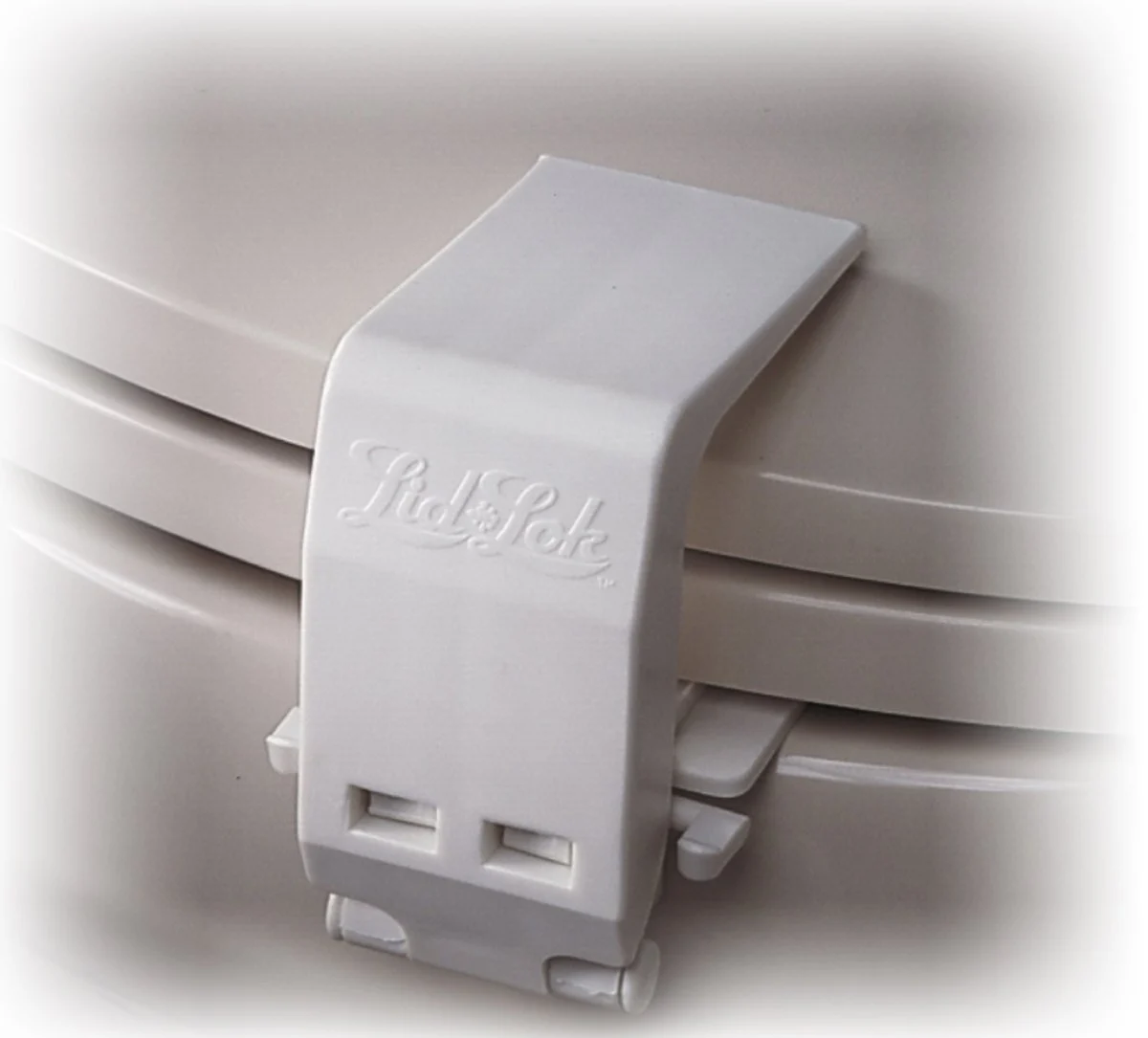 Mommy's Helper Toilet Seat Lid-Lock – This great lock is a must-have for anyone with a toddler. I have found that it's the most reliable, no-frills toilet lock out there. Just make sure to put the lid down and this lock does the rest.
Safety First Prograde Toilet Lock – This lock has a push-button for easy, one-handed opening. Its sleek design is a little less obtrusive than some other locks on the market. Keep in mind that this lock won't work with all types of toilets, so make sure to check the manufacturers recommendations before you purchase.
Miscellaneous Safety Items
Aquatopia Deluxe Safety Bath Thermometer – If you need extra reassurance that your bath water is the right temperature, this just might be for you. This handy thermometer activates automatically and alerts you with an audible alarm if the water is too hot or too cold. It also makes a fun tub toy!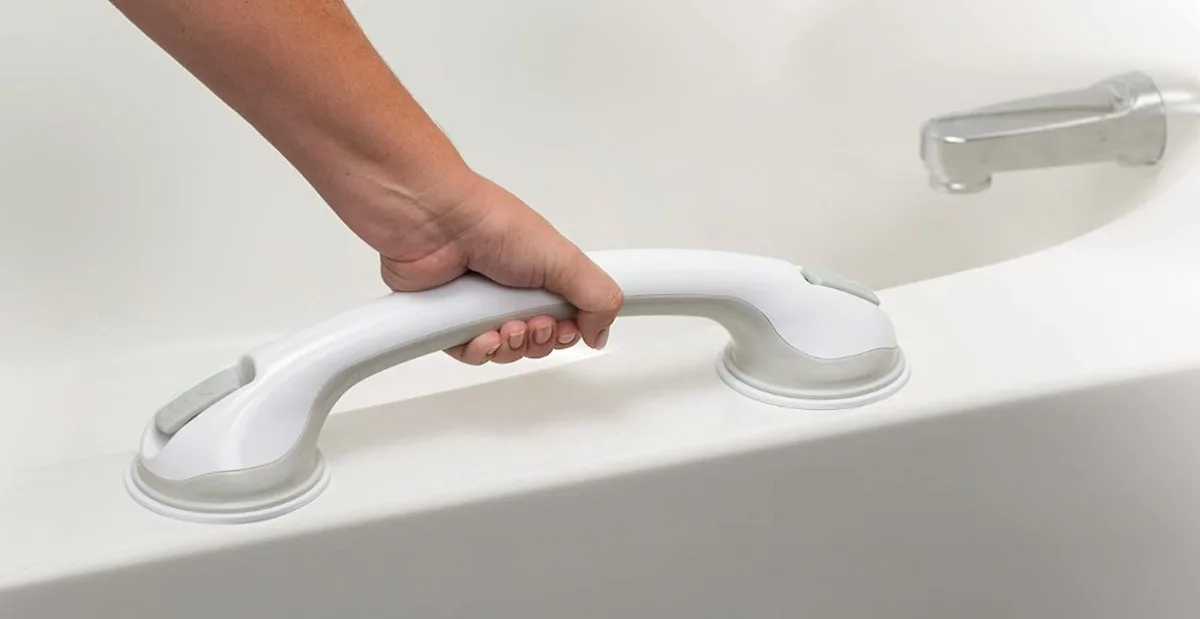 Changing Lifestyles Safe-er-Grip 16″ Bath & Shower Handle – I always worry that my children are going fall getting in and out of the tub. This handle gives me piece of mind and was easy to install. Added bonus -this great handle can even hold the weight of an adult, so it's practical for everyone!