Okay, people. We've been getting warnings about the zombie apocalypse since Michael Jackson's Thriller video. And possibly longer, but that would be before my time.
Anyway, there are tons of books about surviving the zombie apocalypse out there (no really, it's kind of weird), but they're all about survival of the fittest. Meaning: they assume you're fit and prepared to survive. Also, that you're not responsible for anyone else's survival. You know what else? They're sooooo boring; dry reading, really—and who's actually going to finish a book, no matter how useful, if it's a slog to get through?
Enter James Breakwell's Only Dead on the Inside: A Parent's Guide to Surviving the Zombie Apocalypse. You know it's going to be good because he's a comedy writer. Even better, he's a funny guy on Twitter (or at least his family's funny and he's a good recording secretary). Check out @XplodingUnicorn if you don't believe me. Even better than that is the fact that the cover of his book has a child wielding a chainsaw.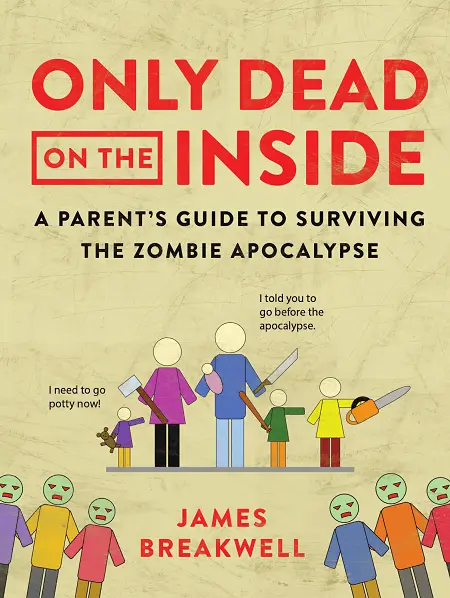 (PS, did you see the amazing cover art? I mean, really take the time to study the artwork and the impressive detail it contains. You'll find more mind-blowing illustrations just like that the whole way through the book! Plus, graphs and charts!)
I was already laughing out loud (literally, and in a hallway full of parents I don't know while waiting for my daughter's ballet class to end) while reading the preface, so rest assured that you do not have a boring book on your hands. What was the gem that got me giggling? "Marriage has a built-in system of checks and balances. The checks aren't so much like Congress checking a president as they are like one hockey player checking another into a wall."
The book is chockfull of useful advice for surviving in a world overrun by zombies, which is contained in chapters like "What's Yours Is Mine," "So You Have to Cut Off Your Arm," and "You Are the Law." Don't let the fact that Breakwell is a humor writer cause you to think that his advice is impractical or untested. He assures us that the advice he dispenses is actually helpful and useful: "I know this will work because I've watched it happen to more than one of my children. Unless you're with Child Protective Services, in which case I made up that story."
And even if the majority of the book was total crap—it isn't, but bear with me—you should buy it for Chapter 12 alone. I laughed so hard and so long that my face hurt from laughing, I got a stomach ache, and I was crying. My dog freaked out and barked at my husband like a thunderstorm was coming, as the poor puppy tried desperately to get me some help for that weird noise/convulsion thing I had going on. Apparently, there's not a lot of humor around my house. Anyway, this chapter containes some of the best writing ever, and I say that as one of the people Breakwell was insulting in it. I won't tell you anything more about Chapter 12 because I don't know how to talk about it without giving something away. Or sharing the whole chapter with you, which takes away your motivation to buy the book. Also, it's probably illegal, even if I cite my source.
When it's all said and done, you own (and/or have gifted) parenting books on every conceivable topic: elimination communication, potty training, feeding small humans of various ages, infant and childhood disease, baby wearing, choosing schools, tween attitude, discipline, positive discipline, screen time, babyproofing… Why not toss this one on the shelf and be prepared to parent your way through the zombie apocalypse, too?
PRE-ORDER ONLY DEAD ON THE INSIDE HERE
---
I received a complimentary advanced review copy of the book for the purpose of this review; however, all opinions expressed are my own.