By: Ryan Hawker, Safety 1st Child Passenger Safety Technician and Car Seat Safety Expert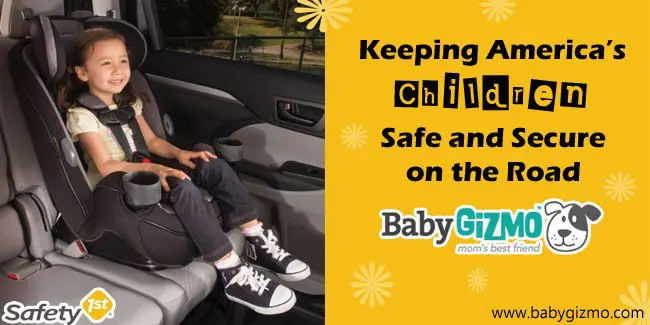 While another year has passed, it's important to check on what's most important in 2016: your precious back seat cargo. If you haven't taken a once over to make sure no hazardous items are laying around your car, or that your car seat is as snug as can be, it's a good time to do that. Here are a few helpful car seat safety tips to make sure your kids are as safe as can be in the back seat.
Don't Turn Them Around
Keep your child rear facing as long as possible! According to a study in the Journal of Injury Prevention, children under the age of two are 75 percent less likely to die or be severely injured in the event of a car crash if they are rear facing. Furthermore, the American Academy of Pediatrics (AAP) advises that children remain rear facing as long as allowed by your car seat's height, weight and other criteria.
If you have an older child, boosters are extremely important. Most states require a child to be in a booster until 8 years old, as they have been proven to reduce the risk of serious injury by 45%, according to Safe Kids.
Car Seat Installation 101
According to the National Highway Traffic Safety Association, 75% of car seats are installed incorrectly. Are you one of those parents? If you are not sure, check! Remember, every car and car seat has different requirements for safe installation, so it's important to read both the car seat and car manual.
When installing, use either the LATCH or the seat belt. Do not use both! The seat belt is a very effective way to install a car seat but LATCH was developed to provide another option for parents that find it challenging to properly install a child restraint with the seat belt. Once you have the car seat installed make sure it does not move more than one-inch side to side. If you are still unsure if you've done it right, check in with a local Child Passenger Safety Technician before you hit the road.
You can visit a local police station, fire station, AAA office or Safe Kids Chapter for guidance. Or simply go to seatcheck.org or http://www.safekids.org/events/field_type/check-event.
Securing Your Child
This may seem like a no-brainer. However, during the winter months, securing your child can be a little trickier. Often, parents strap their children in with their bulky winter coats still on. However, a new crash test that aired on the Today Show demonstrated how a secure dummy (meant to represent a small child) went hurtling out of a car seat because the winter jacket obstructed it from being fastened securely.
It's recommended that you remove the child's jacket before securing him or her. If you're worried about the child being too cold, turn up the heat and, once buckled, put a blanket over the car seat. It may seem like a hassle, but it's an extra step that can save a life.
Car Seats do Expire
It's something you rarely think about, but car seats expire! You can find the expiration date on the back or the side of the car seat. Additionally, if a car seat has been in a crash you should not use it. Plastic can warp, materials can fray and the car seat will not protect a child correctly. This also means that you should avoid used car seats. The history of a car seat tells a lot about its ability to protect on the road ahead. If you don't know where it has been, you don't know if it can protect your child.
To recycle a car seat, check with your local waste management facility to see if they recycle number 5 plastic.
Lead by Example
Children don't always do what they're told but they often mimic what they observe. According to Safe Ride 4 Kids, almost 40% of children riding in vehicles with unbelted drivers were not wearing belt restraints at the time of an accident. Set a good example and always use your seat belt.
Also never text while driving! Five seconds is the average time your eyes are off the road while texting. When traveling at 55mph, that's enough time to cover the length of a football field blindfolded (Distraction.gov)! Always put your purse, wallet and/or phone on the floor in front of your baby. Not only will it prevent you from using it while in the vehicle with your child, but you'll never forget to leave the baby in the car.