We all know how important it is to baby proof our homes when our babies can start moving around. You'll keep many of those baby proofing gizmos in place until after the kiddos leave for kindergarten. That is a good five years that the sockets will be plugged, the stairs will be blocked (okay, the gates usually come down much sooner!), the TVs and furniture will be strapped and the doors, toilets, and cabinets will all sport some type of locking device.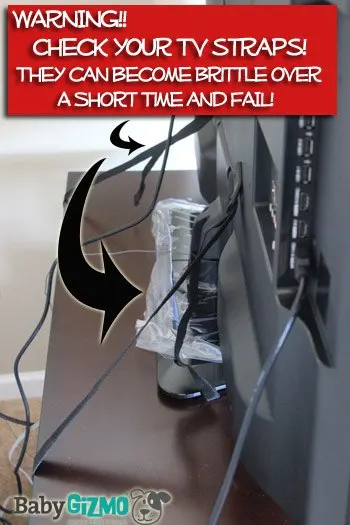 If you need help on what to baby proof, check out our Baby Gizmo Baby Proofing Guide HERE.
We aren't going to talk about what to baby proof in this article but remind you that you need to check all those baby proofing gizmos from time to time. Just like any product, materials break down. Plastic cracks. Straps become old and brittle. It's the same reason why car seats have an expiration date. Materials evenly break down and aren't as safe and can break apart easily over time.
I was reminded of this today. After 8 years, our main TV in our living room broke. Since it was so old (in the TV world!), it didn't pay to try to fix it (again!) so we went TV shopping. We upgraded our 46″ LCD to a 60″ LED TV. Woot! Woot! Did we need 60″? Nope. Am I super excited to continue watching Game of Thrones on 60″? You betcha.
So, we are changing out the TV and even though my youngest is four, I still want my TV strapped to the wall or stand. It's just too big and until we mount it on the wall out of reach, we have to use TV straps. Those are the straps that prevent a large TV or tall piece of furniture from toppling over on your child and possibly killing them. Yes, I said it, killing them. These are very, very important straps!
We've had the same straps on this particular TV for about 2 years. That is how old the straps are. When I removed the straps from the old TV to put on the new TV, the straps (the webbing part!) literally started falling apart in my hands. It ripped apart with the slightest tug. The straps were so brittle that if the TV had been pulled on by a child, the straps would have broken and it would have toppled right over on the kid. Scary.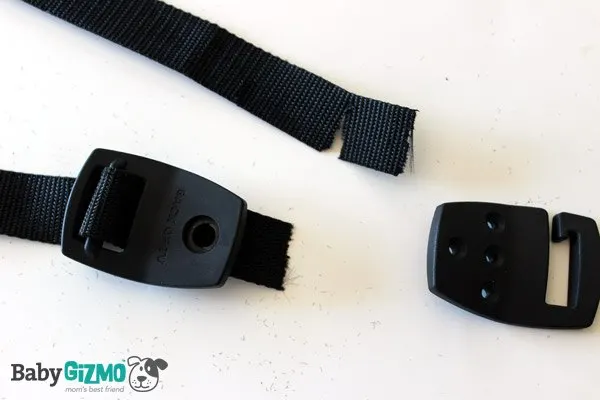 Even I didn't think to check the TV straps and furniture straps. Gah! Luckily, nothing bad happened but this was a good lesson for everyone. Check those TV straps. Check those furniture straps. Mine were only 2 years old and were super brittle. Clearly, it doesn't take that long for them to break down.
Please share this tip (or post!) with your parent friends. Remember it is something that is a safety hazard but most people might not think about it!