September is rolling around and your sweet little baby who isn't really your baby anymore, is ready to go to Kindergarten! Are they prepared? Did you teach them everything they should know? You're feeling anxious and excited and nervous all at the same time.
My son is two and I'm already feeling those emotions just writing this. Let's all take a deep breath together and talk about Kindergarten. How should you prepare your child and what do they need to know before you send them off to school?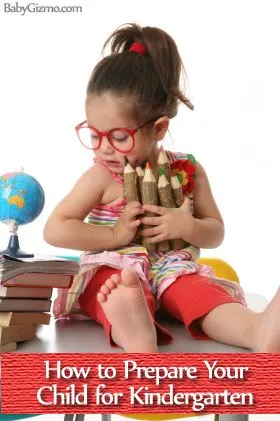 1. Social Life.
Most of your child's day at school will involve him being around other kids. Children who are comfortable working in groups and being around others thrive. It is a good idea to sign your child up for group activities like preschool, gymnastics, or a music class so he is well adapted to being around others. Even things like taking your child to the playground often will get them around other kids. Small, easy things like this will really help your child once they go to kindergarten.
2. Self Aware.
Before your child goes to kindergarten they should know basic information about themselves like how to spell their name, their address, their birthday, their age, and their phone number.
3. Basic Info.
Your soon to be kindergartener should know basic knowledge like their colors, shapes, numbers, and letters. Having a good working knowledge of these things will help your child have a head start so these things can be expanded upon.
4. Fine Motor Skills.
Before your child can write they must develop fine motor skills. Let them help with things around the house like opening mail, sorting silverware, stirring batter, or tying shoelaces. These little tasks will help them excel in handwriting, cutting, and the like.
5. Listening and Obeying Instructions.
Your child's future teachers will appreciate this one. Teach your child to listen and follow instructions. Paying attention, keeping their hands to themselves, and following through with tasks.
6. Kindness.
Teaching your child to be kind to others, to lend a helping hand when needed, to accept everyone and be kind is one of the most important and valuable lessons you can teach your child. It is also VERY important to teach your kids anti-bullying from a young age. I have vivid memories of my mom sitting me down and telling me what to do if I saw children being bullied at school. She taught me the importance of sticking up for other children, even if it meant being scared or laughed at. Teach your children what to do if they see bullying and tell them things that should be reported to a teacher if they see.
7. Tour.
Make sure you take your child to meet their teacher, see their classroom and campus beforehand. Get them familiar with the area and make sure they always know who will be taking them to school and who will be picking them up so they know who to go home with every day.
Kindergarten is going to be so much fun for your child, make sure they know that! If you have a child in grade school already, leave us a comment and let us know what you did to prepare your child for Kindergarten when they went!