I love baking homemade cookies. I decided to take my original chocolate chip cookie recipe and kick it up a few chocolate notches and add cocoa powder to make chocolate-chocolate chip cookies. I have to admit this was my 6 year olds idea for our chocolate theme this month. He would eat everything chocolate if I let him he has a real chocolate sweet tooth (wonder where he got it from).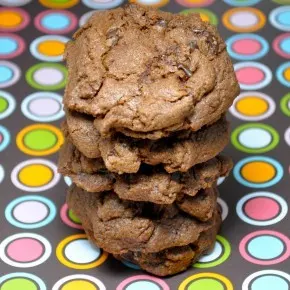 This cookie recipe will fix anyone's sweet chocolate craving! I first mix all the dry ingredients in one bowl and all the wet ingredients in a another bowl. Then I combine it all together for chocolate goodness. Scoop the cookie dough on a baking sheet and in 12-15 minutes you have chocolate perfection coming out of the oven.
If your kids don't have a nut allergy you can add walnuts to the batter (both my little ones are allergic to nuts so no nuts for us). This recipe concludes our chocolate obsession for the month of February. Hope you enjoyed our chocolate recipes as much as we enjoyed baking and more importantly eating them!
INGREDIENTS:
2-1/4 cups of all-purpose flour
1/2 cup of brown sugar
1 cup of cane sugar
2 cups of semi-sweet chocolate chips
2 large eggs
1/2 cup of unsweetened cocoa powder
1/2 cup of butter at room temperature
1 teaspoon of vanilla extract
1 teaspoon of baking soda
1 teaspoon of salt
METHOD:
1. Pre-heat oven to 350 degrees.
2. Whisk dry ingredients together flour, baking soda, and salt.
4. In a separate bowl combine butter and sugar with a whisk or electric beater until well incorporated then add cocoa powder, vanilla and eggs mix again.
5. Stir dry ingredients into wet ingredients then add chocolate chips.
6. Using a tablespoon drop cookie dough onto cookie sheet bake for 12-15 minutes.
* Recipe makes 30 yummy cookies.