As a cook or a baker, many times things work out perfectly. The cake rises just enough. The frosting is the perfect consistency. The brownies were oh-so-gooey.
Annnndddd… then there are other times. You have the best intention of creating a masterpiece and it sounds amazing in your head. Until you realize the finished product looks like a raw hamburger patty or peanut butter slathered on a rice cake depending on which angle you look at it.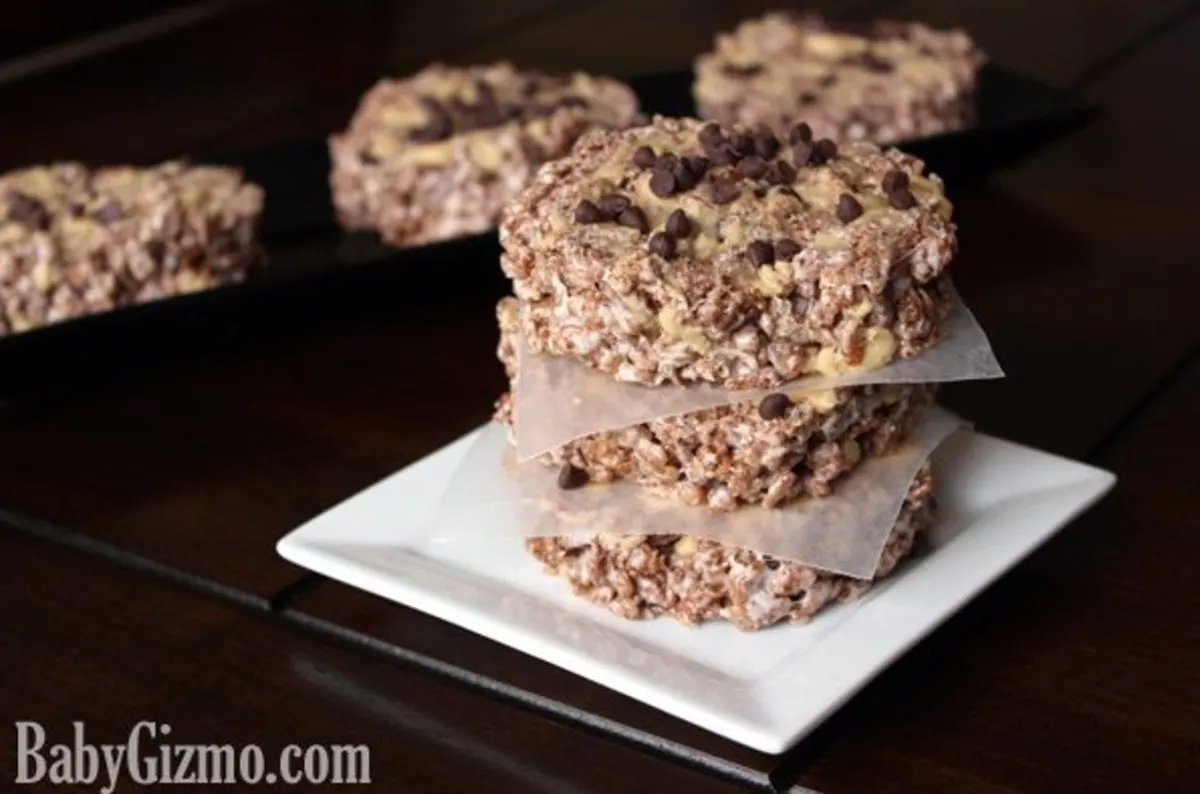 Today was one of those days. A "Pinterest Fail" if you will. I'm not saying these taste bad. On the contrary, they taste great. I wouldn't share them with you if they tasted bad. It's just they don't look like a masterpiece.
When I saw the Rainbow Rice Krispie Pinwheels on Pinterest, I knew exactly what I wanted to do. My kids are not huge Fruity Pebbles fans but they do love Cocoa Krispies. I figured I would mix it up and make it a peanut butter and chocolate version. Who doesn't like peanut butter and chocolate, right? Match made in dessert heaven.
It started out so great but about the time I started rolling the Rice Krispies into the log, I realized what it was going to look like. Even my husband was all "yeah, it does look like a stuffed cheeseburger. Now, I'm hungry for a cheeseburger." Oh yeah, they are HUGE too!
Here's how I got there…
Ingredients
3 tbsp butter
10 oz pkg mini marshmallows
6 cups of Cocoa Krispie Cereal
Frosting
1 cup butter, softened
1 cup creamy peanut butter
4 cups powdered sugar
1/2 TSP vanilla
1/3 cup mini chocolate chips
Step By Step Directions
1. Make your traditional Rice Krispie Treats with the Cocoa Krispies. Melt the butter in a saucepan over medium heat. Add the marshmallows and stir until melted. Remove from heat and stir in Cocoa Krispies.
2. Spread out the Cocoa Krispie Treat mixture on a buttered jelly roll pan. (Baking sheet with edges). Let sit for 20 minutes on the counter while you make the frosting.
Looking good so far, right?!
3. Make the peanut butter frosting by blending all the frosting ingredients (peanut butter, butter, sugar and vanilla) together in a stand mixer.
4. Spread the frosting over the krispie treats. I would NOT use all of it. If I were you, I'd scrap it along the top so that there should be about 3/4 cup frosting left to save for another dessert. Sprinkle the mini chocolate chips over the frosting. At this point, I still think I'm doing great! 🙂
5. Starting at one end, I rolled the Cocoa Krispies into a log.
This is where I realize that it is starting to look like a hamburger roll. Gah! Who knew that the color of the Cocoa Krispies and the marshmallow would give it that appearance?!?
Once I rolled the entire thing, I realized that maybe it would have been smarter to start the rolling with the longer side so that I could cut more pieces out and they would be smaller! You live and learn!
6. Once I rolled it into one HUGE log, I set it on a cutting board and cut it into pieces with a large knife. I was able to cut about 12 HUGE pieces.
Now, these aren't bad (they are actually quite good!) but they aren't pretty, and because of that, I consider them a "Pinterest Fail". Maybe if I decide to make them again, I will use less frosting and definitely roll the krispie treats from the long side to make them smaller.
I was debating whether to even share this with you since they are a "Pinterest Fail" but I decided it was the right thing to do. I can't always show you just the perfect recipes that turn out amazing. That gives you false hope that everything on Pinterest is super easy to make and you are a failure if you can't make it work. Sometimes it just doesn't work. 😉