Christmas equals cookies, right?
Even though I fall into the category of cookie monster mama, I've hit my max on gingerbread and peppermint this holiday season. And so, I'm switching gears with my baking to salted caramel inspired treats. Salt caramel is that perfect blend of sweet and salty – just what I need after a long day!
Hope you love these as much as I do … maybe even save a few for that upcoming cookie exchange or a jolly Santa!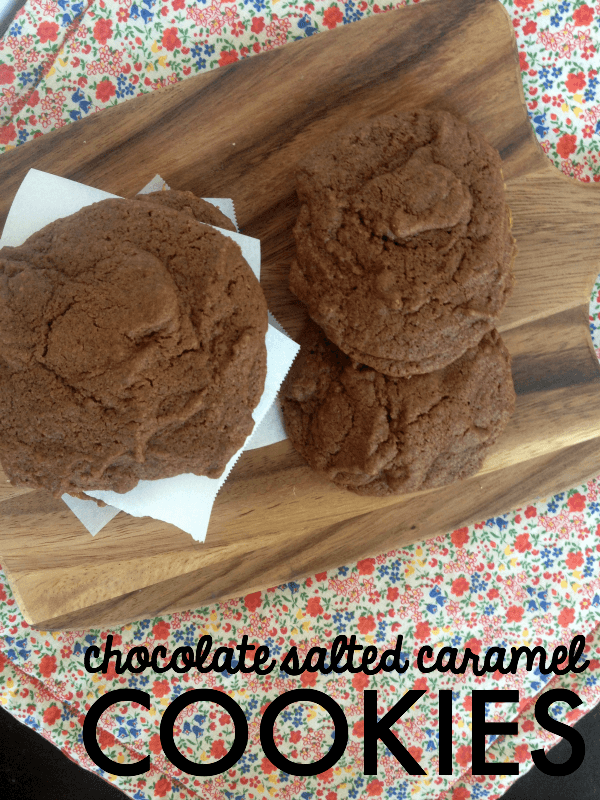 Chocolate Salted Caramel Cookies
Ingredients
2 cups all-purpose flour
3/4 cup cocoa
1 teaspoon baking soda
1 1/2 teaspoons sea salt
1 1/4 cup butter, softened
1 cup white sugar
1 cup brown sugar
2 eggs
2 teaspoons vanilla
Caramel bits or unwrapped, chopped caramels squares
Optional: Maldron salt (flaky garnishing salt) or large sea salt bits
Directions
Preheat your oven to 350 degrees.
In a large bowl combine dry ingredients – flour, cocoa, baking soda and sea salt. In separate bowl, preferably a Kitchenaid type mixer, combine butter and sugars until fluffy. Add eggs and vanilla and beat well. Slowly add the flour mixture.
Fold in caramel bits with a spatula. Roll into dough balls and gently flatten before placing on an ungreased baking sheet. Bake for 12-15 minutes. If you want an extra dose of sea salt sprinkle the top of your warm cookies with Maldron salt.