For years I've dreamed of making my own biscotti around the holidays, but it always seemed like a step above my cooking abilities. Come to find out, it is much easier than I expected and this chocolate-y biscotti is now a family favorite! Next round we are going to nix the nuts and try a new mix-in … currently trying to decide between dried cranberries, Heath bits, peppermint or white chocolate chips – what's your vote?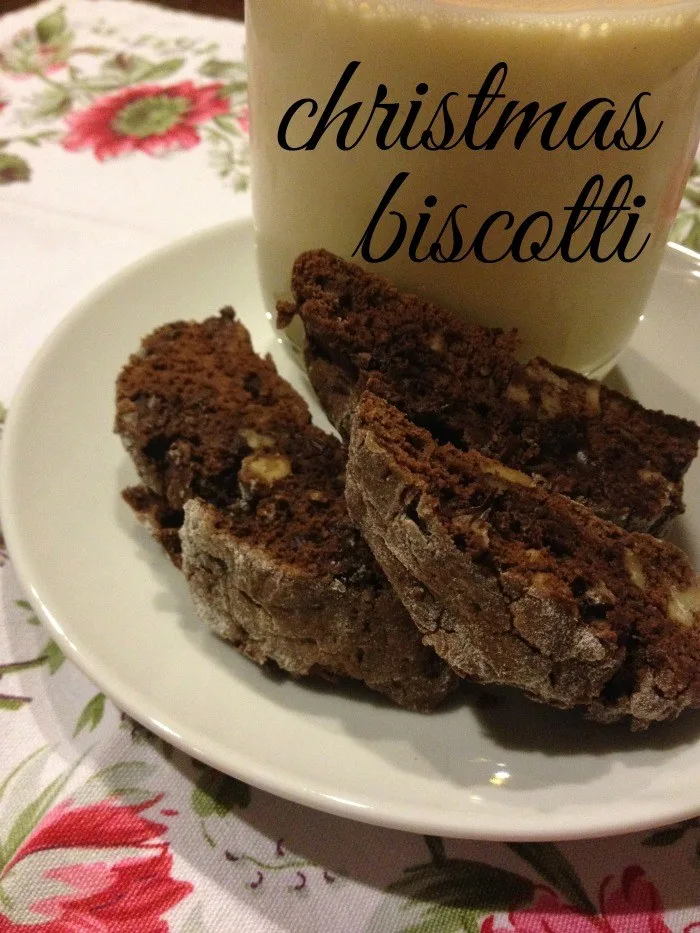 Chocolate Biscotti
Inspired by this original recipe
Ingredients
1 cup nut pieces, we used pecans
1 cup unbleached all-purpose flour, plus more for rolling
1/3 cup unsweetened cocoa powder
1/2 cup packed brown sugar
1/4 granulated sugar
2 tablespoons unsalted butter, cut into small pieces, at room temperature
1/4 teaspoon baking soda
1/4 teaspoon sea salt
1/4 cup strong brewed coffee
2 large eggs
3/4 teaspoon vanilla extract
1/2 cup chocolate chips
Directions
1. Preheat the oven to 350°F.
2. In a mixing bowl or Kitchen Aid mixer blend flour, cocoa powder, brown sugar, sugar, butter pieces, baking soda and salt.
3. In a separate bowl blend eggs, coffee and vanilla.
4. Once fully combined add into the flour mixture and mix well.
5. If using an electric mixer, remove from base and hand mix nuts and chocolate chips.
6. Prepare a rolling surface by generously flouring your counter top or a large baking sheet. Scoop your dough onto the flour and divide into two long and skinny logs – approximately 16×2 inches. They'll be sticky, so avoid extra touching.
7. Carefully lift each log onto a parchment lined baking sheet and bake for about 20 minutes. The goal is for the logs to be firm at this point.
8. Remove from the oven, lift the parchment paper onto a wire cooling rack and allow to cool for a few minutes.
9. Reset the oven to 250°F. Then, transfer the logs onto a cutting board and slice the logs diagonally with a sharp, serrated knife.
10. Place each biscotti piece on its' side on your baking sheet and bake for 1 hour, or until dry, firm and slightly crunchy.
11. Place biscotti on your wire rack and allow to cool thoroughly – overnight if possible. Serve with your favorite drink- a tall glass of milk for the kids or a hot cup of coffee for you!