It seemed like there was a bit of interest in a follow up to Classic Books to Read With Your Daughter – so, here it is! Although my little man is just 8 months, I've been gleaning wisdom from other boy moms on the books I should add to our book shelf. These books have a mix of adventure, suspense and admirable male characters – sounds like a perfect story time to me!
Plus, after reading this article (and accompanying list of 50 best books for boys!) I'm all the more eager to promote a love of reading for my boy. The statistics below made me sad and I want to be proactive in making our home a book loving one!
For several decades now, boys have scored lower on reading assessment tests than girls. Boys also take longer to learn to read than girls, are less likely to actually read and to value reading, and are more likely to label themselves as "non-readers" (up to 50% of high school age boys consider themselves as such). Non-reading boys do poorer academically and end up as non-reading men (women read almost twice as many books as men).
And now, a peek at the classic books I hope to kick off our reading time with. Well, as soon as my little boy wants to listen to me reading books rather than eat them 🙂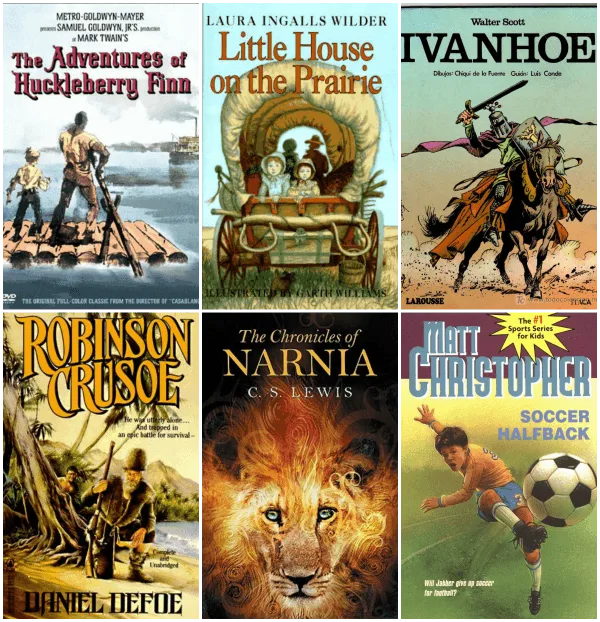 Huckleberry Finn by Mark Twain |||
Little House on the Prairie by Laura Ingalls Wilder ||| Out on the prairie there are adventures around every corner! Plus, Pa is constantly providing a bit of humor and excitement to the Ingalls family.
Ivanhoe by Sir Walter Scott ||| Set in 12th century England, Ivanhoe is a lesser known story that resembles many elements of the more popular Robin Hood.
Robinson Crusoe by Daniel Defoe ||| Shipwreck, survival, thriving off the land – it's a old classic that closely resembles Man vs. Wild. Beware the mentions of slavery and cannibalism before delving into this adventure. Read a full summary of this classic here.
Chronicles of Narnia by C. S. Lewis ||| Before your family delves into the movies series, why not enjoy the book series? There are seven fantastic fantasy adventures.
Matt Christopher series by Matt Christopher ||| If your boy loves sports, he'll love Matt Christopher books. And there are 68 of them so he won't run short on reading material any time soon!
The Little House on the Prairie series also appeared on the girl's list, but I heard from so many boy moms that their little men love the prairie adventures of the Ingalls family so I included it here too!
What classic books would you add to this list?