Have you been wanting to visit Walt Disney World with the family but still want to stick to a budget? Well, today we are sharing our review of one of the Disney Value Resorts – the Disney All Star Sports Resort – that will help you do just that.
While we have stayed at many Walt Disney World resorts such as Disney Grand Floridian, Animal Kingdom Lodge, Art of Animation, Coronado Springs, Disney Beach Club, Disney Contemporary Resort and more, this week was our first time staying the Disney All-Star Sports Resort and I have to say that we were pleasantly surprised. We stayed in a newly refurbished room in the Hoops (basketball) section of the resort.
The resort features five sections that are each dedicated to a competitive sport – baseball, basketball, football, surfing and tennis. It's important to note that only the exterior of the buildings is dedicated to the particular sport as all the individual rooms do not carry that sport indoors.
Here are three of the different sections (not pictured is baseball and surfing).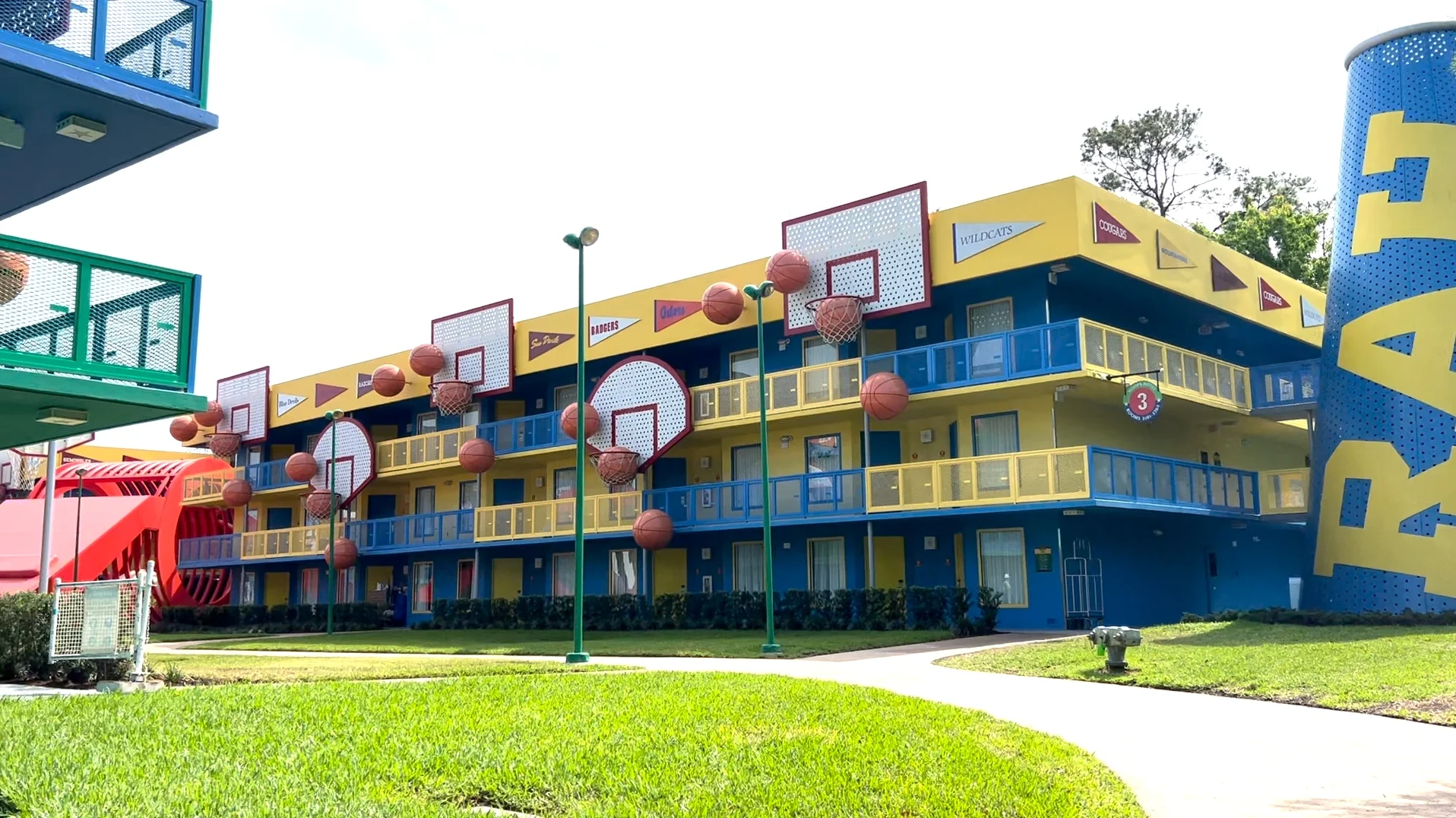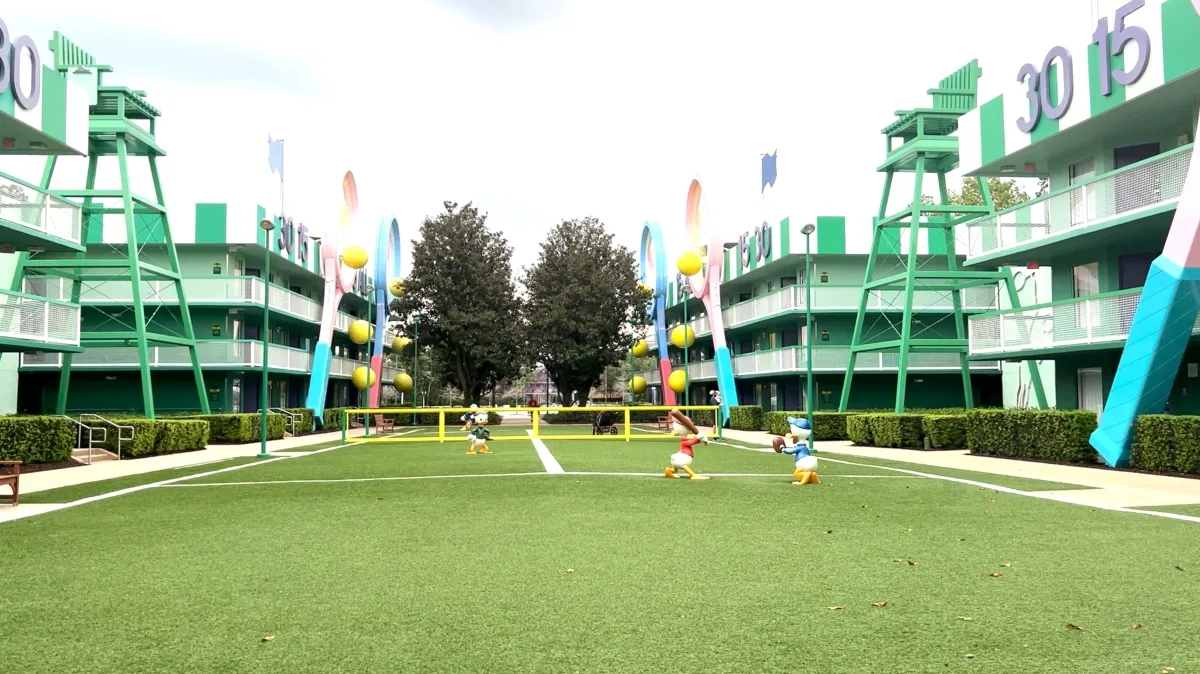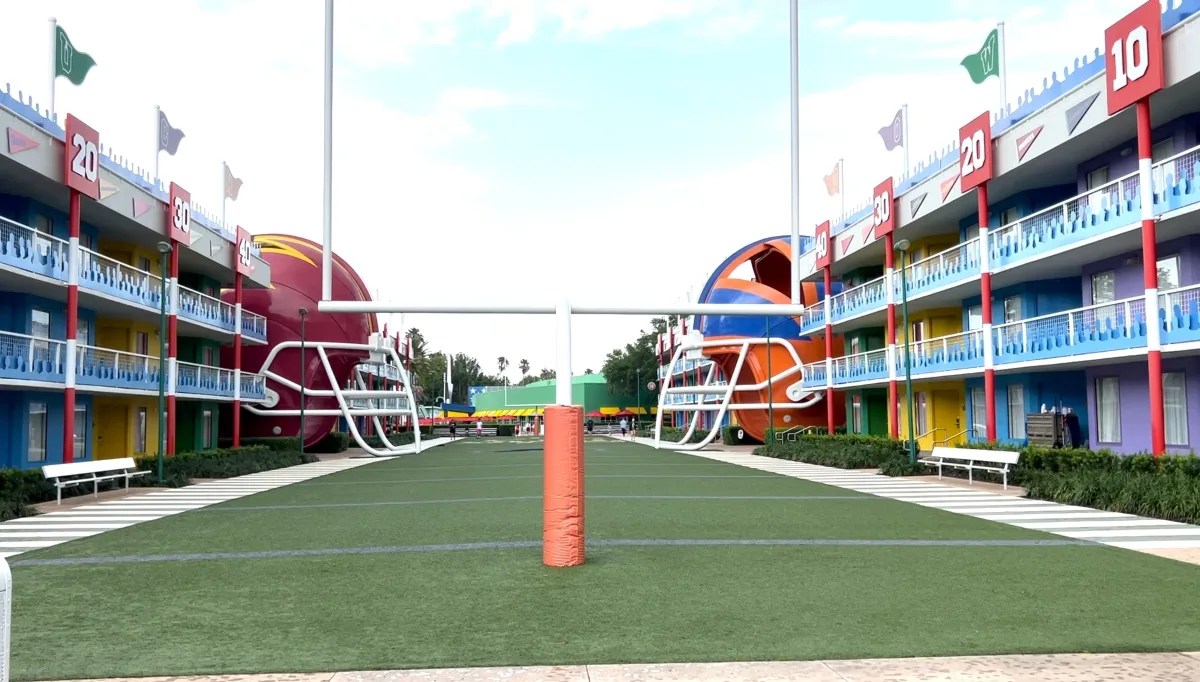 This budget-friendly resort is "motel style" (you enter your room from an outdoor hallway) but still has all the benefits of a Disney resort such as Disney transportation buses, early park hours, two giant pools, a large cafeteria, arcade, ping pong, and much more.
While many (non-Disney) resorts these days feature over-price arcades, we found that this arcade was quite reasonable with the average cost per game being $0.50-$0.75 which is really not bad!
SECRET TIP: Plus, if you head to the back of the arcade on the left, there is an old-school stand-up arcade game that features a BUNCH of games such as Galaga and PacMan that is FREE. Yep, it's on free mode so don't miss that if you are into old school games.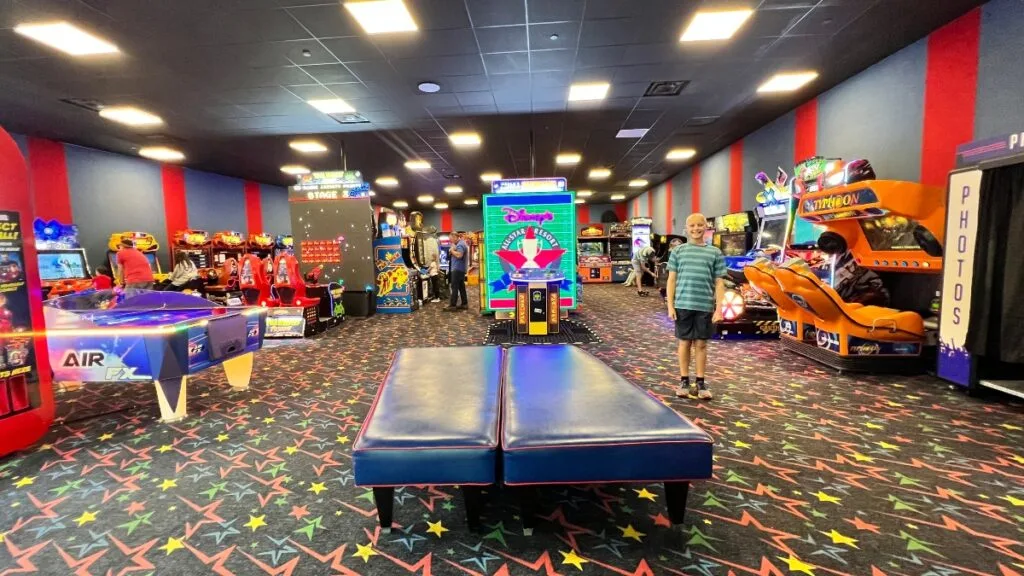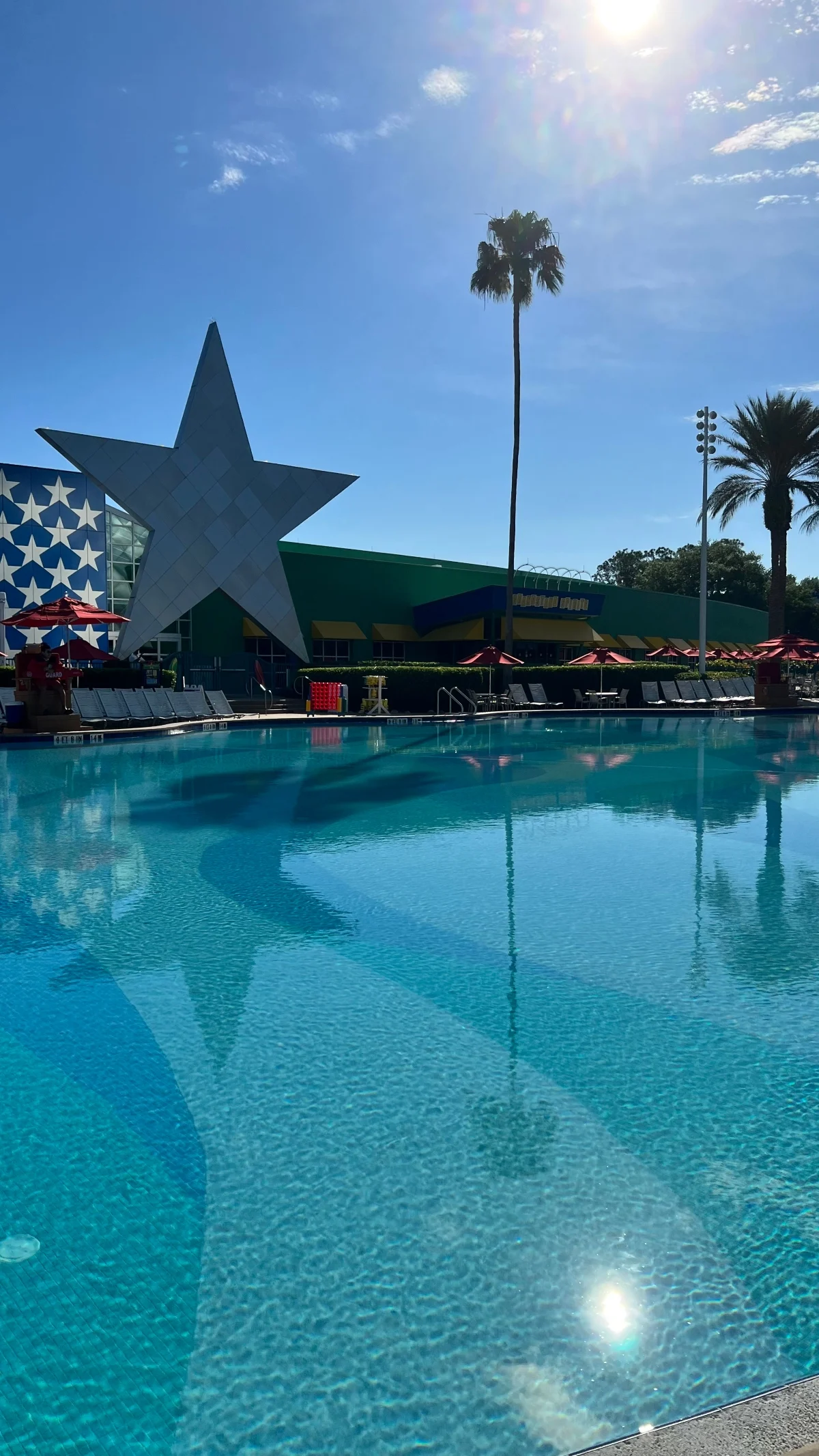 ALL-STAR SPORTS REFURBISHED ROOM TOUR
Let's take a look into one of the newly rooms. The resort has been undergoing a major refurbishment of the rooms in the past few years. The other "Hoops" building was shut down to guests because it was being refurbished, but honestly, the work done on that building didn't affect us at all. There was no extra noise and we wouldn't have even known it was being worked on if we didn't walk past it.
ALL-STAR SPORTS VIDEO
We stayed in one of the newly designed rooms with two queen beds (an upgrade from the double beds of the old rooms), laminate floors (the old rooms had carpet), tons of storage space and ample amount of plugs and charging ports for our electronics.
Our room was tastefully decorated with a splash of Disney but didn't go over the top. There was a queen bed with many pillows (6 to be exact), a small table for two, a large TV, mini refrigerator and a coffee maker. When traveling with more than 2 guests, there is a queen size Murphy bed that comes down from the wall that sets on the table which is super easy to put up and down.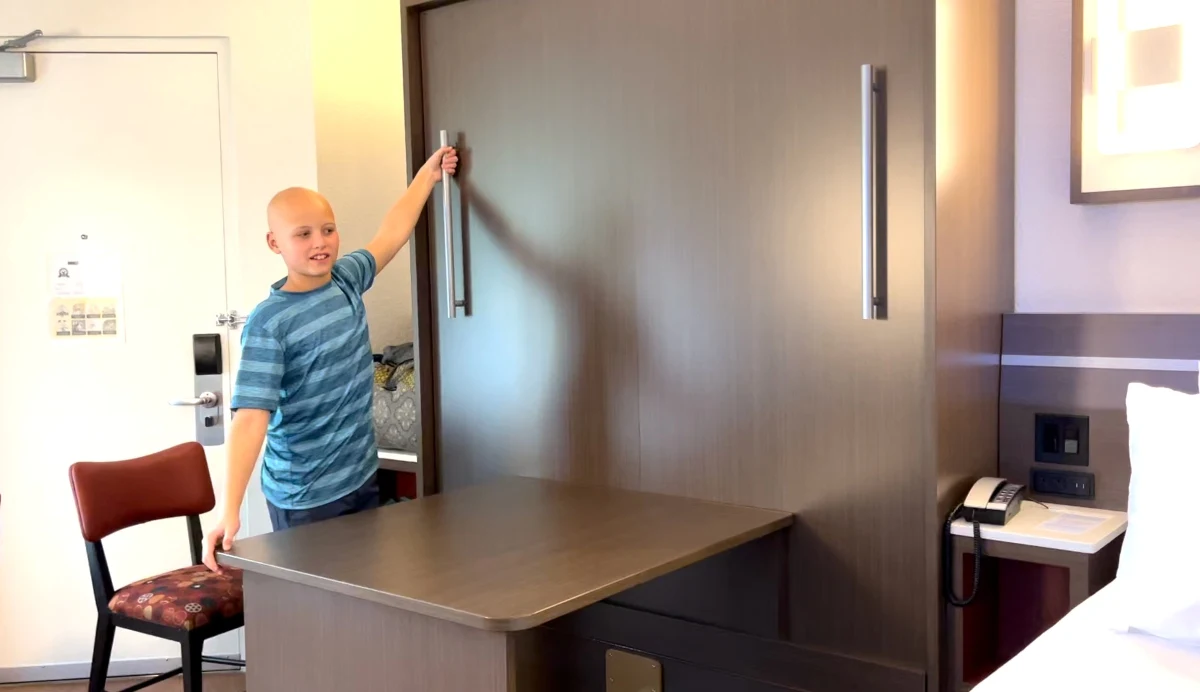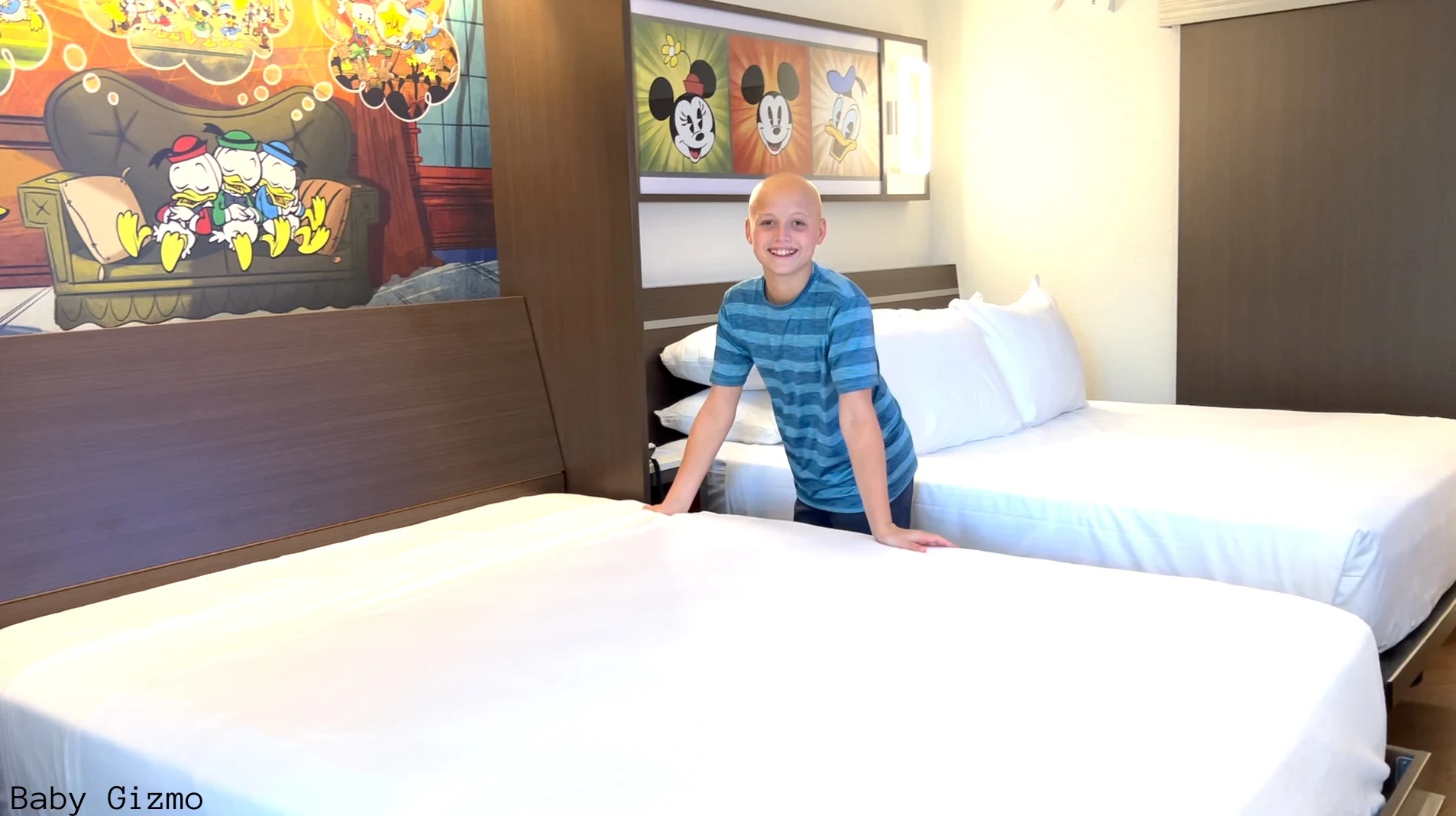 The bathroom has two separate areas that can both be closed off to the main sleeping area with a large sliding door. (You can see this in our full video tour!) The first area is the vanity area that features one sink, a open closet area with hangers, an iron and storage for the towels. The second area that can also be closed off with an additional sliding door features the toilet and a bathtub shower combination.
We found that the entire room wasn't gigantic but was definitely suitable for a family of 4. We really liked that the Murphy bed folds up into the wall to create more space when needed.
Overall, we would DEFINITELY recommend the Disney All Star Sports Resort for those families on a Disney budget. My 13 year old traveling companion (my son and host of the video tour!) LOVED the sports themes around the resort and may have spent quite a bit of time in the arcade. We loved our stay, enjoyed all the amenities from the pools to ping pong to the arcade. We even took advantage of the free Disney bus transportation to and from the parks and found it to be very convenient.
If you are looking at staying at one of the Disney Value Resorts, definitely check this one out. We even scooped up a great deal of $149/night on Priceline for our mid-March stay which was more than half-price of the next cheapest Walt Disney resorts we could find at this time of year.