If you are looking for a fun and festive way to enjoy some family time at Walt Disney World Resort, you might want to check out Disney Winter Summerland, a miniature golf course that offers two different themes: winter and summer. Located near Blizzard Beach Water Park, this whimsical attraction is where Santa Claus and his elves go on vacation after the busy holiday season.
Disney Winter Summerland has two 18-hole courses, each with its own unique challenges and surprises. The Winter Course features snow-covered hills, ice castles, snowmen, and a giant snow globe. The Summer Course showcases sandcastles, surfboards, palm trees, and a melting snowman. Both courses have interactive elements, such as a sleigh that sprays water, a sandcastle that spits sand, and a candy cane that rings a bell.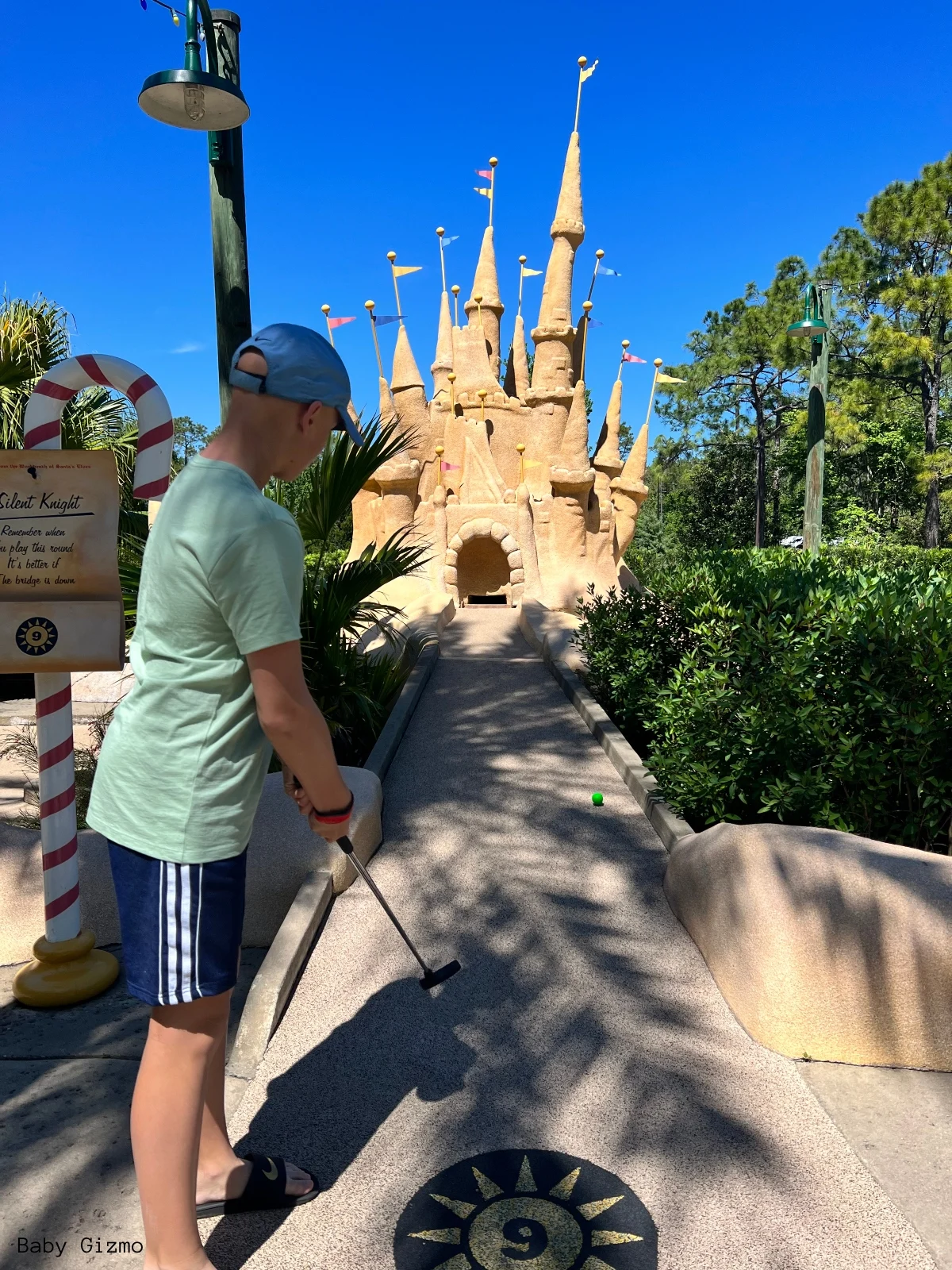 The courses are designed to appeal to players of all ages and skill levels, with easy and hard options for each hole. The holes are also themed after various holidays, such as Valentine's Day, Easter, Halloween, and of course, Christmas. Along the way, you can enjoy the witty commentary of Santa Claus and his elves through speakers hidden in the scenery.
During our visit to Walt Disney World (staying the Disney All-Star Sports Resort), we played the summer course at Winter Summerland for the first time last week. We found that the course is perfect for all ages as it wasn't too challenging but still great fun. Check out our Winter Summerland video below.
WINTER SUMMERLAND REVIEW VIDEO
DISNEY WINTER SUMMERLAND HOURS & PRICING
Disney Winter Summerland is open daily from 10 a.m. to 10 p.m., weather permitting. The admission price is $14 for adults and $12 for children (ages 3-9). You can also purchase a combo ticket that includes both Disney Winter Summerland and Fantasia Gardens, another miniature golf course at Walt Disney World Resort, for $26 for adults and $22 for children. You can make reservations online or by calling (407) WDW-PLAY.
Disney Winter Summerland is a great way to add some fun and magic to your Walt Disney World vacation. Whether you prefer the winter wonderland or the summer paradise, you will find plenty of laughs and memories at this charming miniature golf course.