Before children, I had grand dreams of family meals with joyful laughter and lots of thankfulness for all my hard work in the kitchen.
But, the after children reality check is all too real… I'm lucky if 50% of the family likes most meals I serve.
The good news is, I've learned to modify quite a few meals without straying from the basic ingredients in order to make everyone happy and most important, nourished. I'm not in full restaurant, place your order mode, but I am willing to change things here and there to help everyone feel satisfied.
From this philosophy, family style nachos were born.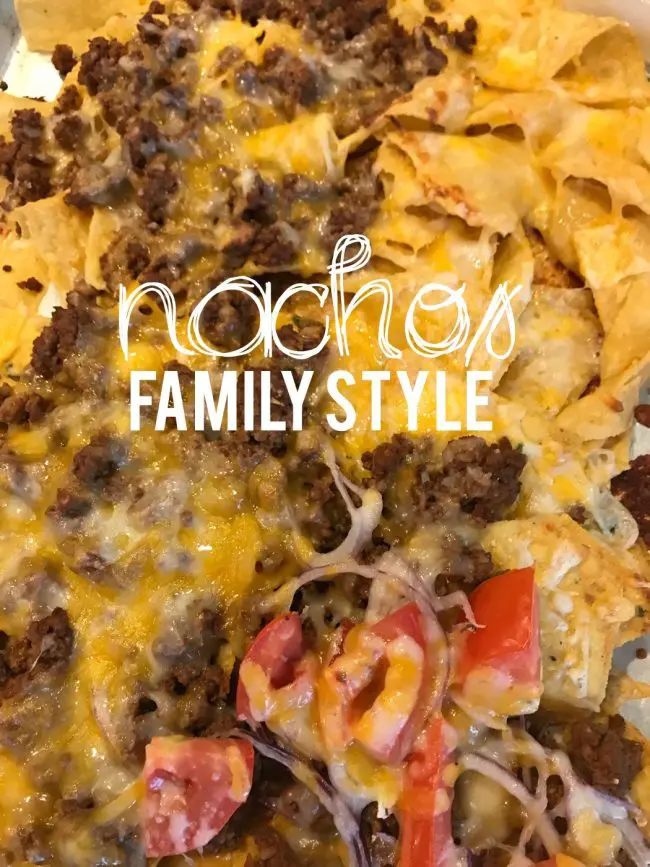 Family style nachos are your typical nachos with a twist.
On nights when I plan nachos I prep normal nacho ingredients like chips, taco meat, cheese (usually a few varieties!), diced vegetables, and appropriate dips like salsa and sour cream.
On a baking sheet I begin building a tray of nachos, dividing it into quadrants and keeping each family members preferences in mind. A typical nacho night will look something like this:
Quadrant 1, for the pickiest kid — corn chips and Mexican blend cheese
Quadrant 2, for the non-veggie lovers — corn chips with lots of taco meat and Mexican blend cheese
Quadrant 3, for Daddy — jalapeño chips (a new discovery of ours!), taco meat, cheese, and shredded lettuce on the side.
Quadrant 4, for the real nacho lovers like myself — jalapeño chips, taco meat, cheese, red onions, tomatoes, lettuce on the side… and any other veggies or sound good toppings I can round up like beans and/or corn! The more the better is my motto!
It's kind of like ordering a half and half pizza. Everyone gets the same base, but the toppings are unique to each person's taste buds. Family style nachos make for a quick, easy meal night with lots of the joyful laughter and thankfulness I once dreamed of.
Put nachos like these on your menu for Cinco de Mayo (that's this Friday, May 5th!) and then keep them on a steady rotation. You deserve simple when it comes to meal planning!