Planning to host a playoff / Super Bowl party this year? Looking for a fun snack to send your child to school with? Love a good theme party? Then these football- themed snacks are just the ticket (see what I did there?)
Appetizers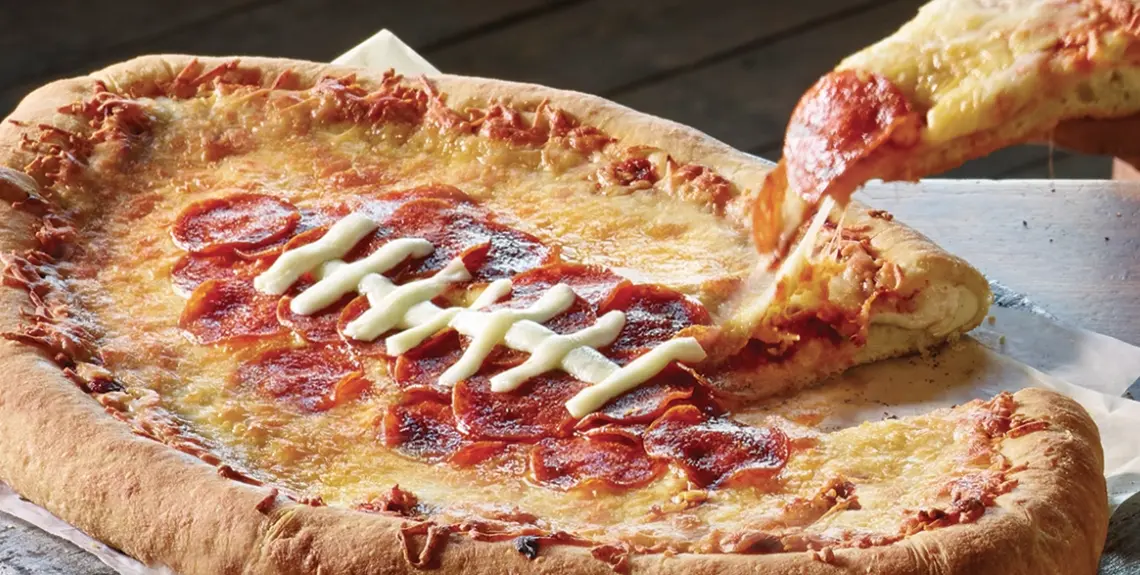 I don't know anyone who doesn't like pizza- spice up a frozen (or freshly made) pie with some strategically placed pepperoni. The details come from Sargento.
Pepperoni Football Pizza
This cheesy pizza made with Sargento® Mozzarella Shredded Cheese and decorated with a pepperoni football is the perfect addition to your game day spread!
Check out this recipe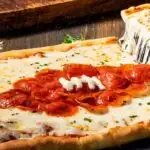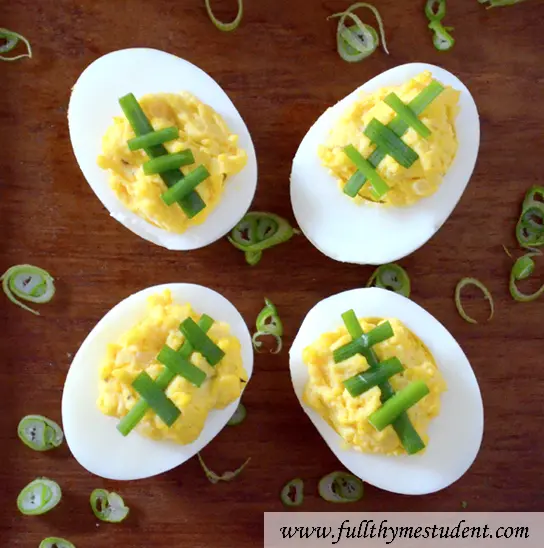 I know they can be hit or miss, but I happen to love 'em. Score that touchdown by adding fresh chives to make them look like a pig skin. Check out the full recipe at Full Thyme Student.
Football Deviled Eggs
Football deviled eggs are a fun way to spice up ordinary deviled eggs, and they're sure to be a hit on game day.
Check out this recipe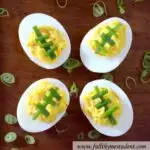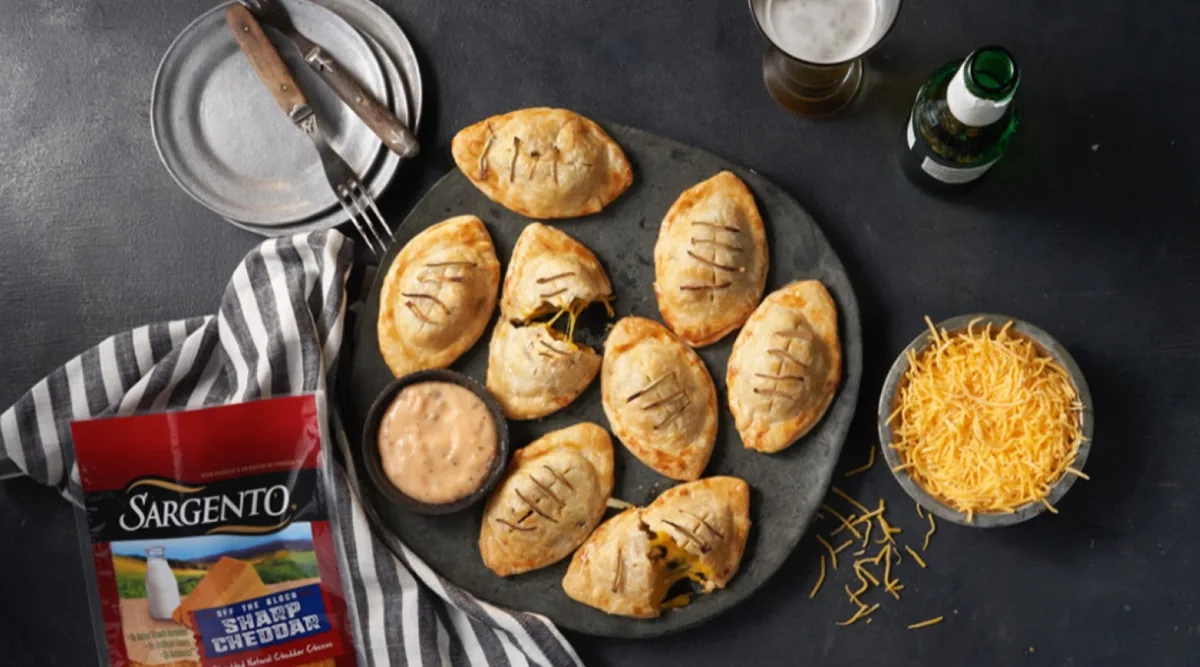 These empanadas are not only adorable (in a macho football kind of way!) but also delicious!
Football Empanadas
These football themed empanadas are cut into football shapes and stuffed with cooked ground beef, diced onion, chopped pickles, crumbled bacon and Sargento® Shredded Cheddar Cheese.
Check out this recipe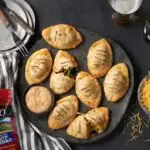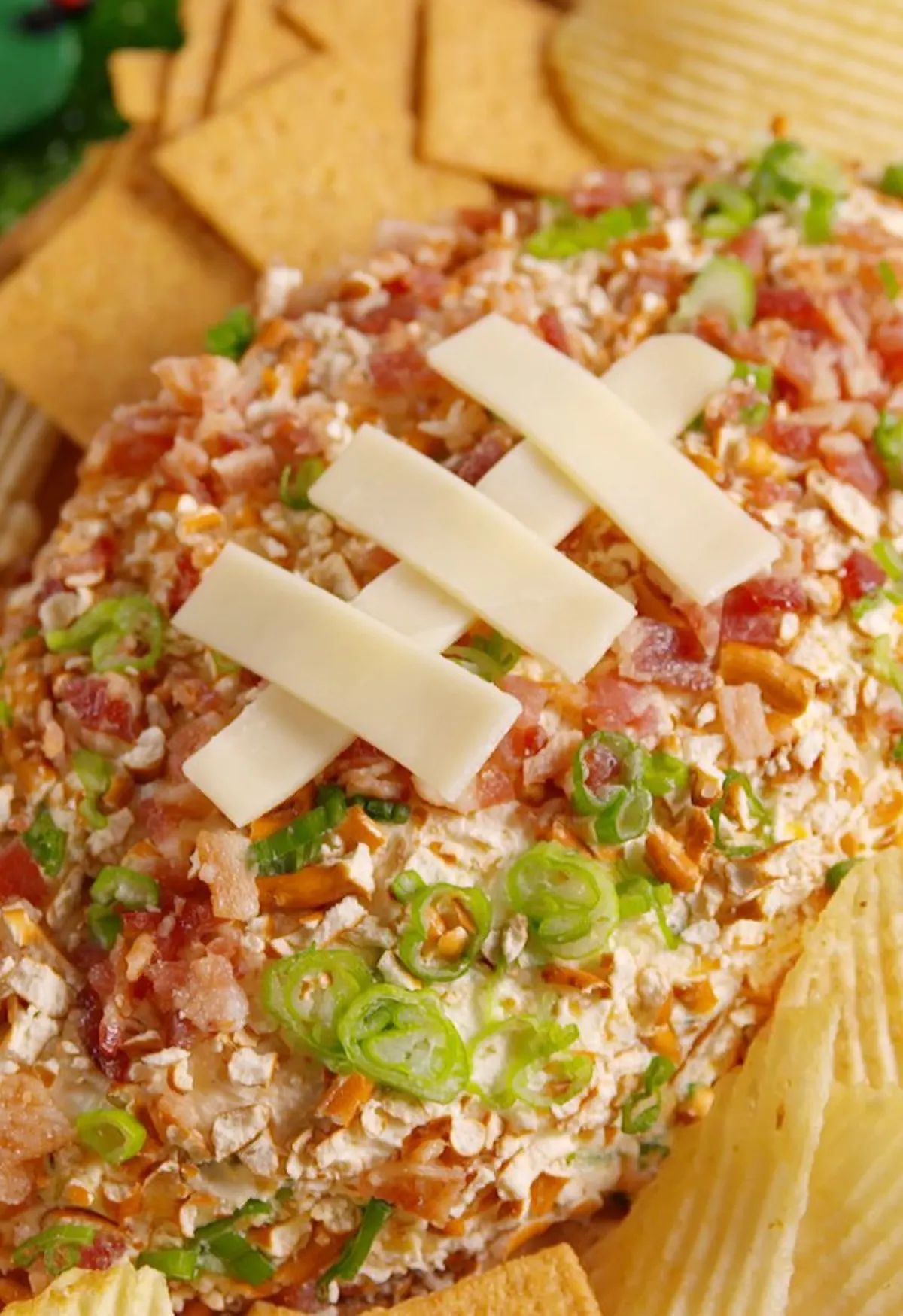 Everyone loves a good cheeseball and this one is no exception! So cheesy! So bacon-y! So Good.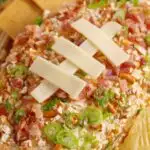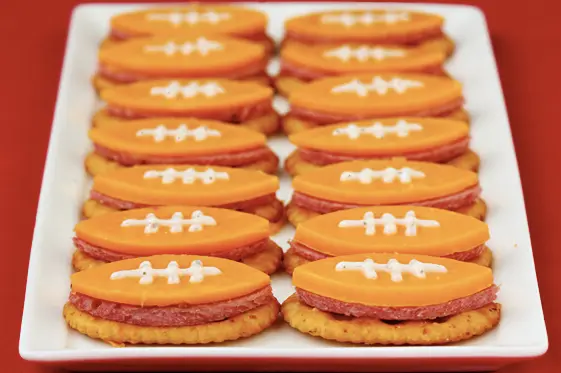 Football Cheese and Cracker Bites
I'm loving these football shaped cheese and meat bites from Gimme Some Oven. Tweak them to your liking- I'd go for hard salami and extra sharp cheddar.
Football Cheese and Cracker Bites
And the best part is that it really only took about 10 minutes. So if you're looking for a fun and easy appetizer for your next game day, or a project for the kids in the kitchen, these little guys are definitely winners.
Check out this recipe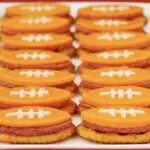 Desserts
Reuse those cookie cutters you purchased for the cornbread and cut out some brownies or cookies to serve for dessert! A bit of piped icing will help them look great. Here's a few ideas: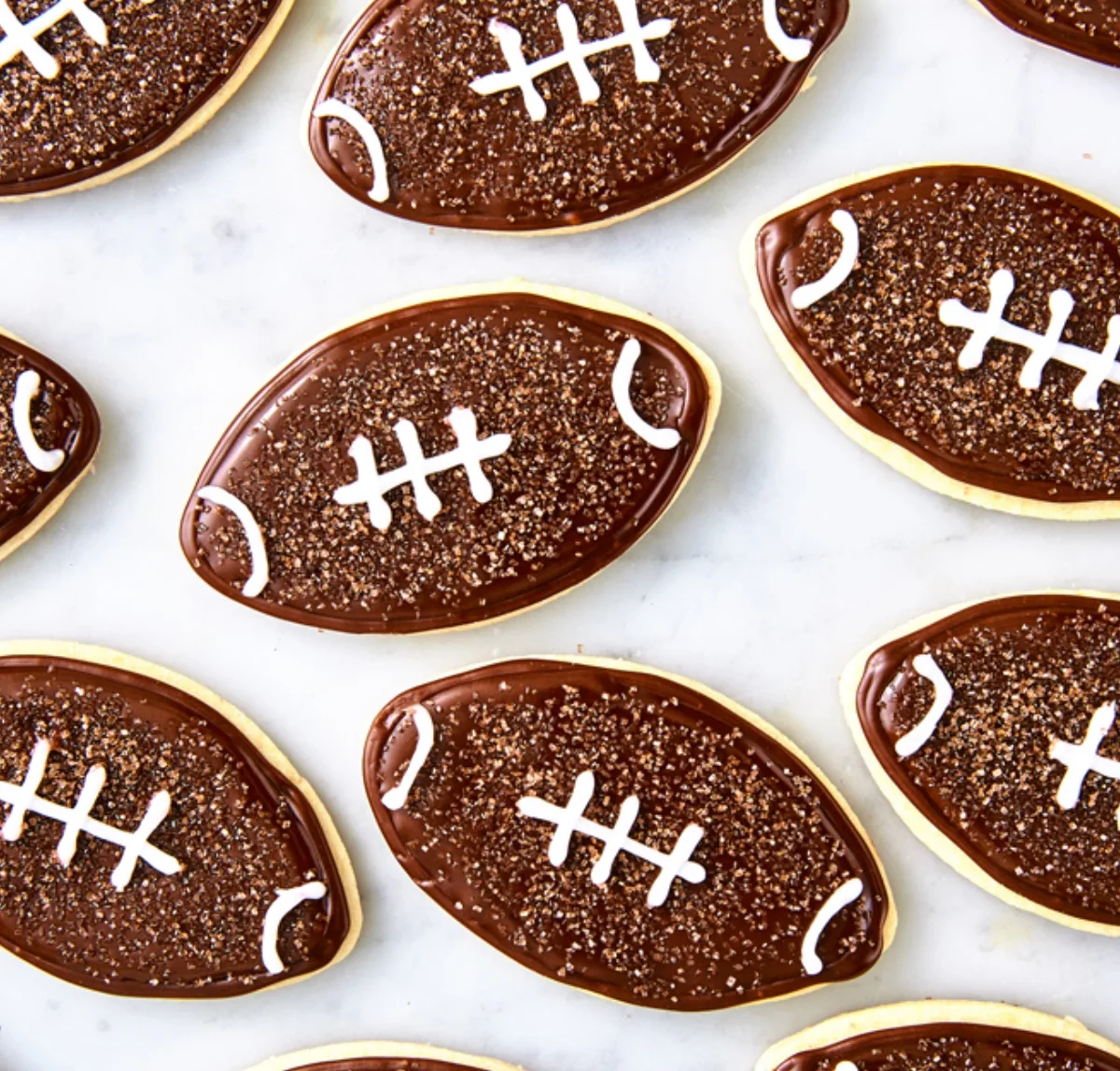 These football cookies are easy to make and super festive for a Super Bowl!
Football Cookies
You'll win your Super Bowl bash no problem with these adorable football cookies. Plus, these sugar cookies are so easy to design, even the kids can get in on it—turn it into a game day activity the whole fam can do together!
Check out this recipe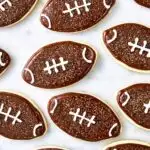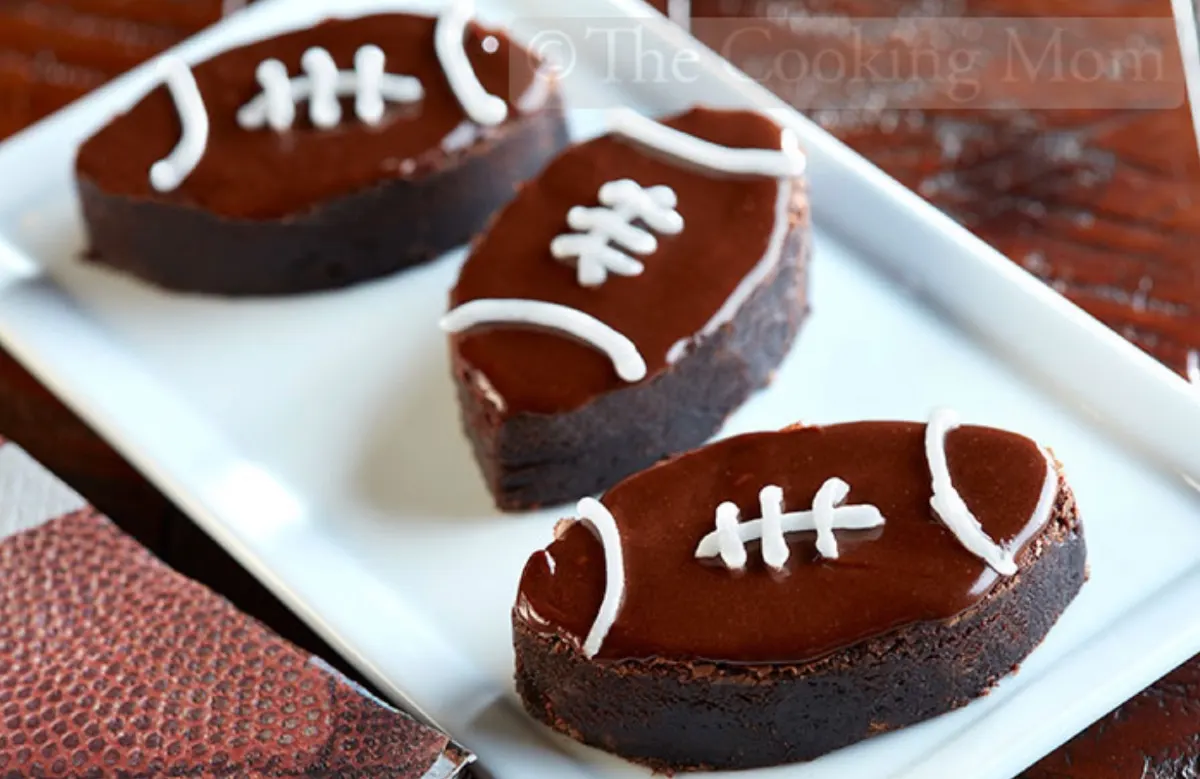 Who doesn't love a delicious, chocolate-y, decadent brownie? Why not score a touchdown with this one by transforming them into mini footballs?
Brownie Footballs
Easy to make football brownies that will be the winning dish of your Superbowl.
Check out this recipe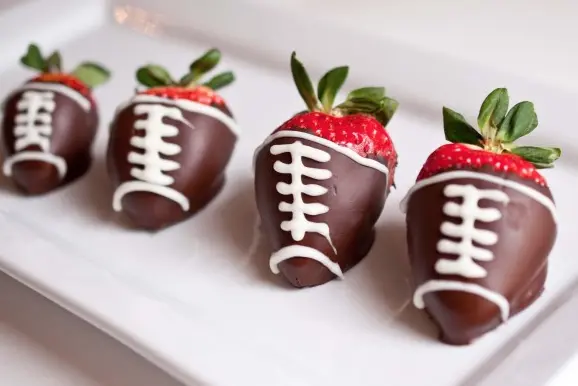 FOOTBALL CHOCOLATE COVERED STRAWBERRIES
I love these chocolate covered strawberries decorated with a bit of white chocolate. My son would go crazy over these!
Chocolate Covered Strawberry Footballs
These traditional chocolate covered strawberries with a football spin will be the highlight of any big game.
Check out this recipe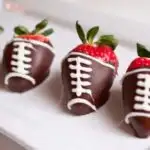 Lastly- if you're feeling ambitious, I think this cake is amazing and super impressive. If you do make this, be sure to display it prominently at your party!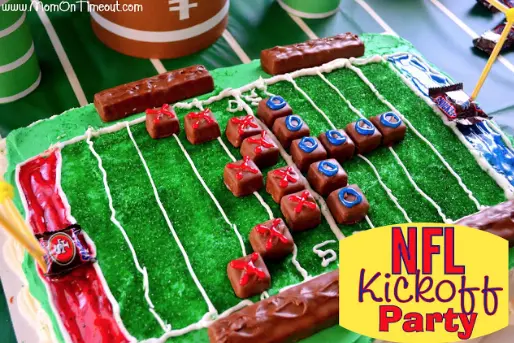 Recipe / Instructions / Photo Source: Mom On Time Out
Have any favorites you'd add to this list? Let us know in the comments below!