Looking for No Candy Valentines to give to your kids' classmates? Do you dread holidays that revolve around candy?
You and me both, mama. And when it comes to Valentine's Day, teachers aren't big fans of the candy overload either.
Now don't get me wrong, I'm all for a little treat. After all, it's important for little ones to learn about making wise choices with sweets. But really … let's balance the candy with some other fun Valentine surprises! I hope these fun ideas will get your creativity flowing as we countdown to February 14th!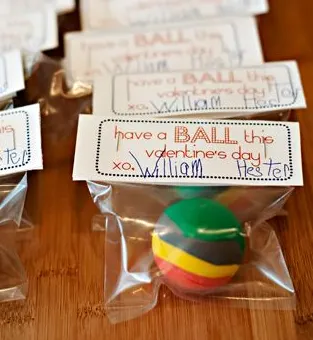 Have a ball this Valentine's Day!
Or, "You Make My Heart Bounce!"
I Wheelie Like You, Valentine!
Rather than a sugar high, the littles can have little races after opening their treasures!
Have a Dino-Mite Valentine's Day!
And after the races … a dinosaur gathering 🙂
Oh my goodness, I still love Mad Libs!
You're the Apple of My Eye, Valentine!
Not only is it not candy, it's healthy!
You Are the Apple of My Eye!
Another spin on the same phrase.
Do You Wanna Build a Snowman?
Who isn't a Frozen fan these days?
Up, Up and Away!
Sweet + simple.
Have a Berry Great Valentine's Day!
One pack of fruit leather from Costco and you're practically done!
We hoped you liked these No Candy Valentine options for your kids' classmates for friends. Which one was your favorite? Let us know.