Today I'm here to talk about gorgeous Orange County. I'm biased because I was born, raised, and still live in Los Angeles/Orange County but I think it is one of the most beautiful places in the world. Not only is it beautiful, it is packed full of fun things to do! So today I've rounded up 25 fun places to take the kids in Orange County. You're going to love these and your kids will, too!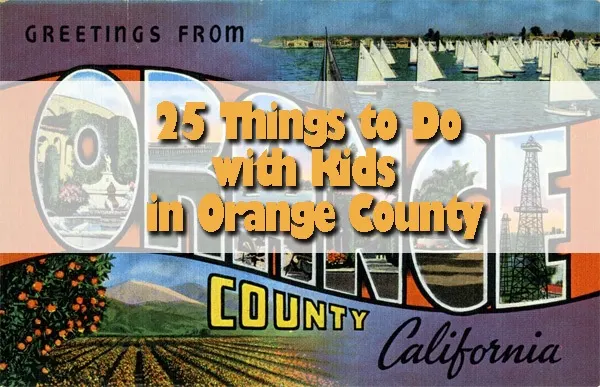 1. Disneyland. Disneyland gets the number 1 spot on my list because hello, it's DISNEYLAND!
2. Knott's Berry Farm. While I prefer Disneyland, Knott's is a great theme park for families that is definitely worth checking out.
3. La Habra Children's Museum. This museum is one of my son's favorites!
4. Santa Ana Zoo. The Santa Ana Zoo is on the smaller size but it's very clean and fun and has SO many monkeys.
5. OC Zoo and Play Area. The OC Zoo is in Irvine and also has pony rides and boat rides!
6. Discovery Science Museum. This museum is in Santa Ana and specifically geared towards kids.
7. Beaches! Check out Seal Beach, Huntington Beach, Bolsa Chica, Sunset, and SO many other amazing beaches while you're here.
8. OC Fair. The OC Fair is in town right now. It's big, awesome, and great for the kids.
9. Adventure Playground. A great place to take the kids.
10. Irvine Ferris Wheel. Located in the Irvine Spectrum, this is a great place for kids. There is also an ice skating rink in the winter.
11. Bowers Museum. Fun for the whole family.
12. Pretend City. I can't recommend this place enough.
13. Lego Land. If you venture into South Orange County you've got to stop by Lego Land!
14. Tanaka Farms. Ride horses, pick berries, sample fruit.
15. Sky Zone. You can jump all day. A great place to take the kids to tire them out. Plus adults can have fun jumping, too!
16. Soak City. Soak City is right across the street from Knott's and a great place to cool off.
17. Camelot. Take the kids mini golfing.
18. Corona Del Mar Tide Pools. The tide pools are gorgeous and free!
19. Fashion Island. Located in Newport Beach, this place is one of the best shopping areas in Southern California. There's plenty of things to entertain the kids with there, too.
20. Farrell's Ice Cream. This family friendly ice cream parlor is in Brea.
21. Catch an Angels Game! A must for baseball lovers.
22. Powell's Sweet Shoppe. This is my all time favorite candy store. They seriously have every candy ever made here, even really old hidden gems you didn't think they made anymore. They have Willy Wonka playing at all times, too.
23. Pirates Adventure. Pirate fans will love this Pirate show in Buena Park.
24. Medieval Times. Go back in time with this entertaining show that's fun for the whole family.
25. San Juan Capistrano Mission. Take an educational and fun trip to see one of California's Missions.
Are you an Orange County lover? What fun things do you like to do here? Leave us a comment and add to the list.