No matter which way you look at it, the holidays are here. And so is my Samsung PowerBot.
That means the entertaining, the chaos, the list of things to do the length of your arm, are all in full swing. That also means the preparation for the holiday entertaining and the dreaded clean-up are also upon us.
With three kids, a husband and a dog, I'm no stranger to messes. They leave their shoes out. They drop crumbs as they eat. They generally make my house look like a disaster. Now, throw in holiday guests who just stop by and holiday parties, and cleaning becomes a priority. As a busy mom, anything to make this all this cleanup work easier is welcome in my book.
Let's talk about vacuuming. With all the holiday madness, vacuuming is last on my to-do list, but let's be honest, it should really be at the top of the list. I don't want guests stopping by and seeing dog tumbleweeds (it's what I call the clumps of dog hair that navigate to the corners of the room and may blow around if you walk by!). But who has time?
This year, I do.
Well, I do now because my vacuuming is taken care of by a….wait for is…a robot! Yep, I have the Samsung POWERbot Essential and it does my vacuuming for me while I get other things done! Genius, right?
This cool little vacuum travels around my house and gets the job done effortlessly. Okay, well, very little effort from me. I'm sure it's working hard.
The Samsung POWERbot Essential has amazing suction and a smart technology that allows it to map out and navigate my home with ease and it effortlessly adjusts to all floor types. I just turn it on and it does the vacuuming for me. It goes from hard floor to carpet and back again with no problem.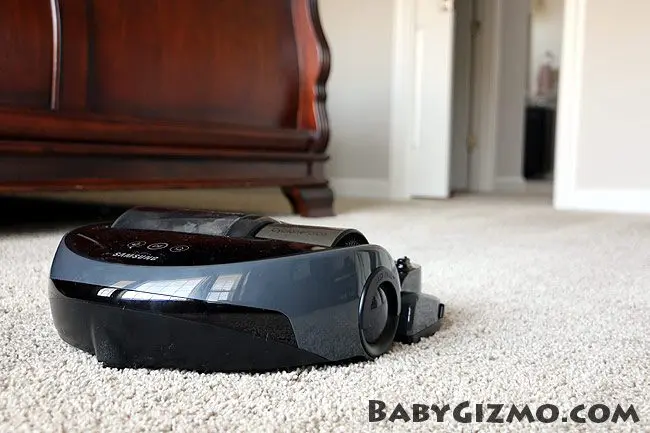 It even has a camera that scans and avoids obstacles. That means it isn't just going to bump into my couch time and time again. Plus, it has an option to do spot cleaning as you control it with a remote. With wine in your other hand. Again, genius!
With all this new help with the vacuuming, I have gotten time back. Time to do a few things that also needed to be done this holiday season. Watch our Baby Gizmo video below and you'll see all the things that I get done now that I have time back.
What would you do with the time you get back??
For more information on the Samsung POWERbot Essential, visit www.samsung.com.
Plus, check out these tips from Samsung to help make your entertaining easier.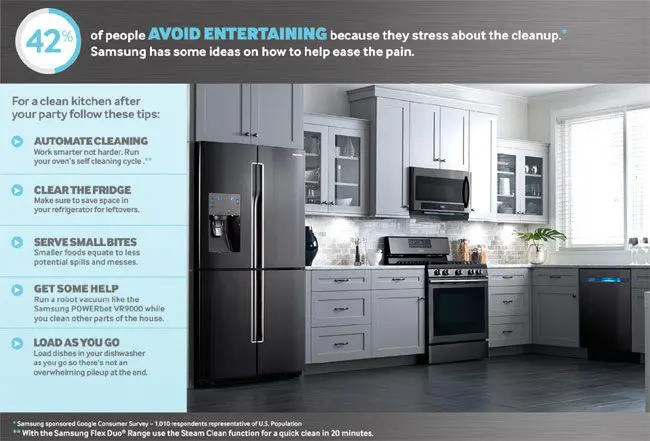 This is a sponsored Samsung Powerbot conversation written by me on behalf of Samsung . The opinions and text are all mine.