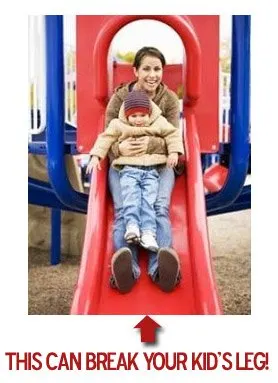 Something that had never even crossed my mind, recently appeared on a Facebook group page, and really surprised me. This article by the Well blog from the New York Times was posted regarding how common it is for children, who are in the laps of an adult when going down a slide, to fracture themselves. This is due to the child's rubber soled shoe getting caught against the slide and, unlike how when they're alone they can just move it, because the weight of the adult is pushing on the child, this causes the fracture in the leg.
As much as I thought, no, this can't be true? I read several comments by other parents on Facebook in response to the article which, sadly, stated that they had learned this lesson with their own little one. One mother commented
Yep, we found out the hard way when my 15 month old went down on his auntie's lap & got a spiral fracture of his right tibia. If I ever see someone attempt to go down a slide with a child on lap, I warn them. It's not easy to care for a toddler in a cast when they aren't supposed to walk on the leg for 6 weeks. Yeah…try to keep a toddler still. Now at 3 years old, he has leg & knee problems. 🙁
As much as one would think that a parent going down the slide with their child would mean they are safe, we can see that many children get hurt this way. The article explains
This may be one of those counterintuitive cases when a child is safer by himself. If a foot gets caught while the child is sliding alone, he can just stop moving or twist around until it comes free. But when a child is sitting in an adult lap, the force of the adult's weight behind him ends up breaking his leg.
Dr Ed Holt of the Anne Arundel Medical Center in Maryland, released this video in July 2011 warning parents of this type of accident, and he states in the video "I'd like to not see this fracture occur anymore." We completely agree. This should not be happening, but this injury is not publicized enough.
The advice is to let your child go down the slide alone if you believe they are old enough and ready to, otherwise, to have them avoid it. As the parent, you need to decide which is best.
Pass on this important message to other adults!