How I Got a Fantastic Stitch Fix Subscription Box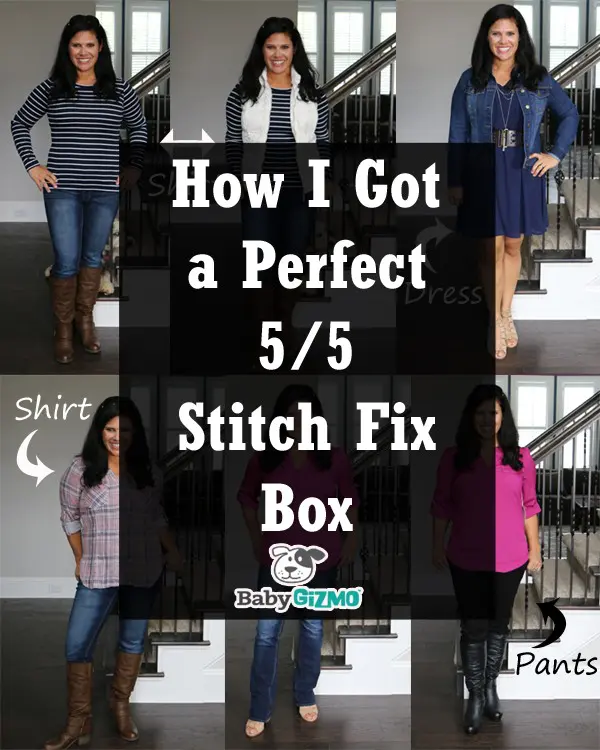 As with any good relationship, you have your ups and downs. It's not all sunshine and butterflies all the time. There are rough patches, but if you work through them, things can get good again.
Yep, I'm still talking about a Stitch Fix subscription box. Follow me here, people! 🙂
I've been a customer of Stitch Fix for about 18 months now. I've ordered 13 boxes throughout that time (about one a month with a few skips here and there). At the beginning of the relationship, it was good. I was giddy to see that brown box arrive in anticipation of what was inside. I would normally rush inside, turn on my camera, and open the box. Of course, I would film a "What's In the Box" episode! (You can see some of those here, here and here.) My expectations were high but realistic. I knew that most boxes weren't going to be a perfect fit and end up being a 5/5. Honestly, most months I didn't need 5 new pieces. I just hoped for 1 or 2 really great pieces to add to my wardrobe.
This happened month after month with the What's in the Box episode being filmed as I kept one (maybe 2) pieces from each box and it was great. It was exactly what I was looking for.
But then things changed. There were less sunshine and butterflies and more disappointment. The boxes would arrive only to have me pull out what looked like "grandma jammies" and Catholic school uniforms. Yes, that happened in the SAME box. It wasn't pretty. Yet, I kept giving them chance after chance. I even stopped filming the What's in the Box YouTube episodes and started just opening the boxes live on Facebook. I kind of knew it would be a train wreck and that is at least fun to watch, right?
Earlier this year, I decided I needed a break. Stitch Fix just wasn't giving me what I wanted anymore. The fun was gone and the clothes that they sent just made me depressed. So, I didn't order a new box for a while. I tried out other subscription boxes. I looked around for better.
Then my mom sent me a Stitch Fix gift card for my birthday in April. Yeah, she didn't know of my Stitch Fix woes and thought I was still really into it. I thanked her because it was a sweet gesture to get me something she thought I loved but wasn't sure what I was going to do. Well, the only thing to do was order another box. Before I scheduled the box, I requested a new stylist. I had had the same stylist for a year and the spark was gone. She didn't get me anymore. So, I asked for a new one.
That's when things got worse. That's when the "grandma jammies" and the "school uniforms" started to show up. With my new stylist, I had my very first 0/5 box. Devastating. That meant that I lost my $20 styling fee because Stitch Fix just didn't get me at all. Do I look like a grandma or a grade schooler who needs a uniform??
I decided I was done. I couldn't do it anymore. This was a one way relationship and Stitch Fix wasn't pulling their weight. It was like they didn't even care anymore.
I had done my part. I made a Pinterest board and shared it with them. I directed them to my YouTube What's in the Box videos. I basically made it so that could see me, what the clothes looked like on me and what I thought about them.
I stopped ordering boxes.
But then the summer ended and I saw other people online prancing around with their new Fall outfits from Stitch Fix. I was jealous. I wanted that kind of relationship.
With the big ABC Kids tradeshow, some trips and appearances coming up and other fall activities I did need a few new pieces.
"Should I give them one last chance," I asked myself. After all, I did still have that gift card from my mom! I couldn't let that go to waste so I ordered one more box. BUT before I ordered, I again asked for a new stylist. Yes, I needed someone new. I figured three times a charm and how bad could it be? I mean I already had the grandma jammies and uniforms sent to me, how much worse could it get?
And then the box arrived this weekend…
You know what?
It was glorious!!! My new stylist, Michelle, gets me! She did her research by checking my Pinterest page, YouTube channel, website and Facebook page and got to know me. She did her homework and it paid off!
I received my first 5/5 box! Yep, I'm keeping everything! It all fits great, looks great and makes me feel good. Okay, maybe I didn't need another pair of black pants especially for $88 but they fit well, Plus, since I get a 25% discount if I keep the entire box, the pants are basically only $8.
Here's what was in my box…
This first piece is the Pixley Greenich Striped Knit Top. What you can't see in the photos is that it has fun brown elbow patches that I love! I paired it with and without the white puffy vest to give it two looks.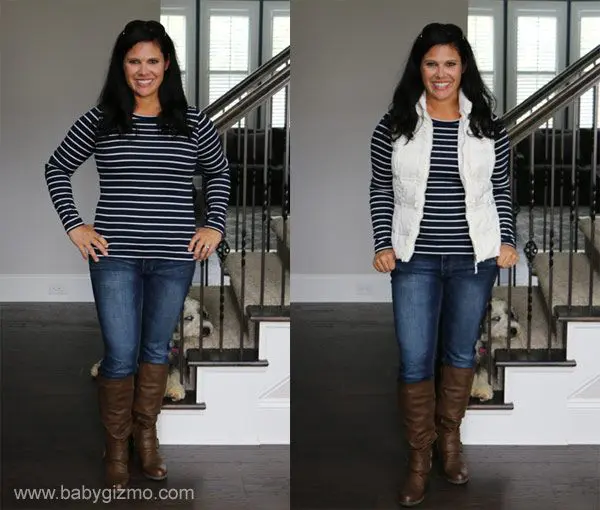 This dress is the Isadora Dress by Papermoon. While it can be worn a multitude of ways with different shoes, jackets and accessories, I decided to pair it with my new jean jacket, a brown belt and my new wedges that I recently just got from Nordstrom. I may mix it up with a lighter belt and boots the next time.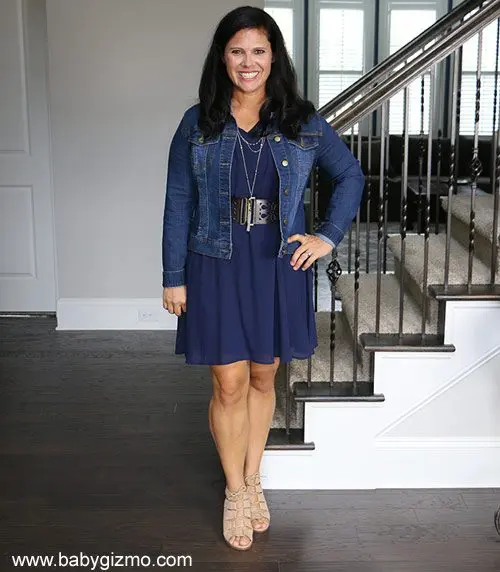 This fuchia Tameron Button Down Blouse from 41 Hawthorn is one of my favorite pieces from the box. It's just my style and I really love the color. It's fun and bright and perfect for TV segments, trade shows and videos. You know, everything that I do. 🙂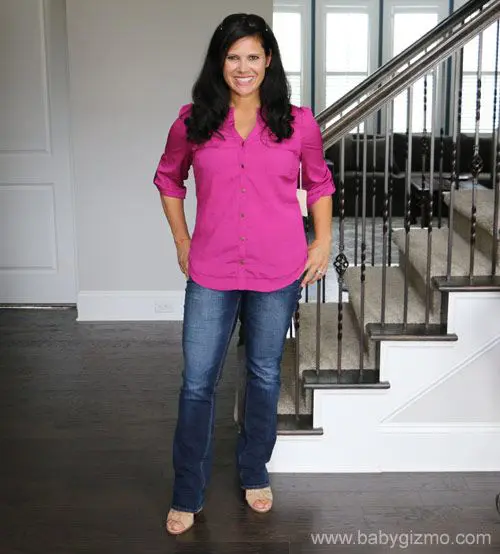 Okay, this Skies are Blue Gusta Two Pocket Top can be a little boxy but plaid is in, it's comfy and I like it. I don't have a single plaid shirt so this makes a great addition to my wardrobe. If I pair it with skinny pants or leggings, maybe it won't be as boxy? Either way, I'm keeping it! It's a fun, fall piece!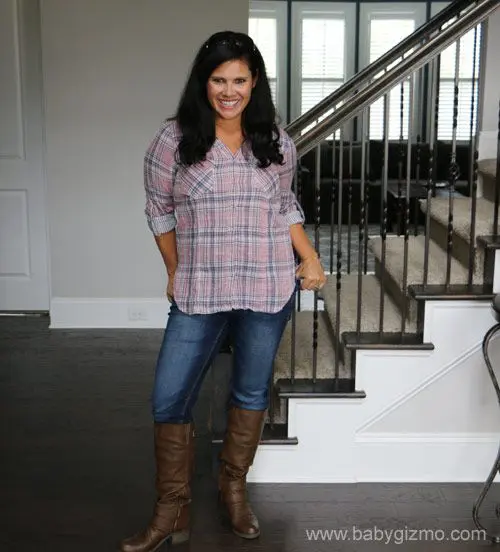 I'm going to admit that I was nervous when I read that these were "skinny pants". I was assuming they would be to tight and just create the inevitable muffin top. I didn't think they would fit. After I tried these Brianna Skinny Pant from Kut From the Kloth, I was pleasantly surprised. They not only fit but I like them. They have a bit of stretch in them so they are comfortable and I can wear them a variety of ways. I wasn't going to keep them at first because I have black pants but my other ones don't fit like this and since I like everything else, I get 25% off the entire box if I keep the pants. Win-win.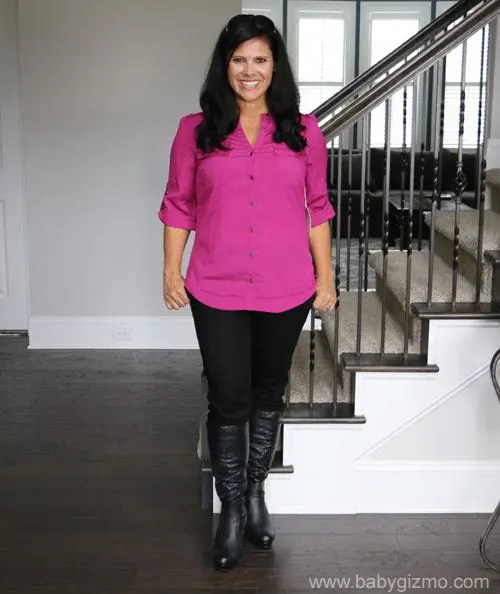 Yep, I'm keeping the ENTIRE BOX! I'm pretty happy about it.
So, how did I get a fantastic Stitch Fix subscription box? I changed my stylist and gave them another chance. Yep, that's all I did. And now, box #13 is my lucky 5/5 box.
If you'd like to try Stitch Fix, you can SIGN UP HERE.
(I don't know if you can request stylists, but if you like the pieces I got this time, my stylist is "Michelle"._