Obviously the best part of Halloween is the candy right? That's what I thought. Besides all the candy you, I mean your KIDS, are going to rack up, there's always time to make Halloween treats, too. Today I've rounded up a list of some must make treats. From brownies to cookies, to homemade candy corn, I've got it all right here!
Halloween Brownies. Let's call these brownies from Best Friends For Frosting Scream Cheese brownies instead of Cream Cheese brownies because the icing is swirled beautifully in perfect Halloween colors!
Skull Cake Pops. How adorable are these skull shaped cake pops from Red Ted Art? They seem to be pretty simple to make and they are just plain adorable! These would be fabulous to pass out to all your kids' friends!
Candy Corn Cookies. I love candy corn but I love cookies even more! Especially sugar cookies with delicious icing covered on top! These cookies shaped like candy corn from Good Food And More are sure to be a hit! They look like a blast to make, too!
Spider Rice Crispy Treats. These rice crispy treats from Be Different Act Normal are adorable! Rice crispies are always a favorite and these are so easy to transform into Halloween spiders. All you need are some pretzels for the legs and turning them into crispy pops with a stick makes them more mess free and easy for little hands to hold!
Homemade Candy Corn. Yes, it's super easy to just pick up a bag of candy corn from Target and call it a day but how fun would it be to make your very own with your children? Try this recipe from Look I Made That if you're up for a fun challenge.
Marzipan Finger Cookies. Now this is literally what I call finger food. These cookies from Candy. About may be a little too scary for very little ones but would be perfect for the older kids!
Butterfinger Candy Corn Bars. These bars are gorgeous, colorful, and look downright deliciously tasty. There's chocolate, butterfingers, plus the orange filling is melted candy corn and peanut butter! I bet you're already drooling over this Averie Cooks recipe!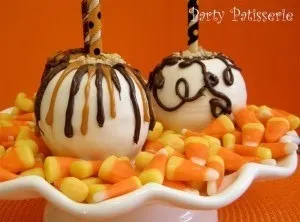 Halloween Candy Apples. Candy and caramel apples are loved by all, and this recipe from Party Patisserie is a fun step-by-step guide on how to make your own! You could use your favorite candies to make them exactly how you like!
Candy Corn Fudge. This amazing, delicious, and super cute candy corn fudge from Penny Wise Cook only has four ingredients and is super easy to make! How cute are they?!
Witches Stew- Halloween Trail Mix. Any trail mix that includes Hot Tamales and Candy Corn is a winner in my book. My favorite thing about this recipe from Instructables is that you could serve it up in so many ways. Leave it in a party bowl for house guests to help themselves to, gobble it up right away, or put a scoop in a plastic bag, tie a ribbon around it with a tag, and pass them out as party favors or to students at your child's school! So versatile and I love the clever tags explaining what each ingredient "really" is.
What is your favorite treat to make for Halloween? Do you have a clever idea you make every Halloween? Leave us a comment and let us know!